Opposition cannot be limited to UPA; need broader front with collective leadership, says NCP
A day after Trinamool Congress (TMC) chief and West Bengal chief minister Mamata Banerjee said that there is no united progressive alliance (UPA) left, the Nationalist Congress Party (NCP) national spokesperson Nawab Malik on Thursday said that things will not change if Opposition parties limit themselves to UPA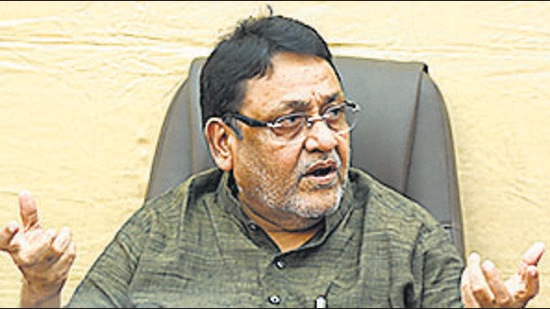 Published on Dec 02, 2021 10:01 PM IST
A day after Trinamool Congress (TMC) chief and West Bengal chief minister Mamata Banerjee said that there is no united progressive alliance (UPA) left, the Nationalist Congress Party (NCP) national spokesperson Nawab Malik on Thursday said that things will not change if Opposition parties limit themselves to UPA. There is a need for a broader front with collective leadership to take on the Bharatiya Janata Party (BJP) at the Centre. Several parties are not part of UPA but have significant strength and thus need to be brought on this platform. He also pointed out the drawbacks of UPA by saying that there were several issues in the country, on which, UPA allies could have met to discuss and formalise a strategy, but that did not happen.
The NCP stand is seen as an advice to its ally in Maharashtra. NCP chief Sharad Pawar has been publicly expressing his view that all Opposition parties should be brought together to provide an alternative to the ruling BJP-led NDA at the Centre.
"Things will not go ahead by limiting UPA. Several parties are not part of it but have around 150 seats (out of 543 seats in Lok Sabha) and thus need to be brought on a platform to make a broader front with collective leadership. There were several issues in the country on which UPA allies could have met (to formalise a strategy) but that did not happen. Certainly, there were drawbacks," Malik told reporters in Pune.
On Wednesday, Mamata Banerjee met NCP supremo Sharad Pawar at the latter's residence in Mumbai. After the meeting, she said that there was no UPA left in the country and made a pitch for unifying Opposition parties. "What is UPA? There is no UPA," Banerjee told reporters after the meeting. On Tuesday, Banerjee met leaders of the Shiv Sena, the biggest constituent of Maharashtra's ruling alliance that also comprises the NCP and Congress.
"Considering today's situation and the ongoing fascism, a strong alternative force is required in the country against it. No one can do it alone. We all need a strong alternative and if someone is not ready to fight, then what can be done," Banerjee had said without naming Congress.
On Thursday, Malik said that Banerjee told them there is unrest in the country against the PM Narendra Modi led government at the Centre and there is a need to bring all the opposition parties together. "Pawar saheb clearly said we will make all the efforts. No opposition can be strengthened without Congress. We want to bring all the parties be it Mamata didi (TMC), Telangana Rashtra Samithi (TRS), Samajwadi Party (SP), Rashtriya Janata Dal (RJD) and parties from southern states on a platform. We want to make a front along with Congress, which will have a collective leadership," he said.
Referring to Maharashtra Vikas Aghadi, a ruling coalition, comprising Shiv Sena, NCP and Congress, the NCP minister said that Pawar is the real Chanakya who brought Congress and Shiv Sena together to ally.
"Pawar is a real Chanakya who defeated the one who was calling himself Chanakya. No one would have dreamt that Shiv Sena and Congress could come together. Similarly, Pawar saheb will bring such parties together that no one would have imagined. Our front cannot be made by removing any particular party (Congress). We want to include all the parties and Pawar saheb is working in that direction," he said.
Congress leader and state minister Ashok Chavan said all such issues can be discussed and resolved on the forum of UPA. He said that they agree that all anti-BJP parties should come together but what is wrong if they all come under the UPA fold.
"Since all issues pertaining to UPA, the matter should be discussed at the highest level with UPA chairperson Sonia Gandhi. It is a proper forum under which all such issues should be discussed, everybody can express their individual opinions and the UPA chairperson is also competent enough to take a call on the suggestions," Chavan said.
"No doubt all anti-BJP parties should come together but what is wrong if they come into the UPA fold. What is the point in forming a front without Congress when you want to take on BJP, especially when Congress played a dominant role against it (BJP)," he argued.
He also said that the parties named by the NCP for a broader front can clear their stand on their own and why NCP is making statements on their behalf.
Close Story