Suresh Jindal 1942-2022: The unlikeliest game-changer in Hindi cinema
Updated on Nov 25, 2022 12:24 AM IST
'Hirsute' is the nickname many called him by because of his snowfall of a beard and unruly hair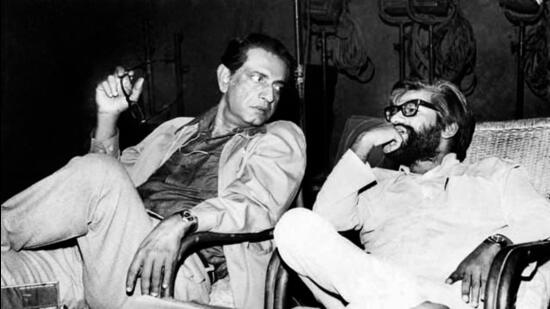 'Hirsute' is the nickname many called him by because of his snowfall of a beard and unruly hair. Forever stroking his unbarbered locks, Suresh Jindal—who passed away in New Delhi at the age of 80 – was the unlikeliest game-changer in Hindi cinema.
The word 'Bollywood' can never be attached to him because Suresh, a personal friend, wished to change the formulaic system, even if it was from a distance from his antiques and priceless paintings in his South Delhi colony home, where he lived alone with a pack of pedigreed dogs and a household help.
An intrinsic force in the parallel cinema movement, among the films he produced were Satyajit Ray's only Hindi film Shatranj ke Khilari, Sai Paranjpye's Katha, Basu Chatterjee's Rajnigandha, Mani Kaul's Nauker ki Kameez, Pamela Brooks' A Train to Pakistan, besides being a multi-tasker in Sir Richard Attenborough's multiple Oscar-grabber Gandhi, not to forget the avant-garde 250 Metros by the revered French theatre stalwart Jean Claude-Carriere.
For about five years, he did shift to an apartment in Eden Roc, Worli, but shifted back to the capital city, disenchanted perhaps by the obstacles that he had to face with his Mumbai peers who considered him 'an outsider'.
Suresh was proudest of his collaboration with Ray. When a frontline Hollywood studio pulled out of its distribution overseas, he was enraged. And was frank enough to express his disappointment in an interview on the front page of the most widely-circulated Mumbai daily newspaper. This he followed up by authoring the tell-all book, 'My Adventures with Satyajit Ray: The Making of Shatranj ke Khilari', which included several letters exchanged between the auteur and the rule-breaking producer.
Without his lobbying with the Delhi government, it is is quite possible that Sir Richard's Gandhi would have never seen the light of day,since it had become the subject of an acrimonnious controversy: Why should a Britisher make a film on the Mahatma?, it had been argued, even by the otherwise free-minded 'New Wave' filmmakers.
A graduate with a science degree in electrical engineering from UCLA, Suresh Jindal had spent four years in the aerospace and electronics industry in California. Yet, the cinema bug had bitten him.
For his role in creating a global interrelationship in cinema and the allied arts, he was awarded the Chevalier de L'ordre des Arts et Lettres by the French government. Despite such honours, towards his later years, Suresh had resolved to extinguish his dreams of a new world of cinema, and had found solace in Buddhism.
On a personal note, I had approached him for the remaking rights of Katha during a trip to Delhi. Over lunch, he had stated, "It's yours for gratis." He didn't fail to tell me that filmmakers Sanjay Leela Bhansali and Rohit Shetty had sent him feelers for the Katha rights, adding, "They would have made a holy mess of it. I trust that you won't." As it happened the remake was imperilled by mountainous production problems. My last conversation with Suresh over the phone went on the lines of, "You shouldn't even have tried. You have to be a shopkeeper there, not a filmmaker."