Adityanath extols on India- Africa ties after opening hackathon in Greater Noida
Published on Nov 22, 2022 11:53 PM IST
The relations between India and Africa are unique as they share a historic bond together for centuries, said Uttar Pradesh chief minister Yogi Adityanath on Tuesday after inaugurating the four-day UNESCO-India-Africa Hackathon 2022 event being organised at Gautam Buddha University in Greater Noida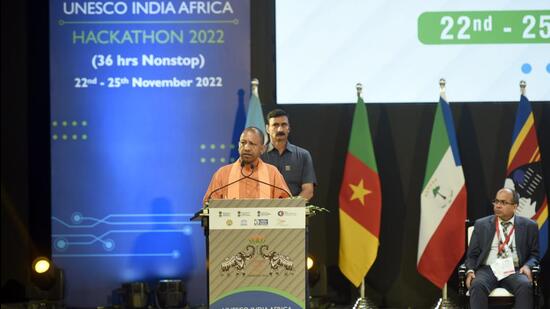 The relations between India and Africa are unique as they share a historic bond together for centuries, said Uttar Pradesh chief minister Yogi Adityanath on Tuesday after inaugurating the four-day UNESCO-India-Africa Hackathon 2022 event being organised at Gautam Buddha University in Greater Noida.
Adityanath said India has never started a war and instead had gifted the world Lord Buddha, who taught the doctrine of Ahimsa or non-violence.
"India is a country that never grabbed any country under the power of the sword. Prime Minister Narendra Modi rightly described India as the place that gifted Buddha to the world and not war. This is the blessed land of lord Ram and Krishna. And we share bonds with African countries for centuries. Our friendship has been conducive for world peace and it will continue to be the same," said Adityanath, who also appealed to the participants to explore innovation and educational options in Uttar Pradesh during their stay in India.
The CM reached the venue around 4pm and stayed for about 40 minutes before leaving for Ghaziabad.
The Unesco India-Africa Hackathon event is seeing the participation of 603 students who will engage in coding for 36 hours non-stop to find technology-based solutions for issues prevailing in the field of education, agriculture, health, energy and drinking water, among others, GBU officials said on Monday.
The Union ministry of education's innovation cell has organised this event that has students from 22 counties participating and exploring innovative ways to address issues that plague society
Adityanarh expressed gratitude to the organisers for choosing Uttar Pradesh as the venue for this international event that will enable students to find tech-based solutions to problems that many sectors face.
"Mahatma Gandhi started his journey in Africa. And Nelson Mandela followed Gandhi's footsteps and fought colour based discrimination in Africa. Now recently our Prime Minister released tigers from Namibia into Kuno National Park. And now Hackathon will take our relations with Africa to a new dimension," said Adityanath, who invited participating students to travel to ancient cities such as Varanasi, Prayagraj, and Ayodhya among others.
He encouraged students to work in the field of renewal energy, come up with startups and innovative businesses to make a stronger society.
Students from Botswana, Cameroon, Eswatini, Ethiopia, Equatorial Guinea, Gambia, Ghana, Guinea Bissau, Kenya, Lesotho, Malawi, Mali, Mauritius, Morocco, Mozambique, Namibia, Niger, Sierra Leone, Tanzania, Togo, Uganda and Zimbabwe will take part in the event, sources added