Two men arrested for stealing mobile phones, laptops in Noida
Two people allegedly involved in the theft of mobile phones and laptops of students from different housing societies and paying guest facilities for the past six months were arrested by Noida's Sector 39 police on Thursday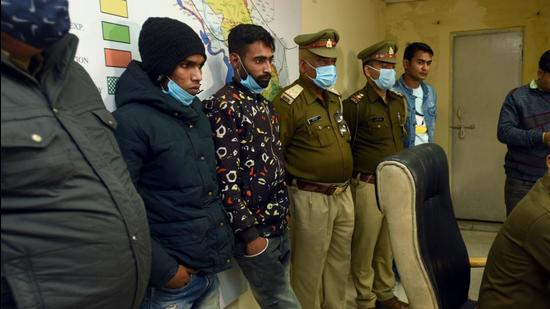 Published on Dec 03, 2021 12:14 AM IST
Two people allegedly involved in the theft of mobile phones and laptops of students from different housing societies and paying guest facilities for the past six months were arrested by Noida's Sector 39 police on Thursday.
Police have recovered eight laptops, four mobile phones and two knives from the suspects-- Mohammad Uzair (23), and Mohammad Aman (22), both residents of Kiratpur in Bijnor.
Kumar Ranvijay Singh, additional deputy commissioner of police, Noida, said police had received complaints of mobile phones and laptops getting stolen from the areas falling under the jurisdiction of Sector 39 police station.
"We registered cases and launched the investigation. We found that the modus operandi in each of the theft case was same. We scanned CCTV footage and found the suspects used to carry a bag on their shoulder to pretend as students. They used to check different rooms in the PGs and steal valuables," said Singh.
On Thursday, police received information about the movement of the suspects in Noida's Sector 98 area. "A team from Sector 39 reached the spot and found two suspects riding a motorcycle. The police checked their bags and found the stolen mobile phones and laptops," said Singh.
The suspects had stolen the motorcycle, which they were riding, six months ago from New Delhi, said police.
During the interrogation, the suspects revealed that sometimes they roamed in different sectors and societies and identified cars which had laptop bags inside. "They used to break the windows and steal laptops and valuables. They then sold the stolen valuables to people in their native village in Kiratpur. They also sold the valuables in Delhi," said police.
Singh said 18 cases of theft were registered against the suspects at different police stations in Noida. "Four other members of the gang are on the run. The two suspects were produced in court and sent to judicial custody," Singh said.
Close Story