AAP MP Sanjay Singh's house vandalised
Deputy commissioner of police (New Delhi) Deepak Yadav said a case was registered.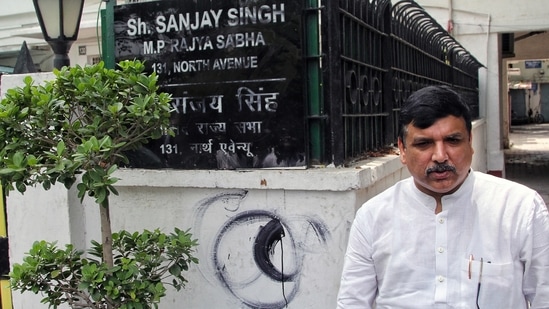 Updated on Jun 16, 2021 04:48 AM IST
The home of Aam Aadmi Party's (AAP) Rajya Sabha MP Sanjay Singh in Delhi's high-security North Avenue area was vandalised, and his nameplate blackened by unidentified men, ostensibly for alleging corruption in the purchase of a piece of land in Ayodhya by the Ram temple trust. Two of the alleged attackers were caught by Singh's supporters, and handed over to the police.
In his complaint to the police, Singh said he was talking to some people in the lawn around noon, when four-five unidentified men reached there and started shouting slogans "Sanjay Singh ko goli maaro (shoot Sanjay Singh)" and "Sanjay Singh murdabad", and moved towards the gate , where they defaced the name plate with black ink.
Deputy commissioner of police (New Delhi) Deepak Yadav said a case was registered. "Nobody suffered any physical injury. We have registered a case under sections pertaining to disobedience to order duly promulgated by a public servant, as well as defacing public property, and arrested the two men. Further investigation is on."
The police declined to share details about the arrested persons, and did not divulge if they were associated with any political party or organisation.
On Sunday, Singh alleged that Champat Rai, the general secretary of Shriram Janmabhoomi Teerth Kshetra Trust, purchased 1.208 hectares of land worth in Ayodhya's Bag Bjaisi village for ₹18.5 crore just 10 minutes after the land was sold for ₹2 crores in another deal. He alleged it was a scam perpetrated with the help of trust member Anil Mishra, and sought a probe into the matter by the Central Bureau of Investigation and the Enforcement Directorate.
The temple trust denied all allegations, saying the land deal was done in a transparent manner. Champat Rai said the land at Bagh Vijeshwar in Ayodhya was purchased at ₹1,423 per sq feet – lower than market rates. He said that the ₹2 crore deal dated back eight years -- between the property's previous owners and the ones the trust bought the land from -- but was not registered until now.
On Tuesday, Singh tweeted that he will continue to raise the issue. "My house has been attacked. Listen carefully, BJP supporters, no matter how much hooliganism you indulge in, I will not allow the funds collected for constructing the Ram temple to be stolen even if I am killed," the MP tweeted.
Reacting to Singh's claims, Delhi BJP spokesperson Praveen Shankar Kapoor called it a "scripted drama".
"Yesterday (Monday), he (Sanjay Singh) tried to malign Ram Mandir construction, today (Tuesday) he claimed an attack on his house. Everything is a scripted drama," Kapoor tweeted.
Close Story