No rhinos poached in Assam in 2022 for 1st time in 45 years
Jan 03, 2023 08:42 AM IST
Officials credited sincere, concerted and coordinated efforts of the state's forest and police departments for zero poaching in 2022
Assam recorded zero poaching of endangered rhinos, which are known for their horns that fetch big money because of their supposed medicinal value, for the first time in nearly 45 years in 2022.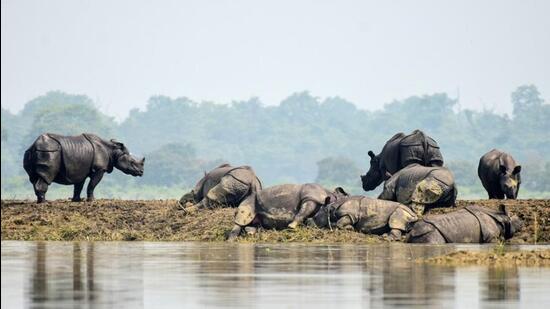 Chief minister Himanta Biswa Sarma said no rhino was poached at Kaziranga, Manas, Orang national parks and Pobitora Wildlife Sanctuary last year, calling it landmark.
As many as 191 rhinos were poached in Assam between 2000 and 2021. In 2013 and 2014, 27 rhino deaths each were reported. In 2020 and 2021, two rhinos each were killed.
Before 2022, no poaching of rhinos was last reported in 1977. Officials credited sincere, concerted and coordinated efforts of the state's forest and police departments for zero poaching in 2022.
Special director general of police (law and order) G P Singh said when Sarma took office in May 2021, one of the first things he focused on was zero tolerance towards rhino poaching.
A special task force against was created in June 2021 with Singh as its head. It has 22 senior police and forest department officials including chief wildlife warden MK Yadava.
Forest and police departments earlier worked independently to tackle wildlife crimes including poaching. The task force was created for coordinated fight against poachers.
Yadava said the coordinated efforts have worked. "We have intelligence both from forest and police sources about activities and movements of poachers, which helps in action against them," said Yadava.
The task force created a database of past incidents of rhino poaching with details of when, how and where they took place. Information on all entry and exit points poachers used to enter Kaziranga, Manas, Orang and Pobitora and details of all criminals associated with rhino poaching were also collected.
Boatmen near the national parks and wildlife sanctuary and residents of villages around them were taken into confidence. Phone details of criminals involved in past in rhino poaching were put under surveillance.
Singh said if any of these criminals enter the protected areas, they get alerts. "Watch towers with CCTV cameras were erected at specific locations and armed commandos from police and forest department were equipped with sophisticated arms, wireless sets, drones and night vision cameras."
Patrolling also became coordinated. All members of the task force also coordinated on WhatsApp groups. The task force focused on recent incidents of poaching, nabbed all criminals involved and recovered weapons from them.
Patrolling was intensified on full moon nights when poachers think they have better chances of sighting and shooting rhinos.
"Rhinos were also killed during the monsoon when flooding in Kaziranga forced the animals to move to higher grounds. Such rhinos were treated like VVIPs and were tracked and protected till they returned to the park," said Singh.
Last year, 58 people involved in rhino poaching were arrested while four were killed in police action. The surrender of weapons by militant groups in Karbi Anglong and Dima Hasao bordering Kaziranga, some of whom were involved in poaching, also helped.
Singh said general environment of peace and decrease in arms helped. "If we continue with this pressure, rhino poaching will stop completely. For this, the cost to poachers has to be higher than the profit they earn."
Around 1,400 personnel are involved in anti-poaching activities in Kaziranga, 200 in Manas, 150 in Orang and around 70 in Pobitora.
Yadava said most of the positive results have been the outcome of increased intelligence and improved coordination. "Now poachers are getting arrested almost every week."
The state government also addressed superstitions related to medicinal properties of rhino horns by burning nearly 2,500 of them in August 2021.
Bibhab Talukdar, the CEO of Aaranyak, a Guwahati-based wildlife NGO, said the efforts at reducing rhino poaching are praise worthy and they are reflected in the figures. "But they have mostly been Kaziranga-centric. The authorities must focus on Orang, Manas and Pobitora as well as frustrated poachers, who are well organised and might make attempts in those areas."
Assam is home to the world's largest population of one-horned rhinos. There are nearly 2,895 rhinos in the state with 2,613 of them concentrated in the Kaziranga National Park, 125 in Orang National Park, 107 in Pobitora Wildlife Sanctuary and 40 in Manas National Park.
Rhinos are listed in Schedule 1 of Wildlife (Protection) Act, 1972, as an endangered animal. There is an international ban on trade of rhino horns under the Convention on International Trade in Endangered Species of Wild Flora and Fauna.