'Bihar's fertility rate drops to 3 from 4.3': Chief minister Nitish Kumar
Dec 18, 2021 01:08 PM IST
Bihar chief minister Nitish Kumar on Friday said that the state government made arrangements to increase the level of awareness among females, including young girls, to bring down the fertility rate in the state to 3 from 4
Bihar chief minister Nitish Kumar on Friday said that the state government made arrangements to increase the level of awareness among females, including young girls, to bring down the fertility rate in the state to 3 from 4.3 previously.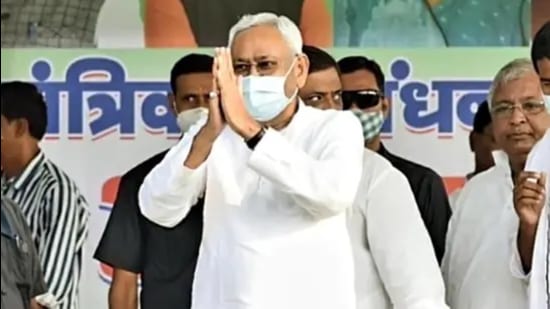 "We decided to make arrangements for education up to Intermediate level in all the panchayats, which would reduce the fertility rate. We emphasised the need to educate girls," said the CM. He pointed out that as of now, the fertility rate in the state has come down to 3. "The way we are working, the fertility rate in Bihar will come down to 2," he added.
Addressing a ceremony on the occasion of commencement of construction work of Kamla barrage at Jayanagar in Madhubani district and the upgradation, strengthening and paving work of Kamla Balan left and right embankment phase-1, the CM said with these schemes lakhs of the population will get relief from irrigation facilities besides reducing floods in the region. The scheme was being executed under the aegis of the state water resources department (WRD).
"There are two types of work in the WRD. The department had to work on taking flood relief measures and irrigation management together. That's why we instructed the department to conduct its operation in two parts so that both these works can be performed smoothly," the CM averred.
The CM told the gathering that earlier, no work had been done for flood relief in the state. "When people gave us a chance to work, we implemented the disaster management programme.
He said that in June last year, he had asked the WRD officials to convert the weir on the Kamla river into a barrage to create additional irrigation capacity.
"The weir was built in 1970. Due to the rise in water level, now it was necessary to build a barrage on Kamala. With the completion of this work, people will get protection from floods, as well as irrigation facility will be available to them," the CM added. The chief minister also reiterated the ill effects of liquor consumption on health. Kumar imposed a liquor ban in the state following a demand particularly raised by women of the state in 2015. The CM called upon the women to ensure strict vigil on any violation of prohibition in the state for which yet another campaign would be launched on December 22.