BharatVerse to create metaverse experience for Pune's Kelkar Museum
Jan 11, 2023 11:49 PM IST
BharatVerse will be responsible for the design, development and feature enhancement of a metaverse experience for Raja Dinkar Kelkar Museum
BharatVerse – India's first metaverse platform created to showcase the glory of Bharat with the use of new-age technologies – has signed a memorandum of understanding (MoU) with the Raja Dinkar Kelkar Museum (RDKM), a prestigious institution engaged in the preservation and presentation of the country's multifaceted cultural heritage through its marvellous collection of everyday art and craft. With this collaboration, BharatVerse will be responsible for the design, development and feature enhancement of a metaverse experience for RDKM.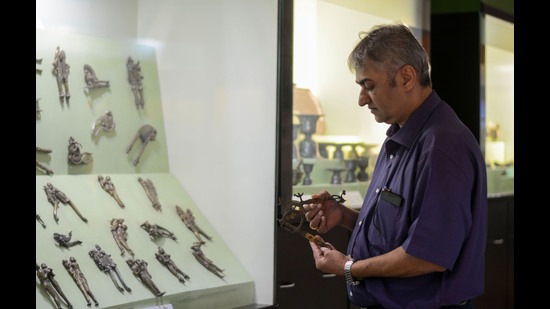 Rohit Srivastava, serial entrepreneur and founder-director, BharatVerse, said, "BharatVerse envisions creating a digital twin of places of special interest so that the same can be experienced by people across the globe, helping promote places such as RDKM. The metaverse experience will be hosted on BharatVerse's platform and will be accessible to users through various devices such as head-mounted devices, mobile phones, web browsers etc. To begin with, the existing 3D virtual tour created by the museum with the help of noted ophthalmologist Dr Shreekant Kelkar will be hosted and showcased by BharatVerse on its platform."
"BharatVerse is an attempt to bring our glorious Bharat onto the metaverse. In simple words, we envision BharatVerse as a collaboratively built virtual Bharat where every square metre of the real Bharat can be showcased as it exists. We are building the platform on the three-pronged principles of collaboration, creativity, and contribution. The RDKM certainly deserves use of the metaverse platform to reach both masses and classes worldwide," Srivastava said.
Whereas Sudhanva Ranade, director, RDKM, said, "Under the BharatVerse initiative, we will together be creating a metaverse experience for RDKM so that people can explore the museum from across the globe and plan to visit the museum when they come to Pune. We will provide an immersive experience of the metaverse so that virtual visitors can get a feeling of being present inside the museum in real time. Keeping in mind this objective, the RDKM has signed a MoU with BharatVerse, which I am sure will turn out to be a landmark decision helping the museum grow exponentially."
On display at RDKM are a variety of artefacts including traditional lamps, palanquins, carved woodwork, tinware, combs, bowls, stones, hookahs, locks, spittoons, musical instruments, miniature paintings, glass paintings, lime containers, intricately carved wooden doors and windows, ancient dwellings, nutcrackers, figurines, bronzes, arms and armoury, ivory objects, kitchen utensils, textiles and the Mastani Mahal rebuilt within the RDKM premises. The RDKM collection reflects the imagination and elegance of Indian craftsmen.