MSRTC strike hits day 50: Process for dismissal of those not working begins
Dec 17, 2021 10:01 PM IST
As of Friday, 69 staffers who had participated in the protests have been sent showcause notices with an enquiry process to dismiss now begun
PUNE Despite several attempts to get staff to resume work. the Maharashtra State Transport Corporation (MSRTC) workers' strike hit day 50 on Friday.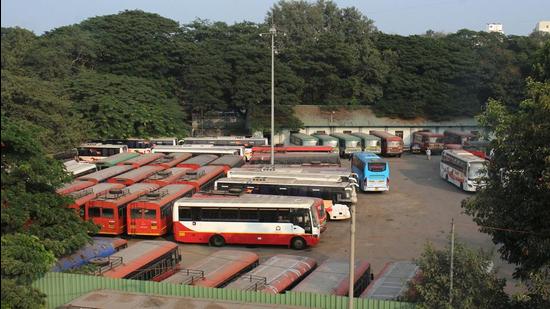 Now the MSRTC's Pune division has started the process of dismissing staff on strike and as of Friday, 69 staffers who had participated in the protests have been sent showcause notices with an enquiry process to dismiss now begun.
So far, a total of 1,250 workers of the 4,200 workers in the Pune division have resumed work. State transport minister Anil Parab had warned protesting workers across the state to join to work by December 13, but very few responded. Now the process to dismiss has begun and a departmental enquiry will conducted in three rounds.
"We have sent showcause notices to 69 protesting workers since Monday and an enquiry will be done in three rounds. If they do not appear for the enquiry then a final ultimatum to resume duty will be given and then they will be dismissed," said MSRTC Pune divisional controller Ramakant Gaikwad.
"Around 1,250 workers have joined work in Pune division and most of them are from workshop and administrative departments. And we have suspended 488 workers, 66 of whome then rejoined work. Still the number is less to start bus operations in Pune division," he added.
MSRTC workers and several unions are protesting various demands. Apparently, the main demand of merging the MSRTC into state government was compromised according to the workers, after which workers (apart from the union members) spontaneously started the strike and all the 13 depots in Pune division have been affected. To support the state government the private tourist bus association gave 2000 buses to be operated across the state.