Pune Metro arrives with hope of hassle-free public transport
Updated on Mar 07, 2022 01:17 AM IST
Puneites boarded their first Metro ride at 3:22 pm, minutes after Prime Minister Narendra Modi inaugurated the facility, and hope for hassle-free public transport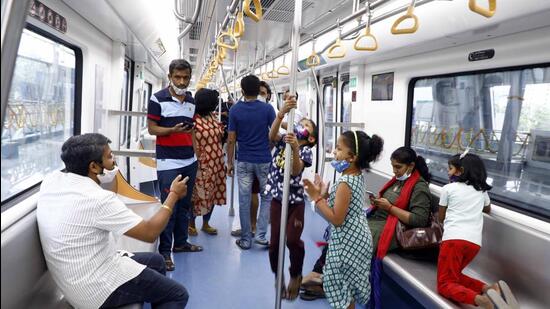 Pune: Chanting 'Ganpati Bappa Maurya' and 'Chhatrapati Shivaji Maharaj Ki Jai', Punekars boarded their first Metro ride at 3:22 pm, minutes after Prime Minister Narendra Modi inaugurated the facility.
Many felt a jerk as the Metro started from Garware to Vanaz, the 5-km priority stretch.
"Hurrah! Metro finally arrived in Pune," said Bibushan Chole, who is happy that he will not have to use PMPML now to travel between Vanaz and Garware.
"We need more metro routes for easy passage across the city. Then it will be useful for people," said Chole.
Although the first ride between Garware college and Vanaz was not filled to capacity and one could roam easily in the three coaches, the second ride onward all three coaches were jam-packed.
Puneites enjoyed their Sunday with joy rides on the metro as people turned in numbers to get first experience of the facility.
"Arrangements inside coaches are good, and we hope it is used wisely as in Pune we have people who do not treat public properties with respect," said Rahmi Kulkarni, travelling with her husband.
People appreciated mobile and laptop charging facility inside coaches.
Majority of travelling people were happy with Metro's 80 km per hr speed.
"One cannot drive a four-wheeler on the Vanaz to Garware college route at 80kmph, so Metro makes things easy for you and distance is completed in 15 minutes which is a major relief. On the road it is impossible," said Vikas Swami, student.
As rush increased around 6pm at the metro station, people got frustrated as only two ticket windows were open at Garware college and the third window was not operational.
"Third window will be operational on Monday," said an officer present at the ticket counter on condition of anonymity.
Metro services started on both inaugural sections (Vanaz to Garware college, Pimpri to Phugewdi) at 3.22 pm.
Ridership on Sunday (till 9pm)
Vanaz-Garware college - 15,842
Pimpri -Phugewadi- 4,616
Mobile ticket cell (via app) -1979 (both lines)
Total-22.437
Source: Maha-Metro
People verdict on Day 1 metro ride
Station facility: 6 out of 10 (more ticket window; empty enquiry desk; need more volunteers for guidance)
Comfort in Metro: 8 out of 10
Will you use metro service regularly?: 10 out of 7 people said 'YES'