Uruli Devachi garbage depot generates 400 units of power for independent usage
Published on Jan 25, 2023 10:25 PM IST
The Pune Municipal Corporation (PMC) had spent ₹56 lakh to set up this electricity generation project which entails 100 kilowatts capacity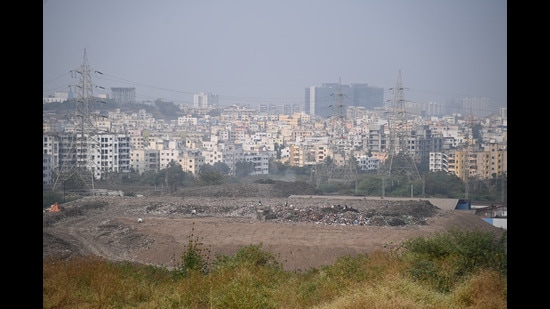 Uruli Devachi garbage depot's solar energy project has begun generating 400 units of electricity on a daily basis, said officials. This electricity is being used for street laps and also for activities of the garbage depot
The Pune Municipal Corporation (PMC) had spent ₹56 lakh to set up this electricity generation project which entails 100 kilowatts capacity.
Though garbage dumping is banned at the site, the civic body has started bio mining of the dumped waste and processing the garbage is underway at the spot and processed material is being used as manure for conservation and preservation of 20,000 trees planted by the garden department after converting the desolate space into urban forest.
PMC electricity department chief Sriniwas Kandul said, "Currently 400 units of solar generated electricity is being used to carry out different activities of the plant including powering of street lamps. The demand for electricity will go up in summer and our current requirement for the energy for the project is between 7,000 to 7,500 units daily."
Kachra Depot Hatav Sangharsh Samiti, a local group of villagers and activists had approached the National Green Tribunal (NGT) complaining about violation of its earlier orders and municipal solid waste management rules, 2016 and other environmental laws. The bench had observed that there was no scientific disposal of the dumped waste amounting and stated that open dumping is still on.
The principal bench of National Green Tribunal (NGT) in June 2021 had directed the PMC to deposit ₹2 crore in a separate bank to utilise for restoration of the environment at the Uruli Devachi and Phursungi open dumping site for failing to execute the orders issued by the NGT in the year 2018 and 2020. The NGT ordered that a portion of that fine amount be allocated for the construction of the solar electricity generation project.
The PMC stated that the project tenders were released expeditiously leading to reduction of power usage through clean and green energy of the solar project