Your Space: Demand for new routes, student discount offers in Pune Metro
Published on Mar 06, 2022 04:24 PM IST
Readers share their expectations from the metro service in terms of cost factor, adaptability, accessibility, comfort and safety...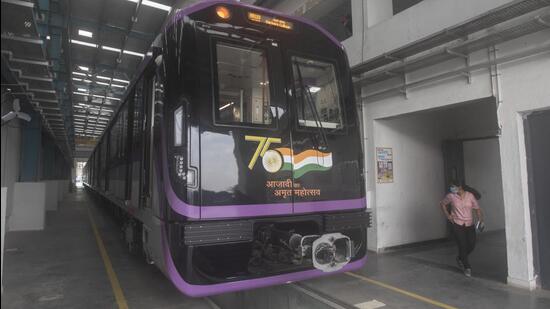 With the much-awaited Pune metro facility to start commercial operations on two routes from March 6, our readers share their expectations from the service in terms of cost factor, adaptability, accessibility, comfort and safety
Need diverse routes
It is a good thing that Pune metro will be starting its services for Puneites. When it comes to public transport, Pune has its challenges and it has always affected local commuters. Many people, including me, prefer using my own two-wheeler as it is efficient and saves time. But if Pune wants to grow like Mumbai, a cheap, accessible public transport system is a must. Mumbai has successfully executed its network of local trains and Best Buses. But Pune has struggled with lack of planning and execution so far. Metro services will be one of the most comfortable and fast public transport options for citizens who travel across the city daily. But the routes have to be diverse. I live at Akurdi and the route will be accessible for me but not entirely. Here again, the planning of the route was important. If I work at Bibwewadi or Kondhwa, I can't really take the metro all along. I have to change the mode of transport. Similarly, like the two routes that are starting now, there should be accessible connecting transport from these points. Otherwise, the whole point of the metro is defeated.
-Rajesh Deshmukh
Affordable for students
I live at Shivajinagar and travel to Tilak road for my coaching class. The only local transport that I use is buses. But I am hopeful that by the time I am in Pune, I will be able to travel by metro. The underground work for the metro is ongoing on this route. I hope that the metro is affordable for students. Buses are a good public transport system but issues like traffic jams are frequent which can delay the travel. Such issues won't be there in the metro. And hopefully frequency will be better too. The only question for me is about affordability. If the metro services are cheap and remain cheap, then I would love to travel in them.
-Mansi Waghmare
Connectivity to industrial areas
The two designated routes are good and the quick work on these routes ensure that very soon a large chunk of the population will be using the metro service. But what about the connecting areas? The planning of these routes could be better. For instance, a large number of people travel to Chakan and Hadapsar for work. While for Baner, Wakad and Hinjewadi there is a highway that can help many commuters reach on time, for these other areas the number of options is time consuming. While the government decided to work on three routes, they have very conveniently ignored the other routes which are used by most people. The government should come up with routes for these areas as well so that more people are able to utilise the services and reach for work on time.
-Amruta Deshpande
Increase frequency
The fast work of the metro has made travel easier for many. It is a good thing that soon more than one option will be available for commuters to travel. With the local and metro from Pimpri-Chinchwad to other parts of the city, travelling will be easier. However, these routes should be kept affordable for the general public. Keeping in mind, the number of people that travel every day the frequency of the metro to and fro should be increased. Also, there should be more effective transport options to travel despite the metro as it will be easier for people to choose. I think with the petrol prices likely to rise, there is a chance that more people will be choosing the metro and bus services. The provisions should be made while keeping all of this in the mind.
-Prashant Nikam
Need a route from Chakan
We need a route from Chakan to Kalewadi. I live in Chakan and there is a daily three kilometre long traffic congestion during peak hours. A metro route would be very helpful for commuters to save time and travel safely. Such planning should be made as soon as possible as this route will be in demand. Many students also live here who travel to the city for college and schools.
-Anita Salve
Personalise your news feed. Follow trending topics