Rickshaw driver's story gives road rage incident a communal turn in Ranchi
A tenuous peace in Ranchi came under threat once again with a rickshaw driver concocting a story that threatened to turn an incident of road rage into a communal clash.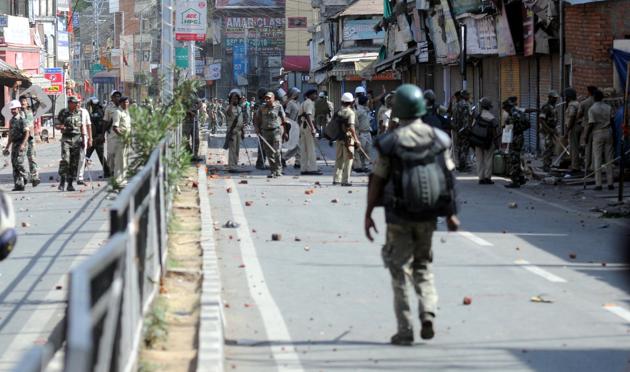 Published on Apr 16, 2017 06:40 PM IST
Tension simmered in Ranchi's MG Road for the second time in less than a week after one of the parties in a road rage incident late Saturday night sought to give a communal colour to it.
A Muslim e-rickshaw driver allegedly cooked up a story of how he was taken to an isolated area by a group of youths, asked to chant religious slogans and beaten up for refusing to oblige.
His story sparked major unrest in the Muslim-dominated Ekra Masjid locality and brought thousands of protestors out on the street in his support.
However, police said they later found out that the e-rickshaw driver was assaulted by the owner of a Santro car after a minor accident on MG Road. The car owner had also lodged a complaint against the rickshaw driver Iliaz Khan with the local police station.
Police personnel were rushed to MG Road and protestors were chased away to avoid the situation from snowballing into a conflagration. Armed police personnel were deployed on the streets through the entire night and on Sunday to prevent any further tension.
Read More: 'Objectionable' song sparks communal tension in Ranchi
"The rickshaw driver cooked up the entire story only to gather a mob and scare the car owner with whom he had a scuffle," said Ranchi superintendent of police Kishore Kaushal.
He added that the police will examine the CCTV footage of the area and take necessary actions against whoever is found guilty.
"The forces are still deployed in the area as a precautionary measure. The rickshaw-wala alleged that he was beaten up by five men, but there wasn't even a scratch on his body," said Kaushal, adding that Iliaz would be interrogated further.
Rumours about communal clashes have become a major concern for the administration in the BJP-ruled Jharkhand, with random messages on WhatsApp and hearsay proving enough fuel to spark tension.
On April 11, a devotional song with alleged objectionable lyrics played at MG Road in Ranchi led to communal tension, with groups of Hindus and Muslims pelting stones at each other before the police restored peace in the area.
Meanwhile, Vishwa Hindu Parishad chief Pravin Togadia on Sunday said in Ranchi that objectionable songs were played only in stray incidents and shouldn't be the parameter to judge the enthusiasm in Hindus.
Close Story