Three LeT terrorists held in J-K's Rajouri; Pak drone dropped arms
Recoveries include two AK-56 assault rifles, six AK magazines with 180 rounds, two Chinese pistols, three pistol magazines with 30 rounds, four grenades and Rs 1 lakh in cash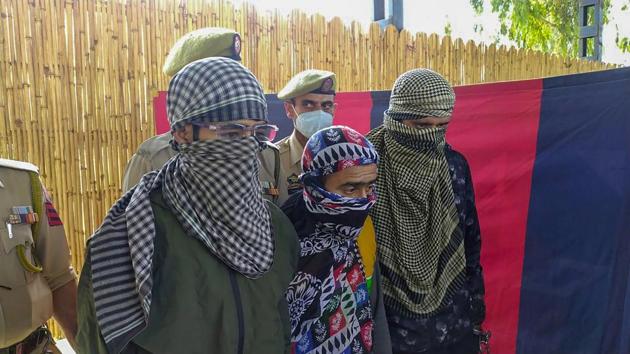 Updated on Sep 19, 2020 06:56 PM IST
After a Pakistani drone dropped arms and ammunition across the Line of Control in Rajouri district, security forces nabbed three Lashkar-e-Taiba (LeT) terrorists late Friday.
The trio had come from Pulwama via Mughal road and had picked up the consignment before security forces swooped on it.
It was the fourth such attempt by Pakistan since June to push arms and ammunition into J&K with the help of drones. The first such attempt was made at Rathua of Hiranagar sector in Kathua district on June 20.
Also read: Police bust militant hideout in J&K's Awantipora, recover huge cache of arms, explosives
The Lashkar terrorists have been identified as Rahil Bashir alias Ayaan Bhai, 20, of Tickan in Pulwama, Amir Jaan alias Hamza, 25, of Kakapora in Pulwama and Hafiz Younus Wani alias Zubair,19 of Shopian.
Recoveries include two AK-56 assault rifles, six AK magazines with 180 rounds, two Chinese pistols, three pistol magazines with 30 rounds, four grenades and Rs 1 lakh in cash.
An FIR has been registered against the trio under the IPC, Indian Arms Act and UAPA.
Addressing media persons in Rajouri, DGP Dilbag Singh said, "Pakistan has been continuing with its attempts to send weapons and narcotics by drones. Infiltration attempts and ceasefire violations in Rajouri and Poonch are also on but police and army besides other security forces are working in unison and remain active. This time, police and 38 RR did a commendable job on Friday. They caught a group which had come from Kashmir to this area to pick a consignment of arms and ammunition."
"The team found three men with bags in the area. The moment they saw the team, they lobbed a grenade which didn't explode.. .They were overpowered. Arms and ammunition besides and rupees one lakh cash that was sent by Pakistan to fuel and sponsor terror activities were found from the bags," said the DGP.
"The three terrorists belonged to LeT and weapons were sent across by a drone from Pakistan," he added.
DGP further said that Pakistan was trying to revive terrorism in Rajouri and Poonch districts. He admitted that detecting weapon dropping via drones in hilly areas was a bit challenging.
On the alleged fake encounter of three Gujjar men in Amshipora on July 18, he said police and army have launched parallel probes into it. "We are also working on it and we had taken DNA samples. Army has clarified in cleat terms that action will be taken," he added.
On Friday, army had said, "An inquiry has brought out certain prima facie evidence indicating that during the operation, powers vested under the AFSPA 1990 were exceeded and the Do's and Don'ts of Chief of Army Staff (COAS) as approved by the Hon'ble Supreme Court have been contravened. Consequently, the competent disciplinary authority has directed to initiate disciplinary proceedings under the Army Act against those found prima-facie answerable."
Close Story