Uttar Pradesh: RSS-backed body burns Nehru, Jinnah effigies
Updated on Aug 14, 2017 03:04 PM IST
The Rashtriya Swayamsewak Sangh courted fresh controversy when cadres of the Sangh-backed Muslim Rashtriya Manch torched the effigies of the two leaders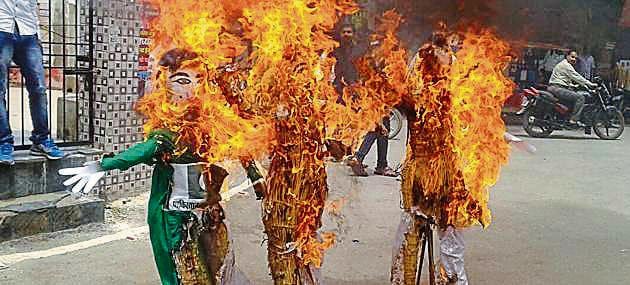 The Rashtriya Swayamsewak Sangh (RSS) courted fresh controversy on Sunday when cadres of the Sangh-backed Muslim Rashtriya Manch, burnt the effigy of country's first Prime Minister Jawaharlal Nehru along with that of Pakistan's founder Mohammad Ali Jinnah.
The burning of Nehru's effigy in many parts of UP, including Lucknow, followed the Congress's criticism of the Modi government trying to distort Indian history by not acknowledging the contribution of Congress stalwarts in the freedom movement.
RSS pracharak Mahirajdhwaj, as well as Mohammad Afzal of the MRM, justified the burning of Nehru's effigy along with Jinnah's, saying the "selfishness" of the two leaders was responsible for Pakistan's birth.
In several parts of UP, including Faizabad, Unnao, Lucknow, Kanpur and Mathura, the MRM cadres burnt Nehru-Jinnah effigies along with that of Pakistan's national flag; something they intend to do on Monday as well.
The MRM mostly comprises Muslims and getting minorities to burn Nehru's effigy appeared to be a Sangh ploy to embarrass the Congress further.
The Congress accused the RSS and the BJP of distorting history and flagging controversy to divert attention from its failures, including the latest Gorakhpur child deaths for which Yogi Adityanath government has drawn a lot of flak.
"They (RSS-BJP) should be ashamed of distorting history so blatantly. How can Nehru be compared with Jinnah? The RSS attempts to paint Nehruji, an architect of modern India, in negative light is timed with all-round flak that BJP government in UP is drawing over Gorakhpur child deaths. That explains it all," said Congress leader Pradeep Mathur.
However, the MRM and the RSS cadres remained unmoved.
"We are committed to Akhand Bharat or united India, of which Pakistan-occupied Kashmir is also a part. PoK and Pakistan itself are the legacies of Nehru and Jinnah and the effigy burning was timed with our Akhand Bharat celebrations ahead of our Independence Day," the RSS leaders told HT. The RSS is the ideological fountainhead of the Bharatiya Janata Party that the Congress claims is out to market a saffronised history.
Nehru has been deleted from school textbooks in Rajasthan. The country's first PM is also missing from a preparatory booklet circulated by BJP among school students for a forthcoming quiz in UP, another BJP-ruled state.
"Let them do whatever they want. They are in power but must realise that power doesn't last forever," said former Congress lawmaker Akhilesh Pratap Singh.