After LS poll debacle, can the Congress bounce back?
The 2014 Lok Sabha elections proved to be the worst for the Congress, as the grand old party suffered a humiliating defeat. As the party has faced life threats in the past, is this the end of Congress?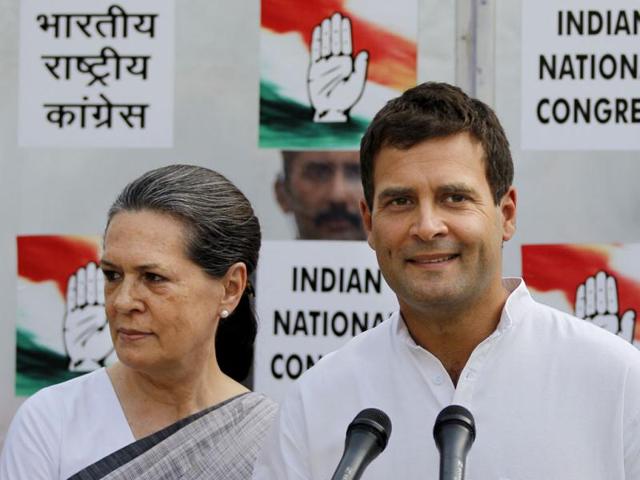 Updated on Jun 11, 2014 08:02 PM IST
The Congress party received its worst drubbing in the 2014 Lok Sabha polls. While all opinion polls pointed to a sub-100 tally for the Congress, it failed to even score a fifty prompting jokes on internet that now they can fit in one WhatsApp group, one railway wagon or a Volvo bus.
Congress' previous low score was 114 in 1999 when the Bharatiya Janata Party-led National Democratic Alliance formed the government. Even during Emergency when there was so much anger against the Congress and Indira Gandhi, it won 153 seats.
After its poor performance in the polls, there is a minor revolt in the party: leaders have started criticising Rahul Gandhi's advisors and some have even demanded that his sister Priyanka Gandhi Vadra should take charge. Narendra Modi ran his campaign on the slogan 'Congress mukt Bharat' (Congress-free India). The slogan has hit Congress hard.
All this leads us to an important question: is it the end of Congress?
Let's first analyse the poor state of Congress and why this could be one of the biggest threats to its survival and relevance.
CANDIDATES LOST BY BIG MARGINS
Congress candidates won in 44 seats. In seven of these seats, they were plain lucky, winning by less than 10,000 votes. The party finished as the runner up in 224 constituencies. In 158 of these seats (70%), Congress candidates lost by a whopping 1 lakh votes or more.
PARTY HAS POOR PRESENCE IN KEY STATES
The party has chief ministers in power in 11 states - Arunachal Pradesh, Meghalaya, Manipur, Mizoram, Assam, Kerala, Maharashtra, Himachal Pradesh, Uttarakhand, Karnataka and Haryana. It is in power in alliance with National Conference in Jammu and Kashmir and Jharkhand Mukti Morcha in Jharkhand.
Two of these states--Haryana and Maharashtra--face assembly elections later this year. Congress suffered a whitewash in these states in the Lok Sabha polls and is expected to lose in both the states. The party has been in power in these two states for the past decade and there is a strong anti-incumbency against state government.

Kerala is due for elections in 2016, going by historical trend this time Left Front could win (the state always chooses an alternate government every five years). This makes it eight states - five are from the northeast and two the small states of Himachal and Uttarakhand. These are not very relevant on the national politics front accounting for only 30 Lok Sabha seats. Karnataka is perhaps the only big state (28 Lok Sabha MPs) where they are in power.
The party does not have any presence in the Hindi heartland of Bihar and Uttar Pradesh for over two decades now. After Mamata Banerjee they have been extinct from West Bengal and lost badly in Madhya Pradesh, Rajasthan, Chhattisgarh and Delhi recently.
In Andhra they have messed up big time. In Odisha and Tamil Nadu they are nowhere in the picture. In Gujarat they have not been able to bounce back for decades. And these states account for 362 seats (2/3rd of Lok Sabha strength).
PARTY DOESN'T HAVE STATE-LEVEL STALWARTS
Congress doesn't have tall state leaders like the BJP has - Shivraj Chouhan (MP), Raman Singh (Chhattisgarh), Manohar Parrikar (Goa), Vasundhara Raje (Rajasthan), Sushil Modi (Bihar), Amit Shah (Gujarat), Yeddyurappa (Karnataka), Kalyan Singh (UP) etc.
None of the state leaders of the Congress are powerful. It has been a policy of the Congress to pin down stalwarts so that the Gandhi family is not challenged - K Kamaraj, Mamata and Sharad Pawar are a few examples. At one point of time they had leaders like Rajesh Pilot, Madhav Rao Scindia and Arjun Singh who had a mass following.
But now, apart from the Gandhis there are no big names.
The party creates two to three big leaders in every state and encourages infighting between them - Jyotiraditya Scindia-Digvijaya Singh-Kamal Nath in Madhya Pradesh, Charan Das Mahant and Ajit Jogi in Chhattisgarh, Prithviraj Chauhan-Ashok Chauhan-Gurudas Kamat in Maharashtra.
DECISION-MAKING LEFT TO VETERANS
A look at the Congress Working Committee says a lot about the plight the party is facing. It has 41 members including 14 permanent and four special invitees. The average age of the CWC is 68, only three are Lok Sabha MPs (including Sonia and Rahul) and 15 are Rajya Sabha MPs.
A lot of them are loyalists of Rajiv and Indira with no mass base. Most of them like RK Dhawan, Karan Singh, Mohsina Kidwai, ML Vora, ML Fotedar, Oscar Fernandes and Anil Shastri have no political base and wouldn't themselves remember what was their last political assignment. They are neither in sync with the mood of the nation nor the politics in their respective states. Youth of the country doesn't connect with them.
OVER-RELIANCE ON GANDHI NAME
The party relies heavily on the Gandhi family. It can't run without them at the helm. The Congress could split if they leave is the common argument. Even the traditional vote bank of Congress - minorities and Dalits - didn't vote for them in the Lok Sabha polls. They too are perhaps fed up with their appeasement and vote-bank politics.
DISCONNECT WITH ASPIRATIONS OF YOUTH
The youth of India is fed up with dynastic politics. They want leaders who have slogged and worked for the country and not those who are born with a silver spoons in their mouths. They saw themselves in Modi - a common man who striven and worked his way up through to the country's top post and not somebody who rose because of his last name. After all India is a democratic country.
CAN IT BOUNCE BACK?
The Congress has survived many a life threat in the past and always come back strong.
In 1969, the party split and Morarji Desai and Kamaraj formed the Indian National Congress (Organisation) or informally the old Congress. In 1971 general election, the INC (O) won about 10% of the vote and 16 Lok Sabha seats, against 44% of the vote and 352 seats for Indira's Congress.
In 1977, because of public ire against the imposition of Emergency, the first non-Congress government was formed and the Congress lost badly. It was widely anticipated that Indira's career was over. She bounced back in 1980 due to internal bickering within Janata Parivaar.
In 1994, ND Tiwari, Arjun Singh and Natwar Singh formed All India Indira Congress (Tiwari) but later merged back when Sonia became the party president.
In 1997, Mamata Banerjee formed All India Trinamool Congress. She returned to the United Progressive Alliance fold but left before polls.
In 1999, Sharad Pawar, Tariq Anwar and PA Sangma formed Nationalist Congress Party. The same year Pawar was forced to have an alliance with Congress in Maharashtra to form the government in the state.
All these splits have not impacted the party much and Congress went on to form government at the Centre in 2004-14.
So what does it need to do?
(i) The Gandhis need to take responsibility and resign from all party posts. This will show that they do not want to cling on to power at any cost. They may ultimately get re-elected.
(ii) Dissolve CWC and other state committees.
(iii) Encourage internal democracy. Elections should be held for posts in the CWC. Young leaders with clean track record need to be injected in party positions.
(iv) Give more responsibility to young leaders like Sachin Pilot, Jyotiraditya Scindia, Ajay Maken and Milind Deora.
(v) Behave as a responsible opposition. Contribute to good decisions, criticise wrong ones.
The Congress came back in power in 2004 after the India Shining campaign of the BJP failed. Five years is a long time.
Few anti-poor policies of the NDA will lure people towards Congress. If the NDA is unable to deliver because of global factors, people will not spare them either
Nobody predicted Congress would come back to power in 2004 and one can't write them off completely. But all said and done it does look really tough.
(The views expressed are personal.)
Close Story