Ideological clashes only dishonour what Gauri Lankesh stood for, writes Barkha Dutt
Sep 08, 2017 06:04 PM IST
Gauri Lankesh, a critic of Hindu extremism, who was shot dead at her house in Bengaluru on Tuesday evening. Her murder is an insurmountable loss to critical journalism in India.
Earlier this year, I was on a panel discussion moderated by David Remnick, the brilliant editor of 'New Yorker', to discuss whether globally "journalists are under siege." Partly mindful of how quick western audiences are to caricature India (while being more blasé about, let's say, Saudi Arabia) and partly because I genuinely believed so, I objected to India being clubbed with Russia and Turkey. I argued that there were indeed many grave issues with media freedom in India - smear and intimidation on social media, flawed revenue models and an absence of institutionally guaranteed access to information --- but our journalists, I said, were not quite being thrown into prison or killed, like in other parts of the world.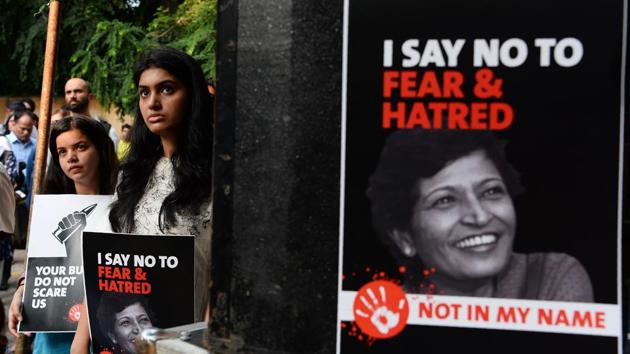 The assassination of veteran journalist Gauri Lankesh this week made me pause and reconsider my confidence. It also made me revisit my initial assumption. Seventy journalists were killed in India between 1992 and 2016, according to a report by IndiaSpend; 142 were attacked over a two-year time period up until 2015. These statistics brought home my own cocooned class privilege as a journalist who lives and works in the capital. Though I receive a rape and a murder threat on a weekly basis online --- and sometimes offline too, and outspoken women are way more vulnerable than their male colleagues, I honestly cannot compare my situation or that of my colleagues in the big metros, with the real foot soldiers of our professions - stringers in small towns and villages, reporters who work fearlessly and often unsung, braving threats without rewards or protection.
Ram Chander Chhatrapati, the journalist who first exposed the rape complaints against Ram Rahim, for instance, was shot dead, and not one of us marched for him. These are admittedly our failings and if there's one tribute we can offer Gauri - who spoke and wrote for the underdog and the marginalised - it's that we learn to respect the lives of those who exist in social circles we do not move in with as much fierce passion as we keep for those we know and love. Gauri's murder is a wake-up call for press freedom; it's also a reminder to us to honour those who went before her, and those who may, god forbid, follow.
What depresses me this week, almost as much as her murder, is the unbearable polarisation and ugliness that has followed it. Yes, Gauri was a trenchant critic of Hindutva and yes, her assassination took place on the watch of a Congress-led government. We should be pushing the Karnataka government and the Union home ministry for justice. We should promise ourselves that we won't let her murder become as forgotten headline, like that of rationalist thinker MM Kalburgi, did. Instead we have reduced grief to a contestation of ideologies, drawing lines in the sand between the Left and the Right and the BJP and the Congress and reducing the memory of Gauri Lankesh to a utilitarian plaything between warring, self-serving camps. And a moment that should have united as journalists has become another sad occasion for petty spats and instant judgments and lazy determinations of good and evil. Who are we becoming?
At the Delhi Press Club protest against Gauri's murder, I spoke to say, silence is complicity. I meant it. This was a targeted killing; this was a chilling message to media. But the opposite of silence is not squabbling among ourselves and sullying the memory of a brave and feisty woman with innuendo and dirt. I don't agree with many things Gauri Lankesh wrote and said and I am sure she didn't always like me or my work. But that's the whole point of freedom isn't it? That we speak for the rights of the individual? That every citizen is entitled to her views, within the generous width provided by India's stellar Constitution?
The real danger to Indian journalism today is the pressure to be popular. I have seen younger colleagues, not as thick-skinned as some of us are able to be, modulate their views and opinions to what they think the majority wants to hear. They worry about being called 'presstitutes' or 'anti-nationals', they want the comfort of fitting in and of being accepted. It may be a natural human instinct, but a reporter's job is to stand alone when needed and to be disliked when necessary. It is also our job to speak - not just for those we agree with, but especially for those we disagree with.
Gauri's death warns each one of us to not to take online threats of violence and abuse lightly. I received a tweet soon after her murder telling me it should have been me instead of her, a blasé death wish that got many 'likes'. But I will not allow the toxicity of Twitter and the poison of slander to become an instrument of censorship. That, if anything, is what we owe Gauri and the other journalists, who died in the line of duty.
Barkha Dutt is an award-winning journalist and author
The views expressed are personal