Kanhaiya Kumar's message was in the delivery
Updated on Mar 06, 2016 09:16 PM IST
In the masquerade of an underdog Kanhaiya Kumar lampooned the Sangh, and even as he did that he framed nationalism as subordinate to welfare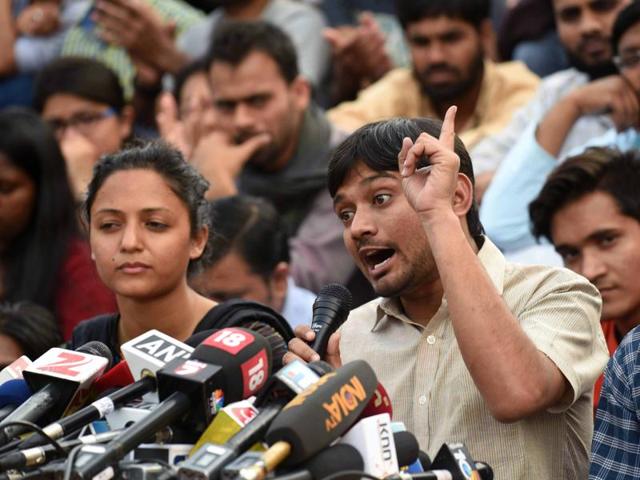 An indecent thought about a fine young man called Kanhaiya Kumar may have crossed your mind: 'What exactly is a twenty-nine-year-old student'? That, too, in liberal arts. Some news reports claim he is twenty-eight. He is not a student in the figurative way that some professors employ the word to appear modest. He really is a student with an ID card. There are many like him, even in their thirties. In the film 'Rang De Basanti,' Aamir Khan played an ageing student, but not as bright as Kumar, who did not wish to leave college because the world outside was a tougher place. Is a never-ending doctorate in arts then a refugee camp for those who do not wish to negotiate adult life? Not always, but let us complicate the matter.
What if the almost thirty-year-old student is from a very poor farming family, who frequently invokes the poverty of his mother to show the failure of someone else, the failure of the whole system? Should he have entered the job market at twenty to send money to his mother instead of researching social transformation in South Africa? Millions of young men who never invoked or lamented in public the poverty of their mothers have quietly done precisely that — they raced through formal education, landed jobs, worked hard, and made mama a bit richer. What must a poor young man with a poor mother do?
Read | Left has a new comrade, but can Kanhaiya Kumar win votes
Kanhaiya Kumar chose the best option a bright, poor Indian has. He entered politics. If he had not, as an impoverished graduate from a rural background, with no interest in the precise sciences, which grant more equality than the other streams, he would have found a job and an income that would have been disproportionate to his talents. He would have decayed as an underclass. If he had pursued academics he would have been subtly discriminated against by posh Nehruvian scholars. Apart from sports, the only system in India where an impoverished young Indian has a chance of faring well is the political system. Faring well can include getting rich through illicit means.
The political system is more gigantic than it appears. Its most obvious characters are politicians in white clothes, but underpinning them are whole hierarchies of sidekicks, fixers, organisers, entrepreneurs who are fronts for dirty money and thugs. There are idealistic student politicians, too, like Kumar, who is the president of Jawaharlal Nehru University's student union.
He would have remained insignificant if it had not been for the benevolence of some patriots and a fortuitous string of events. In February, he gave an innocuous speech in the university campus that offended some people who are lost in this world if they are not offended every now and then; a spineless Delhi Police slapped serious charges; he was thrashed by thuggish lawyers on the way to court and inside the court premises; and sent to jail. If all this had occurred somewhere else, say Pune, he would have been more victim than beneficiary. But this happened in the heart of Delhi and Delhi's media went berserk for political, personal and practical reasons.
Read | We will win this fight: Full text of Kanhaiya's JNU speech
When he was released after 23 days he delivered a forty-minute speech in Hindi in the JNU campus that millions watched on the internet, which has made the moral compromises of mainstream media irrelevant to a section of the population. (The power of the Internet is the real reason why the government does not wish to connect the unconnected billion, but that is for another day.)
Kumar's speech was probably one of the finest and funniest political speeches in modern times even though he quoted Lenin in the way of attempting to talk sense and appeared to take communism seriously. Most of the time his literary brilliance was so culturally rooted and authentic that it would be almost impossible to convey in translation why the speech was great. Also, most of his message was in the delivery. In the masquerade of an underdog he lampooned the Sangh, and even as he did that he framed nationalism as subordinate to welfare.
India's righteous often underestimate the importance of entertainment. They are often dull. They have survived for long in public life because they have been sustained and rewarded for their moral positions. Also, they probably imagine the moral high ground as a dreary place. Their content and communication were always overrated by their devout ensuring that they never had to work hard on the transmission of ideas. In the aftermath of Kumar's arrest, for instance, the social media promoted some drab speeches in JNU as 'historic' but nothing caught on like Kumar's, which was more entertaining than what passes of as stand-up comedy these days. The times he was funny, he was so because he was dead right. That is the primary quality of humour — it is true.
Read | JNU erupts in joy as Kanhaiya Kumar returns to campus
What appears to be going on is that the country that was partly ruined by the JNU alumni gave rise to the patriots, and the patriots are now making JNU appear relevant again.
Kumar did call for a "revolution". He cannot help it, he is from the Communist Party of India. He reminded me of my encounter with the executives of Hewlett-Packard over 10 years ago. HP, like the communist party, was trying to become cool, which it was not, and the executives were showing off a new camera and a scanner to a bunch of journalists. But no matter what their gadgets did what the executives wanted to demonstrate was how they can be connected to a printer. HP was primarily in the business of printing and all they could think of was printing. The communist parties are in the business of promising revolution and everything they do has to lead to this obsolete activity nobody wants anymore. May I suggest a more popular and contemporary word to comrade Kanhaiya — 'disruption'.
Manu Joseph is a journalist and the author of the novel, The Illicit Happiness of Other People
Twitter: @manujosephsan
The views expressed are personal