Playing the national anthem at theatres should be voluntary patriotism, not mandatory: Ramachandra Guha
Following JRD Tata, we should make our patriotism deep and substantial, rather than cheap and jingoistic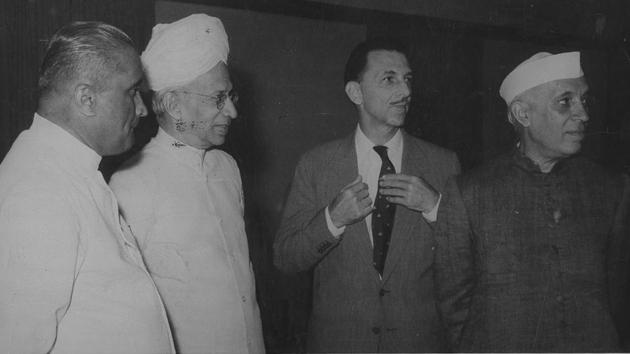 Updated on Nov 05, 2017 12:48 PM IST
On August 15, 1947, India became independent. Two weeks later, the industrialist JRD Tata wrote to the country's first Prime Minister, Jawaharlal Nehru, about the new country's anthem. At this stage, it was not clear what the anthem would be; Bankim's Vande Mataram and Tagore's Jana Gana Mana were the two front-runners, but a case was also being made for Iqbal's Sare Jahan Se Accha.
JRD Tata had recently been in London, where, at the time, the British anthem was played after the movies. That country had just come through six brutal years of war against the Nazis. Tata however noticed that, the war having ended, people were restless at patriotism being forced upon them. He felt that independent India should not adopt this British practice. 'I personally am strongly against it', he wrote to Nehru on August 29, 1947, 'because I feel that it cheapens the anthem which should, when played, arouse deep patriotic respect for what it represents. This would be ensured if it were played only on special and solemn occasions and not three times a day, as in the movies at the end of a show, when people are in a hurry to get away, and pay only perfunctory and impatient respect to it.'
Tata ended his letter by urging the prime minister to 'soon issue a directive in this matter, before mere habit creates a fait accompli.'
Jana Gana Mana was anointed the anthem in January 1950. JRD Tata's advice was followed, in that it was not played before or after movie shows or on other ordinary occasions. Rather, it was played on 'special and solemn occasions' such as Independence Day and Republic Day, and on the annual days of schools and colleges.
By associating it with major days in Indian history, the anthem was given proper respect. Through the 1950s, the anthem was never played in cinemas. However, in the 1960s, for a brief period the anthem was played in movie halls. China and Pakistan had both gone to war with India, and nationalist sentiments ran high. But after the passions settled down, the practice was sensibly discontinued, with the anthem reserved as before for special occasions. (Incidentally, in Britain itself the practice of playing God Save the King/Queen in cinema theatres was discontinued in the late 1940s, and never resumed thereafter.)
From the 1970s to the 1990s, and through the first decade-and-a-half of the 21st century as well, there was no attempt to cheapen the anthem. Rather, by singing or playing it only on occasions associated with important moments in our democratic life, the anthem was able to arouse, as JRD Tata had hoped, 'deep patriotic respect for what it represents'. This sober and solid way of affirming one's patriotism was however undermined last November, when, following a directive issued by the Supreme Court, the Government made the playing of the anthem compulsory before movie screenings.
It is now a year since the playing of the anthem has been made mandatory in cinema halls. In the first weeks of the order's implementations, reports came in of elderly people as well as foreigners being beaten up by vigilantes for not standing up for the anthem. Since it is many years since the last India-Pakistan war, questions were asked as to why this practice was necessary to maintain a spirit of patriotism. Why must a place of simple and harmless entertainment be made a theatre for hyper-nationalism?
The great economist John Maynard Keynes once said: 'When the facts change, I change my mind'. That is a motto all sensible (as well as patriotic) people should follow. The mandatory playing of the national anthem has clearly proved counterproductive, and so it is heartening that the Supreme Court is having second thoughts on the matter. In a recent hearing, Justice DY Chandrachud remarked: 'People go to the movie halls for undiluted entertainment', adding: 'You do not have to stand up for the national anthem in cinemas to prove your patriotism.'
You do not, indeed. For, the most robust and enduring form of patriotism is voluntary and spontaneous, rather than organised and coerced. The greatest patriots do not need to sing the anthem or worship the flag every day. Rather, they promote freedom, equality, prosperity and pluralism in their personal and professional lives. That is what J RD Tata himself did so splendidly. JRD is deservedly the only entrepreneur to have won the Bharat Ratna. He built the best companies, using cutting-edge technologies and management methods. The Tatas under JRD's leadership treated their workers in an exemplary manner. Outside his business career, JRD helped build independent India's finest centre of science, the Tata Institute of Fundamental Research, and helped fund India's finest arts magazine, Marg. He encouraged the Tata Trusts to devote much money and effort to removing poverty and ill-health in village and tribal communities.
In a country riven with controversy and conflict, the admiration for JRD Tata is near universal. All Indians who know of his character and achievements — whether Left or Right, Congress or BJP, man or woman, Hindu or Muslim — regard him as a remarkable patriot and nation-builder. Indians often didn't listen to JRD when he was alive (on the dismantling of the licence-permit-raj, for example). That was to our cost. Now that he is gone, we should listen to what he said on the national anthem. Following JRD Tata, we should make our patriotism deep and substantial, rather than cheap and jingoistic.
Ramachandra Guha's books include Gandhi Before India
Twitter: @Ram_Guha
The views expressed are personal
Close Story