My one-night stand as an Aaptard, writes Ramachandra Guha
Updated on Jan 14, 2018 04:50 PM IST
Before these dreams, I had never remotely considered entering politics, writes Ramachandra Guha.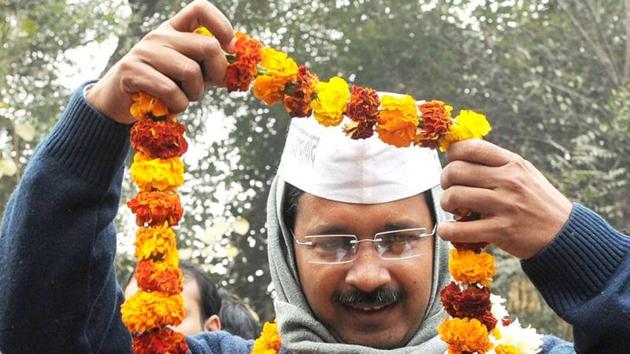 The strangest dream I ever had was in the city of Houston. It was in March 2014, and I was on a tour through the United States, promoting the first volume of my Gandhi biography. In my dream I met a well-known academic who had joined the Aam Aadmi Party and urged me to do likewise. It was time, he said, for us to give up our careers and plunge into politics to save our country. The academic in my dream had left his job to fight a parliamentary seat in his native Rajasthan on behalf of AAP; he asked me to follow suit and contest a Lok Sabha seat too.
The dream shook me. I had long believed that scholars must stay away from politics. On the other hand, I was disgusted by the two major parties in India. I saw the BJP as communal and sectarian; the Congress as corrupt and sycophantic. AAP, newly-formed, exuded hope and promise.
Waking up in the middle of the night, I called my wife in Bengaluru and told her about my dream. She said, don't be absurd, politics is not for you. You are too much of a maverick to be part of an organisation. Besides, you will never win an election. I went back to sleep, and, astonishingly, had another dream about the same subject. This time, another academic I admired told me that I should contest the Lok Sabha elections in 2019. This second interlocutor suggested I contest from Dehradun, the town in which I was born and raised.
To have the same dream twice in a night shook me thoroughly. I called my wife again. I told her that this was a signal I must consider seriously. By the time of the 2019 general elections, the second volume of my Gandhi biography would be done. Why not, at this stage, move from writing books to fighting elections? Surely actions were more effective than words? If I believed Indian democracy needed redemption and renewal, was it not hypocritical to continue to stand aside? My wife sighed and said, you have been away from India too long.
The two academics I met in my dreams are both major figures in Indian intellectual life. But—since it was a dream—it would not be proper to identify them. However, neither was Yogendra Yadav, another respected scholar who had in fact joined the Aam Aadmi Party.
From Houston I moved to San Francisco, from there to Seattle and then on to the East Coast. On one of these long transcontinental flights I woke up from my fantasy. I knew that I had some proficiency and experience in writing books. I had absolutely no background in politics, and my temperament suggested that I would be wholly unsuited to it. By the time I returned home in April, the thought of contesting on behalf of AAP had disappeared from my mind.
Before these dreams, I had never remotely considered entering politics. I disliked the Congress, distrusted the Communists, and detested the BJP. And I had little time for caste-and-region-based parties either.
George Orwell once said that 'a writer must never be a loyal member of a political party'. I believed that a writer must never be a disloyal member of a political party either. Intellectual integrity required one to be absolutely independent from all parties and politicians.
And yet I dreamt, not once but twice in a single night, that I must enter politics and fight elections on behalf of a particular party. I think the dream signified two things; one personal, the other political. Like other writers, I had a complex about activists, and felt that I was not doing enough to transform my society for the better. Paradoxically, the more books one wrote, the more one became established in one's profession, the greater the guilt about being a mere chronicler rather than a real change-maker.
Beyond my own personal anxieties and confusions, my dream also pointed to the immense appeal that the Aam Aadmi Party had in its early years. So many people across India were attracted to it. Here, at last, they thought, was an alternative to the BJP, the Congress, and the casteist BSP and SP and RJD. While priding myself in public for my independence from all political parties, somehow, subconsciously, I had also succumbed to the notion that this was a party with a difference.
Of course we now know otherwise. The manner in which Arvind Kejriwal purged Yogendra Yadav showed that he is as desirous of power as Narendra Modi or Mamata Banerjee. And the manner in which Kejriwal has chosen his party's Rajya Sabha members shows that he is as enamoured of wealthy candidates as the BJP and Congress.
It is now three-and-a-half years since I had those two dreams in a single night in Houston. I have not since thought of entering politics. But I suppose I shall never be entirely rid of feelings of guilt and inadequacy, of thinking that the life of action is somehow more significant than the life of the mind.
Meanwhile, I console myself with the thought that democracy is not about party politics alone. Doctors, social workers, teachers, entrepreneurs, feminists and environmentalists can all contribute to the renewal of India, to bridging the gap between the ideals of the Constitution and the reality on the ground. And perhaps one day a party will be formed to sincerely and consistently take forward these ideals in the sphere of electoral politics. However, I know that I shall not bring myself to join this party, whether awake or in my dreams.
Ramachandra Guha's books include Gandhi Before India
Twitter: @Ram_Guha
The views expressed are personal