Roundabout: Punjabi poet Paul Kaur's word war
The much-awarded poet, based in Ambala, was recently conferred with the Bhai Santokh Singh Puruskar for her overall contribution to Punjabi literature.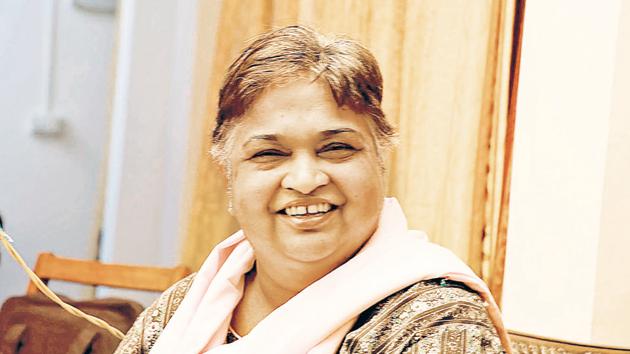 Updated on Feb 18, 2018 02:17 PM IST
Hindustan Times |
Nirupama Dutt
Seasoned Punjabi poet Paul Kaur, 60, long respected for her sensitive poetry challenging the accepted order has attracted attention in recent times for speaking out strongly against the changing mood of the country.
The much-awarded poet, based in Ambala, where she taught Punjabi language and literature at the SA Jain College, was recently conferred with the Bhai Santokh Singh Puruskar for her overall contribution to Punjabi literature. "A poet must speak out against what she/he considers erroneous. One cannot be a dumb spectator to times where history is considered a toy that can be exchanged for another, where writers are being silenced, names are being changed and communal polarisation is riding high."
Although the tone of these visibly political poems is different from the metaphor-clothed poetry of what was written in the past by this poet of seven anthologies of verses, yet she says: "These poems have brought a lot of response and I am being labelled a poet of resistance, but resistance is the lot of a woman when she enters her mother's womb. If she is a writer she voices them too."
Born in Kalomajra village near Banur, she is the sixth daughter of her parents. "I had five elder sisters and after the fifth daughter, two sons were born. I was the accidental eighth and youngest child of the family. To my father's horror and that of other elders, I was yet another female child, a mistake. My mother had been given a potion to end the pregnancy, but I survived it in the womb. In fact my father, a religious poet, did not talk to my mother for a month and to me for over a year," says Paul.
Ironically, she was to inherit her father's poetic talent and her first poem was on her father turning his back on her.
Known well for exploring the politics of the personal, how did she turn overtly political? Paul smiles at this query and says: "It all started a couple of years ago with a poem called 'Selfie'. The selfie fever had gripped not just the young but even middle-aged politicians!" The lines of her poem are gripping: "Mera bal, Mera dal, Mera chhal/ Meri kameez sab ton safed/Tuhada nahi sunana, Tuhada nahi vekhna, Tuhada nahi bolna/Main taan karni hai siraf apne man ki baat/Ajj da nayak Selfie da Sardar! (My hair, my lentil soup, the way I walk/My shirt is the whitest/I won't listen to you, won't look at you, will not talk about you/I will just talk about myself/The lead actor today, Sardar of Selfies."
So, following the 'Chief of the Selfie', came poems like 'Bhedh-Chaal' (Herd mentality) and a moving dirge or 'Marsiya' of the system and the elimination of writer-journalist Gauri Lankesh. Her poem 'Mughalsarai left a deep impact on many hearts when the iconic junction near Varanasi was renamed Deendayal Upadhyaya Station and people were wondering if the Mughlai parantha would also suffer the name-game fate.
Paul has penned and edited several books, including an anthology of poems by different poets on the Punjab of 1984. Talking of her current poems, she says: "I have not made an effort to write them. These have come to me spontaneously." So, Paul's readers now wait for her eighth anthology of spontaneous poems.
Close Story
Personalise your news feed. Follow trending topics