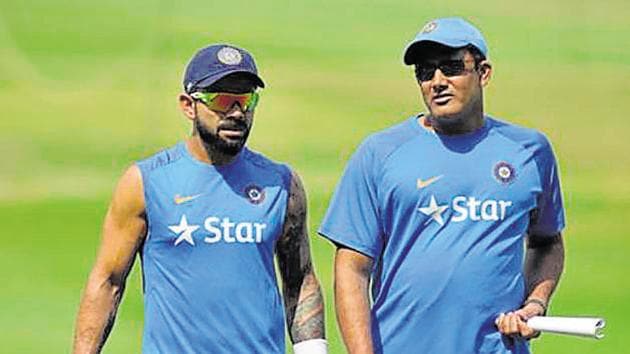 Anil Kumble could be in big trouble over ICC Champions Trophy. This is why
As some top Board of Control for Cricket in India (BCCI) officials mull a boycott of the ICC Champions Trophy over its tussle with the world body, coach Anil Kumble has come under fire from officials for supporting India's participation.
UPDATED ON MAY 06, 2017 08:47 AM IST
While India's participation in the ICC Champions Trophy still hinges a lot on Sunday's potentially heated Special General Meeting in New Delhi, a fresh front seems to have been unwittingly opened in the name of those who feel the defending champions should not boycott the premier event.
India coach Anil Kumble's reported approach to the Board of Control for Cricket in India (BCCI) stating that his team is keen to participate in the ICC Champions Trophy has apparently put him in a tight spot among the cricket officials.
Read | ICC Champions Trophy: Administrators slam BCCI's negative, combative approach
Some top officials of the Indian Board are backing a boycott of the eight-team tournament, starting on June 1, in protest against the International Cricket Council revising its revenue-sharing and governance model that would drastically reduce India's share. The Supreme Court-appointed Committee of Administrators (CoA) has told the BCCI to select the team --- the deadline was April 25 --- and not wage an administrative battle with the global body.
Institution's call
Sachin Tendulkar and Rahul Dravid have led the call for India to participate in the tournament. However, Kumble taking a stand on the matter while being coach has not gone down well with the host of Board members.
"It is the institution which decides, and not one individual. Kumble writing to the Board about his decision of wanting to play in the Champions Trophy was uncalled for. He had no business in doing this," a senior BCCI member told HT.
Read | ICC Champions Trophy boycott could cost India over $500 million, say BCCI bosses
"Kumble is going to be on a sticky wicket for this act once the Board members take control of BCCI. It is just a matter of time," said another senior functionary.
Visa issue
It is understood that some BCCI members are also against a further delay in the selection of the team because of the lengthy visa procedure and paperwork involved travelling for the tournament to be played in England and Wales.
"The visa procedure will take time, while the option to withdraw is always there," said a senior BCCI official.
Read | ICC Champions Trophy: BCCI warned not to spoil relationship with world body
Selecting the 15-member squad too would not be a headache as it is a set team. For the couple of spots that need to be bolstered, the MSK Prasad and Co will have plenty of options from performances in the Indian Premier League.
India are scheduled to start their title defence against Pakistan on June 4.
Close