England vs Pakistan, 1st Test, Day 3 highlights: Pakistan 137/8, lead England by 244 runs at stumps
England vs Pakistan, 1st Test, Day 3 highlights: England made a strong comeback in the last session by reducing Pakistan to 137 for 8 at stumps on Day 3 of the first Test match at Old Trafford in Manchester. Chris Woakes struck twice and then Dom Bess, Stuart Broad and Ben Stokes too chipped in with the wickets in the middle. Pakistan lead bby 244 runs with only Yasir Shah and two tailenders to go. Earlier, Yasir Shah struck thrice in quick succession after lunch and Shadab Khan picked up the last two wickets as Pakistan bowled England out for 219 on Day 3.Follow updates of England vs Pakistan 1st Test, Day 3: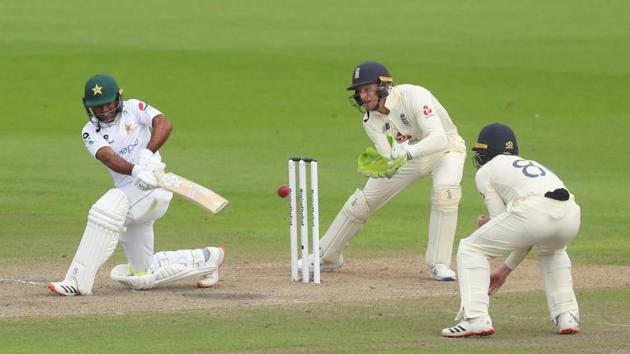 Updated on Aug 08, 2020 12:04 AM IST
Hindustan Times, New Delhi |
hindustantimes.com
23:40 hrs IST
Stumps Day 3
Pakistan 137 for 8, at stumps on Day 3, lead England by 244 runs. This has been England's session. They made a strong comeback by picking up 7 wickets in this session.
23:27 hrs IST
Easy boundaries
Yasir Shah has decided to play some shots and it has resulted in two boundaries for Pakistan. Their lead is now 244 runs.
23:20 hrs IST
Broad gets Shadab
Three reds. Good review from England, good delivery by Broad, Pakistan are losing their grip over this match. Broad set Shadab up for this big in-swinger. He pushed him back with bouncers and now got one to nip back in that hit him on front foot and it was dead.
23:10 hrs IST
Stokes strikes
OUT! Umpire's call! Ben Stokes is the man again for England. He didn't bowl for two weeks and now he strikes the moment he gets the ball in his hand. Got one to nip back in. Rizwan stayed back, it hit him on the backleg and the umpire raised his finger. This game is 50-50 at the moment.
23:01 hrs IST
Stokes into the attack
Yes, rub your eyes, you read that right. Ben Stokes has got the ball in his hand. Well, the indications were there for the last 30 minutes or so. Stokes was seen loosening up. He didn't bowl in the first innings, neither did he bowl in the last Test against the Windies. Let's see what's he has got in store for us.
22:48 hrs IST
Rizwan and Shadab looking positive
This is good from Pakistan. They know their better half of the batting is gone. Now runs matter, they somehow have to take their lead close to 280 and 300 if possible. For that, Rizwan and Shadab, the last recognised batting pair of this Pakistan side, have to be positive. And that's exactly what they are doing.
22:44 hrs IST
Shafiq falls to a run out
RUN OUT! England needed a spark, a splash of brilliance and Dom Sibley has provided just that with his fielding. A little dab to point from Rizwan, there was hesitation between the two, it's never good when you're looking for a quick single and Sibley did a fine job to first get to the ball quickly and then throw the stumps down at the striker's end with Shafiq well short of his ground.
22:39 hrs IST
Pak's lead crosses 200
FOUR! Shafiq and Rizwan have decided to attack Dom Bess and so far it's working just fine. A flatter one and drifting down leg, Shafiq bent down low, used the pace on the ball and lapped it very fine.
22:30 hrs IST
Expensive over
8 runs coming from that over of Dom Bess. No boundaries - a couple of threes and a couple there. Bess was guilty of bowling it wide and short on at least two occasions.
20:15 hrs IST
Rizwan shows intent
FOUR! A booming sweep shot from the Pakistan wicket-keeper. The short leg fielder had to duck for over, it was that fiercely struck
22:00 hrs IST
Woakes traps the Pak captain
OUT! Plumb in front. Pakistan have lost their fourth. Azhar Ali is always vulnerable to the incoming delivery with his tendance to fall over after the front foot trigger movement. But what would disappoint Ali is the fact that the ball did not come back in that much. He just played across a straight delivery. Woakes won't complain, he has got England right back into the contest. Pakistan 64/4
21:50 hrs IST
Shafiq looking good
FOUR! Bess strays down the leg side and Asad Shafiq sweeps it fine to collect his first boundary. Shafiq has reached double figures and started to look far more relaxed.
21:40 hrs IST
Woakes gets Babar
OUT! Big wicket, Chris Woakes has got the big wicket of Babar Azam. Brilliant catch from Ben Stokes at secondd slip. He dropped on earlier today but now makes up for it. Woakes got this one to bounce off length, Babar went at with it hard hands and it just about carried to the second slip. Pakistan are three down.
21:20 hrs IST
Babar Azam off the mark
Babar Azam's away with a single. Just looks a class apart doesn't he? Already looks very assured against the off-spinner Dom Bess.
21:13 hrs IST
Dom Bess strikes
OUT! Joe Root introduced his off-spinner Dom Bess early into the attack and he has struck in his first over.Not the best of shots from Abid Ali. After doing all the hard work against the new ball, Ali goes for expansive sweep shot in the first over of spin and gets the top edge, Broad at deep square leg makes no mistake. Pakistan 33/2
21:08 hrs IST
Three tight overs
Three tight overs. That's exactly what England need. Just 5 runs in overs. Archer and Broad keeping the pressure on both the Alis. But Archer doesn't quite look at his best yet.
20:51 hrs IST
Azhar Ali off the mark
First runs for Azhar Ali in 19 balls and guess what, he then hits two back to back fours off Stuart Broad through the off side. Cricket is a funny game they say, well they are not too far off.
20:30 hrs IST
Tea on Day 3
Abid Ali survives the Anderson burst. That will be Tea on Day 3 with Pakistan at 20/1, leading England by 127 runs.
20:23 hrs IST
Rubbing salt into the wounds
FOUR! How often does this happen? You drop a player and then he just plays the most delightful of strokes to rub salt into your wounds. Abid Ali has just exactly that to Anderson. A bit short this time, Ali rocks back and punches off the backfoot.
20:20 hrs IST
Dropped
A genuine outside edge there. Just the perfect delivery from Anderson. On length, moves away slightly, Abid Ali hangs his bat. But Stokes at second slip jumps to his left and spills it. It was first slip's catch Big Ben.
20:15 hrs IST
Broad, Anderson cranking it up
England's two most experienced pacers James Anderson have settled into a nice rhythm here. Tough times for Azhar Ali and Abid Ali.
19:59 hrs IST
Broad strikes
OUT! The centurion of first innings, the man who looked like he wasn't going to be dismissed in the series, is out for a duck in the second. What a leveller cricket is. Not the best of deliveries from Broad. It was going down the leg side, Masood got a little feather and Buttler holds on to a good catch. Pakistan 6/1
19:48 hrs IST
Pakistan 2nd innings
Pakistan openers Shan Masood and Abid Ali have made their way into the centre. They have a heathy lead of 107 runs behind them.
19:39 hrs IST
England all out for 219
OUT! Shadab Khan has got his second. Anderson misses his reverse sweep and the ball thuds onto his front pads. He went for the review but it showed three reds. England have been bowled out for 219, Pakistan lead by 107 runs.
19:33 hrs IST
Dropped
Shadab Khan out of all people. And what's worse? It goes away for a four. Broad once again goes for the slog sweep, ,this time gets a top edge, Shadab settles himself nicely under the ball but fails to hold on to it.
19:31 hrs IST
Broad waging a lone battle
SIX! Stuart Broad has decided to take the attack to Yasir Shah. He slogs sweeps the leggie and it sails over the deep square-leg fielder for a six. Broad has now reached 24.
19:26 hrs IST
200 up for England
FOUR! A reverse sweep from James Anderson. Executes it perfectly to collect his first boundary. 200 up for England but the problem is, they are nine down and still some distance away from Pakistan's first innings total of 326.
19:18 hrs IST
Shadab Khan strikes
OUT! Shadab Khan, in only his 2nd over of the Test match has got one to really grip the surface and turn it. Jofra Archer got a glove to it and Rizwan makes no mistake behind the stumps. Wonder why Archer stood there looking a little miffed. Maybe he was shocked by the delivery. England nine down for 197.
19:10 hrs IST
Archer gets into the act
FOUR! Superb shot from Archer. He can bat, make no mistake. A flighted delivery from Shadab Khan, Archer gets a good stride in and smashes it through the covers for a boundary.
19:04 hrs IST
Hat-trick of fours
Stuart Broad has something going every time he walks out to bat nowadays. England couldn't score a run till now and he suddenly comes in and hits Shaheen Shah Afridi for three fours in a row. We all know what he did against the West Indies a few weeks ago.
18:55 hrs IST
Yasir on fire
BOWLED! Yasir gets his third. Flatter delivery but not short enough for Woakes to go onto the backfoot and pull it away. The ball hurries onto the stumps even before he could complete his shot. England are tottering at 171/8 now, starting down at conceding a big first innings lead.
18:51 hrs IST
Squeeze on
Pakistan bowlers are all over England at the moment. They simply cannot find a way to score runs. Only 11 runs have been scored in this session at the loss of two wickets in 9 overs.
18:37 hrs IST
Yasir has another
OUT! Spin, bounce everything right about that ball and it catches the shoulder of Bess's bat and Asad Shafiq takes a brilliant catch at slip. The leg-spinner is spinning a web around England they are 163/7
18:23 hrs IST
Pakistan lose a review
The appeal wasn't a confident one but Azhar Ali has gone for the review. It's a fair delivery,the impact is umpire's but wickets are missing. It just didn't look close enough for a review. They lose one but still have two more reviews remaining.
18:18 hrs IST
Yasir cleans up Buttler
BOWLED! Yasir Shah strikes.Jos Buttler goes for 38. What a peach of delivery. Slightly flatter trajectory, Buttler played for the turn but there was nothing. It went straight through the gap between bat and pad to clip the bail off. England 159 for six and are in real trouble.
18:16 hrs IST
Naseem on the money
A maiden to start with from the Naseem Shah. What a good first over after lunch. He beat the bat, asked questions from Woakes and the England all-rounder looked a bit out of sorts there.
18:12 hrs IST
Day 3, session 2
The players are out in the middle and we are all set for session 2 which promises to be a cracker. England need Buttler and Woakes to stitch a partnership, Pakistan would be hoping for a couple of wickets to get into England's long tail.
17:33 hrs IST
Lunch Day 3
That will be lunch on Day 3. England 159 for 5, 67 runs have been scored at the expense of 1 wicket in 24 overs in this session. England still trail by 167 runs.
17:24 hrs IST
Buttler finding his touch
FOUR! Another half volley and another confident drive through the covers from Jos Buttler. He has weathered the storm in the first 15 overs of this session and has just started to reagin his touch Buttler. And boy do England need a big score from him.
17:16 hrs IST
Play resumes
The players are back onto the field. Thankfully the delay wasn't that long. Pakistan would be hoping for another breakthrough before lunch break, which is not too far away.
17:07 hrs IST
Rain stops play
Would you believe it. After all the hottest and sunny day weather forecasts, we have rain at Old Trafford.
17:03 hrs IST
Buttler drives
FOUR! For once Naseem Shah tries to be full, end up overdoing it slightly and Buttler takes full advantage of it. He square drives through the vacant cover point region to collect another four.
16:55 hrs IST
Injury delay
We have a slight delay in play as England all-rounder Chris Woakes undergoes the concussion protocols and has his helmet checked out. There are lot of helmets on the ground at the moment. Let's hope the injury is not serious. It was a ripper from Naseem, it pinged Woakes straight on the grill even before he could react to it. Quite a welcome to the crease.
16:47 hrs IST
Naseem removes Pope
OUT! A ripper from Naseem Shah sends back the dogged Ollie Pope. The ball pitched on a good length area with some extra bounce and it squares up Pope. As he tries to soften his hand, the ball takes the shoulder of the bat and flies low to gully. There's not much he can do with it; a snorter of a delivery. Naseem is on fire and what more? He welcomes new batsman Chris Woakes with a blow to his head.
16:40 hrs IST
Bumble speaks...
😎 Crucial day 3 and @BumbleCricket has got his @kylieminogue glasses on! 🤣 #ENGvPAK pic.twitter.com/eGBA3Sf1AG

— Sky Sports Cricket (@SkyCricket) August 7, 2020
16:30 hrs IST
Drinks, England negotiate first hour safely
End of the first hour of the day. England have not lost a wicket but haven't scored too many runs either. In fact, only 19 runs have been scored in 14 overs on Day 3 so far. Intriguing, riveting and an equally attritional session so far. England 111/4, trail Pakistan by 215 runs.
16:20 hrs IST
Naseem, Abbas in the middle of wonderful spells
There are more instances of the ball beating the bat that actually hitting its middle. A couple of balls from Abbas were perilously close to Jos Buttler's bat and Naseem with his pace, is throwing down fireballs at Pope. He induced an edge that landed just short of the second slip and the way these two are bowling, England wouldn't mind bringing a fourth slip. Good test for Pope, getting to face such a brilliant spell early on in his career. England 111/4 in 40 overs.
16:10 hrs IST
Wasim Akram on Naseem Shah
He is young, he is fast. But the area Naseem Shah lacks is swing. The 17-year-old doesn't swing the ball as much and that, the Wasim Akram, reckons is because of his landing spot. Naseem lands and delivers the ball wide of the wicket and with that, Akram, it is very tough to swing the believe. Hopefully, Waqar Younis will work with the young Pakistan quick to help him generate more swing in the time to come.
16:00 hrs IST
Pope vs Afridi
A good contest is taking place between Pope and Afridi. Thrice in two overs has Pope inside edged a drive off Afridi onto his pads, nearly playing on. Afridi's biggest strength is getting the ball into the right-hander and with Pope looking set with a half-century, it makes for an intriguing contest. Meanwhile, four byes bring up England's 100.
15:50 hrs IST
Fifty for Ollie Pope
A flick towards deep square leg and a couple of runs taken, brings up Ollie Pope's fifth half-century in Test cricket. Afridi generating good swing, troubles Pope with a few balls coming into the batsman but he's done well to see through and produce a fighting fifty. Good stuff from the youngster and England are inching towards the 100-run mark.
15:39 hrs IST
Maiden from Abbas
Pin-point accuracy as always from Mohammad Abbas. It's as if he can delivery the ball on the same area in sleep. Buttler, for his part, looked good while covering the in-swing and defending confidently.
15:34 hrs IST
Afridi starts well
Technically a maiden but for that no-ball. A very good start from Shaheen Afridi. Just a hint of away movement in pretty much all of his deliveries in the first over Day 3.
15:28 hrs IST
Players out there
Ollie Pope and Jos Buttler have made their way into the centre and it will be left-arm seamer Shaheen Shah Afridi who will start the proceedings for Pakistan on Day 3. 98 overs are supposed to be bowled today.
15:24 hrs IST
Can Pakistan carry the momentum
Mohammad Abbas, Shaheen Shah Afridi, Naseem Shah and then the two leg-spinners in Yasir Shah and Shadab Khan, wit this kind of bowling line-up, Pakistan can surely hope to topple England early and take a good first innings lead.
15:17 hrs IST
Weather update
It's bright and sunny at Manchester, as it was predicted. So far so good. As far the forecasts are concerned today and tomorrow are supposed to be the best days for cricket, let's hope it stays that way as you can't quite be sure about the weather in Manchester.
15:10 hrs IST
Buttler badly needs a score
Jos Buttler is not having the best of times. His sloppy glovework has already cost England dearly in this Test match. Now when England are in a spot of bother with the bat, he has a chance to make up for the lapses while keeping. Buttler's form with the bat is not great either but we all know he is a champion cricketer and can change the course of a match if he gets going.
15:00 hrs IST
Archer comments on Shah outpacing him
"It's not every day you will bowl 90 miles an hour. No-one is a robot," he said. "This wicket is not really one where you will try to bend your back. There was a little bit there in the morning, but you saw it is now spinning on day two."
14:56 hrs IST
England in spot of bother
England are trailing Pakistan by 234 runs and have already lost 4 wickets. The start is crucial for the hosts as their hopes rest on Ollie Pope and Jos Buttler.
14:48 hrs IST
Akhtar not happy with Sarfaraz
Former captain Sarfaraz was seen carrying drinks and shoes for Shadab Khan during the 71st over and that has infuriated Shoaib Akhtar.
"This shows that Sarfaraz is such a docile and weak man. He must have led Pakistan in the same way like he carried shoes. That's why Mickey Arthur always dominated him. I am not saying carrying the shoes is a problem, but former captain can't do that," Akhtar further explained.
14:41 hrs IST
Dry Pitch in store
The sun is out in full flow in Manchester and the pitch is dry which will support the spinners. Yasir Shah would be the key for Pakistan on Day 3.
14: 35 hrs IST
Shan Masood created history
Shan Masood yesterday became the first Pakistan opener in 24 years to score a century in England. Saeed Anwar (176) was the last person to that in 1996.
14:30 hrs IST
Hello and Welcome
Hello and welcome to the live coverage of England vs Pakistan 1st Test match at Old Trafford in Manchester.
Close Story
Personalise your news feed. Follow trending topics