England vs Pakistan, 1st Test, Day 4 highlights: Woakes stars as England beat Pakistan by three wickets in a thriller
England vs Pakistan, 1st Test, Day 4 highlights: Chris Woakes held his nerves to steer England to a thrilling three-wicket win on Day 4 of the first Test against Pakistan at Old Trafford in Manchester. Woakes remained unbeaten on 84. Buttler too did is part with a superb 75-run knock. They put together a partnership of 117 for the sixth wicket after a collapse. This happened after Yasir Shah dismissed a well-set Dom Sibley for 36 in the post-lunch session and then gave a body blow to England by removing Ben Stokes early. In between, Naseem Shah got the huge wicket of Joe Root for 42 and then Afridi got rid of Ollie Pope to leave England in a spot of bother. Earlier, England had bowled out Pakistan for 169. Pakistan scored 32 runs in just 16 balls in this morning to set England a target of 277.Follow updates England vs Pakistan, 1st Test, Day 4: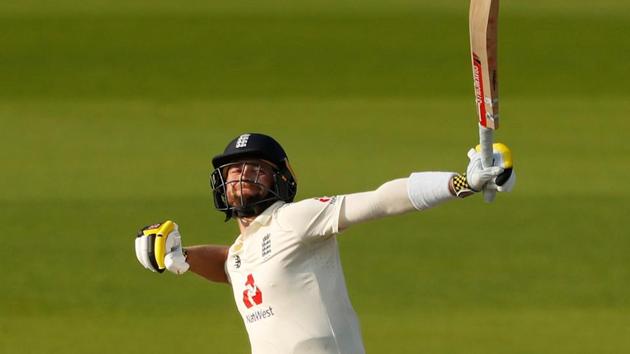 Updated on Aug 08, 2020 11:47 PM IST
Hindustan Times, New Delhi |
hindustantimes.com
23:00 hrs IST
England win by 3 wickets
FOUR! Outside edge and it goes through the vacant slip cordon for a boundary. Chris Woakes roars and why wouldn't he? He has played one of the best innings of his life to steer England to a thrilling victory at Manchester. They were down and out England when they lost half their side needing more than 150 runs to win but Buttler and Woakes stitched a superb partnership to bring England back in the game. Yasir Shah did try to bring Pakistan back in it by getting the wickets of Buttler (75) and Broad but the damage had been done.
22:55 hrs IST
Yasir not giving up
OUT! LBW! Stuart Broad goes for the sweep, fails to make contact and it hits him straight in front. Broad doesn't even wait for the review. What a match this is turning out to be. We still can't say with confidence that England have won it even though they need just 4 with 3 wickets in the bank.
22:51 hrs IST
Down to single digit
FOUR! Take a bow Chris Woakes. What a superb straight drive past mid-off to collect a boundary. England need only 6 runs to win now.
22:47 hrs IST
England need 13, Pakistan take new ball
Two singles from the Yasir Shah over brings the target down to 13. Looks like Pakistan will take the new ball now and yes they are. Shaheen Shah Afridi it will be with the new ball, last throw of the dice for Pakistan.
22:40 hrs IST
Broad hits it
FOUR! Stuart Broad sweeps and sweeps well. It dissects the two fielders in the deep and goes to the boundary. did Pakistan miss a trick by throwing the ball to Shadab Khan?
22:33 hrs IST
Yasir gets Buttler
It was a full toss. Buttler goes for the reverse sweep again but misses it altogether. Huge appeal from Pakistan and umpire raises his finger. Buttler goes for the review, no bat there. Umpire's call on impact and wickets hitting, the decision stays. Yasir Shah has struck for Pakistan. Is there a twist in the tale? Buttler goes for 75, England still need 21 to win with 4 wickets.
22:30 hrs IST
Buttler wallops
SIX! Into the stands. Jos Buttler goes down town against Shadab Khan and executes to perfection. Once again Shadab errs on the shorter side and Buttler pulls it away. England need 25 now.
22:26 hrs IST
Things slipping away from Pakistan
England need only 33 now. Pakistan are giving their all but it has met some outstanding resilience from Woakes and Buttler. They attacked when the chips were down and now when they are the favourites, they have brought in their watchful game.
22:17 hrs IST
Pakistan burn their reviews
Pakistan have no more reviews now. They went for it against Buttler for a caught behind and then they decided to take chance for an LBW against Woakes but none of them successful. Let's hope they don't get one against them at thus crucial juncture of the match.
21:58 hrs IST
Under 50 now
Buttler and Woakes are doing it with utmost precision now. Singles with the odd boundary. England are 228 for 5, need only 49 more runs to win.
21:47 hrs IST
100 partnership
Cut away to deep point for a single. This brings up the 100-run partnership between Chris Woakes and Jos Buttler off just 123 balls. Considering the situation England were in, this is a match-turning partnership. England need 59 more to win, time running out for Pakistan.
21:31 hrs IST
Fifty for Woakes
FOUR! Superb shot. Just times it through the covers to collect another boundary. Fifty for Chris Woakes. This has been an excellent innings from the all-rounder. England now need only 66 runs with five wickets in hand.
21:29 hrs IST
Fifty for Buttler
A single down to fine. This will bring 17th Test for Jos Buttler. Could well turn out to be a match-turning fifty, and a career-saving one too for Buttler.
21:22 hrs IST
Just short
Falls inches away from Yasir Shah. A good effort for the leg-spinner but it wasn't enough. Woakes would have had his heart in his mouth there. The plan almost working for Pakistan. A short delivery with a leg-side field, Woakes mistimes a pull shot but it lands safely. 200 up for England.
21:16 hrs IST
Woakes flicks it
FOUR! Superb shot from Woakes. this has been a game-changing innings from the all-rounder so far. So easy to the eye. England move to 194/5, need 83 more runs to win.
21:12 hrs IST
Buttler inching towards fifty
FOUR! Pulled away. Excellent shot from Buttler, this time the deep fielder won't get around it. Naseem dropped it shot, Buttler is very strong off the backfoot and he just pulls it away towards the mid wicket boundary. Buttler moves to 46.
21:00 hrs IST
Target down to double figures
Buttler pushes is down to the deep cover fielder to get a single off Mohammad Abbbas. This brings down England's target down to double figures. A huge psychological boost this.
20:56 hrs IST
Buttler restores normalcy
FOUR! There you go, it did not take long for Buttler to be positive against the spinner. Shadab tosses it up, Buttler gets a god stride in and drives it past the cover fielder. Yasir Shah at long on makes a good chance but was not able to stop it from reaching the ropes. England 176/5, need 101 more runs to win
20:53 hrs IST
1 run off the first over
A slightly sedate start to the final session of Day 4. Perhaps it is because it was Mohammad Abbas with the ball or is it just the lull before the storm. We'll wait till the spinners come on to bowl. Looks like it will be Shadab Khan from the other end.
20:48 hrs IST
Day 4, session 3
Buttler and Woakes have a simple game plane, that is to attack and capitalise on anything loose. It will be interesting to see how Pakistan react to this in this session which could well turn out to be the last session of this Test.
20:29 hrs IST
Tea on Day 4
England 167/5 at Tea on Day 4, need 110 more runs to win against Pakistan. This has been a brilliant counter-attacking partnership after Pakistan picked up four quick wickets to peg England back. Buttler and Waokes would look to carry on the momentum. Join us after 15 minutes in what promises to be a cracker of a final session.
20:19 hrs IST
Woakes on fire
FOUR! Chris Woakes has started to play some delightful strokes after the early display of aggression. He has moved to 22 off just 16 and England have started to put the pressure back on Pakistan. They are at 157/5, needing 120 more to win.
20:11 hrs IST
Runs flowing suddenly
FOUR! Chris Woakes has come out with a lot of intent. A bit full from Afridi, Woakes uses the long handle to drive it on the up and collect another boundary. This partnership has now raced away to 31 off 27 balls. England need 130 more to win with five wickets in hand.
20:03 hrs IST
Waokes throwing caution to the wind
... And is getting the results. He has hit a boundary and then got three runs off the next ball to race to 7 off just 3 balls. Remembers how Pakistan's tail scored 32 runs in just 16 balls this morning? Perhaps England have to take leaf out of that and stay positive. England 133/5, still need 144 more runs to win.
19:52 hrs IST
Afridi gets Pope
OUT! Unplayable delivery. That one shot up from nowhere. Nothing much that Pope or any batsman could have done to that one. It zooted from length, got the glove and ballooned up in the air to land safely in the hands of the gully fielder. Pakistan are all over England now. England 117/5
19:47 hrs IST
Buttler shows intent
Two fours in three balls. Some excellent drives from Jos Buttler. Yasir Shah is not shying away from tossing it up and Buttler is up for it. He brings out his big drives. The first one creamed through extra cover, the next one a bit straighter through the covers.
19:38 hrs IST
Yasir gets Stokes
OUT! Yasir has got a huge one. What a fantastic review by Pakistan. Moments after they lost one to a poor call, it was a brave one to go for another but fortunes does favour the brave. Yasir Shah got one to bounce off the track, Stokes just poked at it, got a feather and Rizwan rose with it fumbled but grabbed it on the second attempt. What big moment in the game. England 107/4
19:34 hrs IST
Pakistan lose a review
Huge appeal from Naseem, the umpire shakes his head. Naseem has convinced the captain to go for a review. And it's not a very good one, it was always going down leg. Pakistan lose a review. Naseem raps Stokes on the pads with a one that came back in sharply.
19:24 hrs IST
Pope off the mark
FOUR! Naseem drifts on to the pads, easy pickings for the new man Ollie Pope, who flicks it for a boundary. This also brings up the 100 for England.
19:19 hrs IST
Root is out
OUT! Big big moment in the game. Naseem Shah, who had been finding the outside edge of Joe Root's bat, has finally managed to get him out. A fantastic delivery one again from the youngster. This time a little more bounce, a bit more venom on it, which allows the ball to carry comfortably to first slip. Root departs for 42. England 96/3
19:10 hrs IST
Stokes opens his account
FOUR! A bit streaky but Ben Stokes will take it. It's a boundary to get off the mark. Naseem gets one to just straighten from a length, Stokes plays it with soft hands, the thickish outside edge goes through the vacant gully area for a boundary.
19:05 hrs IST
Yasir gets Sibley
Edged and gone! Yasir Shah has struck for Pakistan. Dom Sibley goes for 36. It was the sucker ball that brought about the downfall of Dom Sibley. Yasir Shah was probing away from around the wicket all this while to Sibley who was just offering his pad. This time Shah tosses one up, Sibley's eyes light up, he goes for the big booming drive, only to get an outside edge to first slip. England 86/2.
19:03 hrs IST
Root looks to be positive
The England captain has got two boundaries in quick succession. The first one was off Naseem Shah and then the second one off Yasir Shah. Root knows the importance of scoring runs. England 85/1.
18:53 hrs IST
Drops short again
This is the second time Joe Root has nicked off Naseem Shah and the ball has fallen short of the slip cordon. This will continue to happen till the time Pakistan fielders, the keeper especially, don't come up a yard. Another very good delivery Naseem, Root played with soft hands, which did not allow the ball to carry much too.
18: 45 hrs IST
Another maiden from Abbas
England just can't get Mohammad Abbas away. Maybe the play is just to see him off. Don't give him a wicket, we can score runs from the other end.
18:35 hrs IST
Abbas in nice rhythm
Very seldom you see Mohammad Abbas not a good rhythm. He once again has settled in nicely after lunch, making Root and Sibley play at almost everything.
18:19 hrs IST
Sibley survives
Huge appeal from Pakistan fielders, is there a nick? The umpire thinks so. Dom Sibley doesn't look convinced at all. He's reviewed it. Replays show a day light between bat and ball. The decision has to be reversed. That was a peach of a delivery from Yasir Shah, it gripped and turned past the bat.
18:09 hrs IST
Day 4, session 2
Joe Root and Dom Sibley have to resume duties in this session which could well decide the outcome of the of this Test match.
17:32 hrs IST
Lunch, Day 4
A quick single from Joe Root to end the over and that will be lunch on Day 4. Root and Sibley have done a good job after Abbas dismissed Burns. 1st Test: England 55/1 in 2nd innings, need 222 more runs to win against Pakistan.
17:26 hrs IST
50 for England
A full toss from Shadab Khan on leg stump and Sibley flicks it away. Hasn't timed it that well but Root pushes him to run three which brings up the fifty for England.
17:19 hrs IST
Shot from Sibley
FOUR! That's good shot from Sibley. It went finer than he would have liked to but he was in full control of that drive there Sibley. Naseem pitched it up, but it was wide, allowing Siblye to open his arms and play it along the carpet for a four. England 42/1
17:11 hrs IST
Drops short
Edged but doesn't carry to the first slip fielder. The slip cordon is a bit too deep for comfort you fear. A genuine outside edge from Sibley's bat there. A very good delivery from Naseem, gets one to just seam away but only if the slips were standing up.
17:05 hrs IST
Maiden from Naseem
A very good over from Naseem Shah. The young man bowled a jaffer to Sibley to beat him on the outside edge and the rest of his deliveries all made the England opener play.
16:56 hrs IST
Root starts well
FOUR! You can't drift down the leg side to a player of Joe Root's quality. Naseem, who started the over well with deliveries outside the off stump, strays down the pads and Root makes use of his wrists to flick towards the square-leg region for his first boundary.
16:52 hrs IST
Sibley gets a gift
FOUR! Abbas for once strays down the leg side and all Sibley had to do was to just get bat on ball. It races away towards the long led boundary for a boundary.
16:47 hrs IST
Abbas strikes
OUT! Umpire's call on height, the decision stays. Pakistan have got their first breakthrough and it's that man Mohammad Abbas again. He cam around the wicket to Burns, got that one to come back in with the angle, Burns played all around it. It did appear to be going over by umpire Kettleborough thought otherwise. England went for the review and it showed it would have clipped the top of middle stump. England are 22/1
16:38 hrs IST
Edged and four
FOUR! Streaky. Abbas squared up Sibley there. The England opener played with soft hands, that didn't let the ball carry to slip fielder. It also goes wide of the second slip, no thirdman means it will be a boundary.
16:32 hrs IST
Pressure building
Two maidens in a row - one each from Afridi and Abbas. The Pakistan new ball bowlers are building some pressure on England's Burns and Sibley. England are 14/0.
16:16 hrs IST
Sloppy fielding
Two misfields from Pakistan already. One from Shaheen Afridi that cost an extra run and then another from Shan Masood that allowed Burns and Sibley to take a couple of runs. Fielding will be key for Pakistan, they can't allow such easy runs. These will let the pressure off.
16:06 hrs IST
Another push from Burns
2 runs again, slightly overpitched by Afridi and Burns up to it. He gets a good stride forward and drives it, doesn't get the ideal timing but enough to come back for a couple.
15:59 hrs IST
Burns off the mark
2 runs, a firm push through the covers by Rory Burns to get off the mark. He will comeback for a couple. The left-hander is looking better than first innings.
15:56 hrs IST
England second innings
England openers Rory Burns and Dom Sibley have a job on their hands. England have been set a 277-run target and they have to ensure to see off the new ball which they were unable to do so in the first innings. Shaheen Shah Afridi has the new ball in hand for Pakistan.
15:45 hrs IST
Pakistan all out for 169
Bowled! Archer gets the last wicket but Pakistan have scored 32 runs in just 16 balls on Day 4 to set England a target of 277. Some carefree batting from Yasir Shah and Pakistan's No.10 and 11 ensured England have a stiff target to chase.
15:44 hrs IST
Valuable runs
FOUR leg byes! "Fortune favours the brave," says David Llyod. Pakistan's lead is now 277.
15:41 hrs IST
Yasir Shah falls
OUT! Edged and taken. Yasir Shah's entertainment comes to an end. But he has done his job. He scored 21 runs today off just 9 balls. England still need 1 more wicket to bowl out Pakistan.
15:38 hrs IST
Count the lead
SIX! Yasir Shah is on a rampage at the moment. Just 9 balls today and Shah has already scored 21 runs. As if England didn't have enough troubles with his leg spin, he has now started to punish to England fast bowler. Pakistan lead by 265 now.
15:36 hrs IST
Yasir Shah on a roll
FOUR! Take that! No point hanging around, Yasir Shah inflicting some serious damage straightaway. Uses the long handle to slog it past the mid on fielder and collect his third boundary of the day.
15:32 hrs IST
What a start!
2, 4, 4: What an astonishing start to Day 4, not if you are an England fan though. Yasir Shah has taken 10 runs including two boundaries from the first three balls of Jofra Archer. Pakistan's lead crosses 250.
15:28 hrs IST
All set for Day 4
The England fielders are out there, they would look to wrap up Pakistan's tail as early as possible. As far as Pakistan are concerned, whatever they get today will be added bonus.
15:15 hrs IST
How much would England be comfortable chasing?
Don't see Pakistan adding much to their 244-run lead today with 2 wickets in hand. But if you ask me, Pakistan have already got a decent lead up their sleeves. 250 won't be easy to chase down on a Day 4 and 5 track with two leg-spinners to deal with.
14: 55 hrs IST
Advantage with Pakistan
Chasing at Old Trafford is not an easy task. There have been only 2 run chases above 200.The lead is already over the second highest chase. And on top that, England might have to fend off the dangerous Yasir Shah on a slow turning pitch.
14:48 hrs IST
Will Archer be rested for second Test?
With Robinson joining the squad for second Test, does it mean England are looking to rest Jofra Archer?
14:42 hrs IST
England can turn tables on Pak
"We've definitely got the ability. It's obviously going to be difficult, but we have got the players that can do it, " Woakes said.
14:38 hrs IST
Robinson to join squad
Sussex's Ollie Robinson will join with the Test squad ahead of the second Test on Monday.
14:30 hrs IST
Hello and Welcome
Hello and welcome to the live coverage of Day 4 of England vs Pakistan 1st Test match at Old Trafford in Manchester.
Close Story
Personalise your news feed. Follow trending topics