England vs West Indies, 3rd Test, Day 3 highlights: West Indies 10/2 at stumps, need 389 more runs to win
England vs West Indies, 3rd Test, Day 3 highlights: England had the West Indies reeling at 10 for two wickets after setting them an imposing target of 399 runs to win the third and final test at Old Trafford with Stuart Broad again dominating as he moved one away from 500 test wickets. Broad, who had taken four wickets in the tourists' first innings in the morning, continued by removing opener John Campbell without scoring and then nightwatchman Kemar Roach (4) after the West Indies were put in for the last six overs of the day. England had declared on 226 for two in their second innings as Rory Burns scored 90, Joe Root a quickfire 68 and Dom Sibley 56.Follow updates of England vs West Indies 3rd Test, Day 3: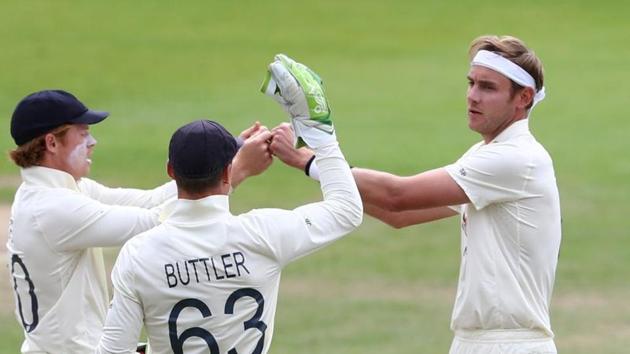 Updated on Jul 26, 2020 11:38 PM IST
Hindustan Times, New Delhi |
hindustantimes.com
23:06 hrs IST
Stumps Day 3
Stuart Broad can't get wicket No. 500 tonight. He bowls a maiden and that will be stumps on Day 3. West Indies (10/2, need 389 more runs to win against England
22:58 hrs IST
What an over from Broad
It felt like Broad would get a wicket every ball but Hope somehow survives. Looks like Broad will have to wait for tomorrow to complete 500 Test wickets unless he gets another over.
22:54 hrs IST
Broad has another
OUT! It's all too easy for Stuart Broad and England The move to send in nightwatchman Kemar Roach hasn't worked at all. Broad finds the outside edge of his bat and Buttler makes no mistake behind the stumps. West Indies are tottering at 6/2
22:45 hrs IST
Broad strikes
OUT! Edged and taken. There's no stopping Stuart Broad in this Test match. It takes him just three deliveries in the second innings to get on to the wickets column. A perfect delivery on length, moves away ever so slightly, a tentative push from Campbell and the ball finds the outside edge, no mistake by Root at first slip West Indies 0/1
22:30 hrs IST
England declare at 226/2
OUT! In the quest for getting to three figures in the limited time, Burns has skied one to depart for a super innings of 90. And with that England have also decided to declare their innings at 226 for 2, that means West Indies have a target of 399 to win this Test match.
22:25 hrs IST
Burns into the 90s
A fantastic shot over mid on for a boundary followed by a top edge for a couple. Rory Burns have moved into the nineties.
22:19 hrs IST
Fifty for Root
FOUR! Down the track goes Root to Roach and once again straight as an arrow. What a brilliant way to bring up your half-century. 49th Test fifty of his career for Joe Root.
22:14 hrs IST
Root goes up and over
SIX! What a superb shot from Root. Just a shimmy down the track and he hits straight over the back of the Cornwall's head for a six towards long-off.
22:11 hrs IST
All in the boundary
West Indies have decided to place majority of their fielders in the deep. Quite understandably so as the primary objective is to save runs and make England bat as long as possible.
22:00 hrs IST
Root gets another boundary
FOUR! Boundaries almost every over now. West Indies simply have don't know how to stop the runs. Root has moved to a run a ball 34 and England's lead is touching 350.
21:55 hrs IST
Root plays the reverse
FOUR! Joe Root now goes for the sweep against Chase and plays to perfection. Cornwall at first slip tries to go towards his right in anticipation but ball goes fine and to his left, no chance. Fifty partnership between Root and Burns.
21:40 hrs IST
Productive over for England
10 runs coming from the Rahkeem Cornwall over and all of off Rory Burns' bat. Two fours and a couple. Burns is sweeping the Windies off-spinners all around the park.
21:30 hrs IST
Burns reverse sweeps
FOUR! Burns brings out the reverse sweep and plays it fine to get a boundary. England clearly on the move. Ever Since Joe Root has come in there has been a lot urgency to score quickly. The rain forecast for tomorrow may have a role in that.
21:20 hrs IST
Intent from Root straightaway
The England skipper has come out with positive intent. He got off the mark first ball with a well times flick that got him three runs and has moved to 10 off 8. 28 overs remain in the day and judging by their session run-rate of 3.75 an over.
21:10 hrs IST
Sibley falls after Burns fifty
After Sibley, it's Burns' chance to raise his bat as he gets to his half-century, his 8th in Tests in 18 matches. Remember he has two hundreds to go. But shortly after, Jason Holder delivers the breakthrough for West Indies. A ball after an LBW review was turned down, Holder has once again trapped Dom Sibley on the pads and the finger has gone up. Takes the review but to no avail. Four reds and Sibley is a goner. England lose their 1st wicket for 114.
21:00 hrs IST
Sibley's fine series continues
Fifty for Dom Sibley, second of the series to go with his hundred at Old Trafford in the previous Test. Gets there with a four as England move to 106/0. Leads extends to 278.
20:50 hrs IST
100 up for England
Mike Atherton informs on air that the last time England openers put on a century-plus stand was in 2016. WOW! That's a lont, long time ago. Burns brings up the 100 with a flick for four, with which he moves on to 46.
20:40 hrs IST
Final session underway...
And we resume proceedings, the final session of the day. Two overs bowled and England have moved to 94 without loss. With rain on forecast over the next two days, how much longer will England bat? Nevertheless, either way, if the prediction in Manchester is anything to go by, very tough to get a result out of this Test
20: 30 hrs IST
When the big man dismissed Kohli, Pujara and Rahane in the same innings
Last year, West Indies off-spinner Rahkeem Cornwall got his Test career off to a flying start as he dismissed Cheteshwar Pujara for his maiden Test wicket. But it may pale in comparison to what he achieved in a warm-up match against India in 2016. Representing President's XI, Cornwall dismissed the pillars of India's middle order – Pujara, Virat Kohli and Ajinkya Rahane in the same innings and immediately made heads turn. For full story, click here
20:20 hrs IST
When two England greats got together - Nass and Athers
Enjoyed listening to these two talk about batting at the top of the order https://t.co/C39RVBxxq4

— Nasser Hussain (@nassercricket) July 26, 2020
20:10 hrs IST
Tea on Day 3, England on top
England (86/0 and 369) at tea on Day 3, lead West Indies (197 all out) by 258 runs. A wicketless session for England, one in which 76 runs were scored. West Indies have bowled 28 overs of which spinners bowled 17. The only chance West Indies had was early in the session when substitute wicketkeeper Joshua Da Saliva missed a stumping chance.
20:00 hrs IST
West Indies lose a review
A fuller length delivery from Cornwall, Sibley yorks himself and ends up playing all around it. West Indies went up in a huge appeal, the umpire said no but they went for the review. Replays confirmed that it struck him outside the line of off stump. So West Indies lose a review.
19:57 IST
Two boundaries
One from Burns, the other from Sibley. England are trying to move on and their typical Test openers are really trying to break free. England 74/0 and more importantly lead by 246 runs.
19:50 hrs IST
Sibley living dangerously
Sibley is trying break the shackles, but the limitation of shots is not helping him. Tries to hit CHase over mid-wicket by giving hum the charge but ends up slogging it. The ball lands just inches away from the diving backward square-leg fielder.
19:41 hrs IST
Good over from Cornwall
Some oohs and aahs there. Rahkeem Cornwall got a couple to turn, Sibley tried to do something out of the ordinary but did not succeed. Thankfully the ball was going over the stumps.
19:30 hrs IST
Misfield
FOUR! That was regulation at point but Blackwood makes a meal of it as it goes through. Chemar Holder at the boundary made a desperate attempt with a full length dive to stop the ball but it was not enough. Burns will be happy to a boundary off Chase.
19:26 hrs IST
Maiden from Chase
This Chase vs Burns battle is really interesting one. He already beat him once but de Silva failed to affect the stumping but Chase is relentless. Burns simply doesn't seem to have much answers against him.
19:18 hrs IST
Drinks break
It has been a painful period of play for West Indies. Their captain Jason Holder hurt his left thumb just at the stroke of lunch and after lunch it was keeper Shane Dowrich who had walk off after being on the face. In between all this, Dom Sibley and Rory Burns have managed to hold fort for England as their lead is now at 211.
19:09 hrs IST
Missed stumping
It was a dream off-spinner's delivery there from Chase. He flighted that one, enticed Burns to use his feet but the drift foxed him and the spin beat him. Wicket-keeper de Silva did well to gather the ball cleanly but failed to whip the bails off in time. The spin on the ball took it so wide that he could not reach out for the stumps on time.
19:03 hrs IST
Sibley flicks it for a four
FOUR, nice use of the wrists from Don Sibley! Pitched up by Holder and the right hander does well to flick it through square leg for four runs. He is very strong off his pads.
18:54 hrs IST
England lead by 200
FOUR! A nice little dab from Rory Burns and it runs away through the vacant gully region and into the boundary. England now lead by 201 runs.
18:47 hrs IST
Joshua de Silva allowed to keep wickets
Young Joshua de Silva has been permitted to keep wickets for West Indies in place of the injured Shane Dowrich. De Silva is obviously not a part of the West Indies 15-member squad but he is travelling with the team and umpires have granted him special permission to keep wickets as substitute fielder.
18:39 hrs IST
Four byes
Tough way to start for Shai Hope behind the stumps. It was one of those Gabriel bouncers that tests the keeper more than the batsman and it was way too high for Hope. It goes away to the fine leg boundary for four welcome runs for England.
18:35 hrs IST
The wipes are out
The umpires have decided to wipe the ball clean as they fear it might have caught some saliva after hitting Dowrich flush on the face. That would be rather unusual there but still can't blame the umpires for taking precautionary measures. Meanwhile, Shai Hope will take the gloves in place of Dowrich.
18:33 hrs IST
Dowrich walks off
OUCH that must have hurt. Gabriel cranking up some pace. Another short one from the big West Indian, Burns let it go but Dowrich wasn't quite up for it. It bursts through his gloves and straight on to his face.
18:28 hrs IST
Good start for West Indies
A maiden from Roach. It has been tight start from West Indies after lunch. Roach and Garbiel have been given noting away to the English openers. A wickets might just be around the corner if they continue to build this pressure.
18:15 hrs IST
Day 3, session 2
Right then, we are all set for the second session of Day 3. Good news for West Indies, their captain Jason Holder has walked out to the field with a heavily bandaged left thumb, that means it is more or less certain that he won't field in the slips but he shouldn't have any problems bowling with his right hand.
17:33 hrs IST
Lunch, Day 3
Two boundaries coming from Dom Sibley's bat in quick succession. England 10/0 at lunch on Day 3, they lead West Indies by 182 runs.
17:26 hrs IST
Gabriel starts well
Just 1 run off the over. Gabriel has started well and so has Roach. With Holder out of the field for some time, the workload on Gabriel and Roach will be much more.
17:19 hrs IST
Holder walks off
Not the best of starts for West Indies in the 2nd innings. Their captain Jason Holder has to walk off the field with a nasty finger injury. It was a nice delivery from Roach. Burns played it with soft hands, that's why it didn't carry to Holder in the slips but hit him on the fingers. The physios came out and rightly took him away from the field.
17:15 hrs IST
England openers are out there
Rory Burns and Dom Sibley have made their way out into the centre. England have a healthy lead but with the dubious Manchester weather they would like to score quickly.
17:06 hrs IST
West Indies all out for 197
OUT! SIX wickets for Stuart Broad. He finishes with 6/32. Dowrich the last man to go and England have bowled out West Indies for 197 to take a comfortable 172-run lead in the first innings.
17:03 hrs IST
Dowrich having a go
Dowrich shows exactly why Jason Holder has so much confidence in him. With 9 wickets down he has decided to have some fun but with a lot of class. He hit Anderson for a boundary in the previous over and in this over he punches Broad off the backfoot for another boundary.
16:54 hrs IST
5 wkts for Broad
Edged and taken, Stuart Broad has five. A leg-cutter this time. Roach was expecting the big in swinger but Broad uses all his experience and bowls the leg-cutter that finds the outside edge of Roach's bat and Joe Root takes a comfortable catch. Broad now has 5/27 in this innings.
16:49 hrs IST
Broad strikes again
OUT! Broad gets Cornwall. Typical Broad dismissal. He gets the ball to jag back in from length. No real feet movement from Cornwall and what's worse? He swings across the line,misses it altogether and it hits him right in front. Another pointless review. West Indies 8 down.
16:38 hrs IST
Cornwall off the mark
FOUR! What a way to get off the mark. A straight drive showing the bat maker's name and it races away to the long-off boundary. It was overpitched from Broad, Cornwall shows he is a good enough No.9 to put it away.
16:27 hrs IST
Broad breaks the stand
OUT! Right in front, Stuart Broad can't do no wrong in this Test match. First over on Day 3, brings it back in from a length, Holder hangs back, fails to make contact and it hits right on his front pad. No hesitation from umpire Kettleborough. But Holder went for a review. Replays confirmed it was plumb. Holder goes for 46.
16:25 hrs IST
2000 Test runs for Holder
A confident punch through the covers and Holder will comeback for a couple. That will bring up 2000 Test runs for Jason Holder. He's been one of the best all-rounders in world cricket for along time now.
16:23 hrs IST
Stuart Broad it the attack
It's gone really dark at Oldd Trafford, the lights are in full affect and Joe Root has thrown the ball to his best cricketer in this match - Stuart Broad. Holder and Dowrich have looked rrather untroubled in the first hour of play. Will Broad be able to break the stand?
16:15 hrs IST
West Indies avoid follow-on
FOUR! Pulled away by Jason Hoder towards the long leg boundary for a four. First milestone achieved, West Indies have avoided the follow-on. It was a short delivery from Woakes, Holder uses his height to climb on top of it pull it with control.
16:05 hrs IST
OUT, oh wait
It's a no ball. Woakes' front foot was on the line. Thank god Holder waited for the confirmation. It was a length delivery from Woakes, Holder flicked up in the air, Ollie Pope at short mid-wicket flew towards his right to hold to on to a magnificent diving catch but the replays show Woakes has just overstepped. Big moment in the game.
16:03 hrs IST
Good stop by Burns
Good delivery from Woakes also finds the outside half of Dowrich's bat but the West Indian keeper's soft hands does not allow for it to carry to slip cordon and it goes through the gap. A good chase by Burns. He saves one run.
16:00 hrs IST
Fifty partnership
A nice nudge down to fine leg for a couple from Dowrich. That will bring up the fifty partnership between him and Holder. It has come at good time too, off just 67 balls. What they have ensured now is England in all probability will have to bat again. West Indies are 9 runs away from avoiding the follow-on.
15:49 hrs IST
Dowrich pulls
FOUR! A nothing delivery from Woakes. It was neither short, nor at a length, no direction, no real pace and no troubles for Dowrich. He pounces on it to pull it away for his first boundary of the day.
15:42 hrs IST
Holder looking good
These are good signs for West Indies. Holder drives Archer for the first boundary of the day and then when the England quick dragged his length back slightly Holder pinched him off his backfoot. The long boundary will allow them to run four. 150 up for West Indies, only 18 more runs to avoid the follow on.
15:38 hrs IST
Runs for Holder too
Nice little way to get off the mark on Day 3. A confident punch through the covers for a couple. So both West Indian batsmen have got off the mark on Day 3.
15:32 hrs IST
Dowrich is away
First runs of the morning. Dowrich looks in full control when the ball is pitched up around off stump. Archer does exactly that, Dowrich gets a good stride in to just stroke past the short-cover fielder. It doesn't have enough legs to go to the ropes but West Indies will get 3 runs.
15:28 hrs IST
Day 3, session 1
The players are out in the middle. Jason Holder and Shane Dowrich look confident. It's going to be big first hour. Either West Indies will be all out or Dowrich and Holder will start scripting something great.
15:20 hrs IST
Don't write off West Indies yet
West Indies are peculiar side. Their lower middle order averages more than their top order in the last couple of years in Test cricket and that is mainly due to the likes of Jason Holder, Shane Dowrich and Jermaine Blackwood. Two of them are still there so there's no reason why they can't pull off something stunning.
15:00 hrs IST
West Indies' key player
West Indies will look towards Jason Holder and Shannon Gabriel who will be required to pick up quick wickets to ensure they do not have a huge total in front of them.
14:50 hrs IST
Should England enforce follow-on?
In a case, England can pick up next four wickets quickly, should they enforce the follow-on on England? I think it would be a good decision to do so, since it might rain today.
My colleague, Aritra disagrees. He thinks England should put more pressure by putting on an even stiffer target.
14:40 hrs IST
Dry day in Manchester...
So far, it has been a dry day in Manchester... meaning there by, that there has been no rain so far. Good news! We could expect a start on time and moreover, there will be 91.5 overs in play which means 15 minutes of more cricket action for all of us. YAYYYY! What more do we need than more cricket in this world, right!
14:30 hrs IST
Andrew Strauss on Ollie Pope
"If you look at his first-class record, he's averaging 57 and he's proved that he can do it in Test cricket with that great innings he played in South Africa," Strauss told 'Sky Sports'.
"Today was more of the same. He's a guy who can score quickly without you really noticing it. He played some really eye-catching shots as well and he looks equally comfortable against seam and spin, so no obvious weaknesses there. He's a real find for England, I think," Strauss added.
14:20 hrs IST
Stats attack
Stuart Broad's 33-ball fifty in Manchester is the third joint-fastest fifty in Test cricket by an Englishman.just behind Ian Botham (28 balls vs India, 1981/82; 32 balls vs New Zealand, 1986). His effort is level with Allan Lamb (33 balls vs New Zealand, 1991/92) and Andrew Flintoff (33 balls vs New Zealand, 2001/02).
14:10 hrs IST
Weather update
The weather forecast predicts heavy rains on Sunday. So far, there is not any word on rains, but stay tuned, we will keep you posted. Fingers crossed we will have full 90 overs and an enthralling day of Test cricket.
14:00 hrs IST
Sachin Tendulkar has a word
Huge praise to Ollie Pope!
Been watching the 3rd Test, @OPope32 seems to have modeled his batting on @Ian_Bell.
His stance and footwork looks exactly the same to me. #ENGvWI pic.twitter.com/sEvNKr1YFZ

— Sachin Tendulkar (@sachin_rt) July 24, 2020
13:50 hrs IST
Broad's batting inspirating is...
SHANE WARNE! Broad who scored a quickfire fifty yesterday explained that he took inspiration from seeing Shane Warne bat. "They were quite important runs. It was about changing the momentum of the innings. West Indies bowled beautifully this morning and I think if I had gone out there and tried to play regulation I think there was a ball with my name on it," Broad told a news conference. "I tried to up the momentum, hit the bowlers off a length and try and take Kemar (Roach) and Shannon (Gabriel) away from what they'd done so well in the first 40 minutes. Tactically it was the right thing to do and something I've worked on with Peter Moores at Nottinghamshire. He brought me the example of Shane Warne who didn't look particularly pretty at times but hit balls in different areas and was really effective, especially in the 2005 Ashes." READ MORE
13:40 hrs IST
Roach reaches 200 wickets
First time in 26 years a West Indian bowler reached the 200-wickets mark in Test cricket when fast bowler Kemar Roach achieved the feat on Day 2 of the third Test match at Old Trafford in Manchester.
13:30 hrs IST
Hello and Welcome
Hello and welcome to our live blog on Day 3 of the 3rd Test between England and West Indies in Manchester.
Close Story
Personalise your news feed. Follow trending topics