I returned to IPL with the intent to be a matchwinner: Ruturaj Gaikwad
Worked during lockdown in 2020 to improve back-foot game, says India batter Ruturaj Gaikwad.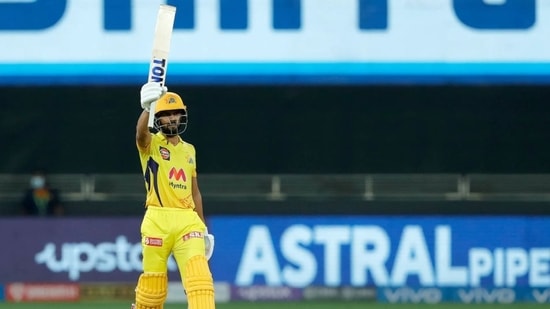 Updated on Dec 18, 2021 09:24 PM IST
Ruturaj Gaikwad makes batting look effortless but don't let his graceful touch mask the hard interior. Thanks to the lessons from his parents, hard work is never a problem for the 24-year-old batter.
"My mother is a teacher. Earlier, she was at a school five minutes from our house. After her transfer, it now takes around 45 minutes for her to reach the school. She has to take a crowded bus, walk some distance, take a crowded bus back and then again walk home. After that, it's straight to the household chores," said Gaikwad.
"She used to give her example that she can always complain: 'I have to go all the way, teach there, again do the same thing, but I remind myself that I love doing this work. I have to do it.'"
Gaikwad said he learnt from his mother to enjoy "every little moment of whatever you are doing" and to give it your best shot. Always. "That advice has stuck with me. I always make sure, I don't complain, look at things in a positive way, go through that process and enjoy it."
It's a demanding life for a cricketer in India attempting to climb to the top. Good performance is no guarantee that progress will be smooth. Gaikwad has had his share of ups and downs. On his Ranji Trophy debut, he fractured his hand, being hit by Varun Aaron's delivery against Jharkhand, and that derailed his season. He tested positive for Covid-19 before IPL 2020 in Dubai resulting in a 30-day quarantine in his hotel room. And after being the highest run-getter in IPL 2021 (635 runs in 16 matches), the Chennai Super Kings (CSK) opener didn't get a game in the T20I series against New Zealand.
Gaikwad responded to that with a flurry of hundreds for Maharashtra in the Vijay Hazare Trophy— four in his last five innings, two of them over 150.
'Next CSK captain after Dhoni': Twitter lauds Ruturaj Gaikwad for three-successive centuries in Vijay Hazare Trophy
"He is that kind of person who is always looking forward to the next day, rather than what he achieved today. We never ask him about his games but on occasions we would during his childhood days, he couldn't remember the details of the match clearly even if he has done well," said his father Dashrat, a retired central government employee.
Prior to the 50-overs Hazare Trophy, Gaikwad was equally prolific in the T20 Mushtaq Ali Trophy with scores of 51, 80, 81, 3 and 44. After returning from IPL, Gaikwad said he simply refocused on contributing for Maharashtra.
"Obviously, it means a lot. I had never thought I will be an orange cap winner, plus win IPL," he said. "(But) After returning from UAE, there was Mushtaq Ali. I had to make sure I keep my focus for my team which needs my experience. After one thing is done, I make sure I leave it behind," he said.
Gaikwad's run of big scores is proof of his solid grounding in the basics of batting: balance, position of the head, watching the ball till as late as possible. He said he had done a lot of work on his technique from the start.
He has a cover drive which is as eye-catching as any stylish left-handed batter. "From childhood, cover drive is my favourite shot. My foot goes to the pitch of the ball, in line of the ball. I don't look to hit it with power, I look to time it. The main thing is I try and maintain my shape and look to time it. When you look to time the ball, you watch the ball little bit more closer, your bat face is at the right place where you want it. Obviously it gives you a great advantage if you find the gap. Sometimes you have to play on the up as well. I make sure the foot is in the line as well."
Decisive footwork differentiates the best from the good batters. While the grip, stance and head position can be learnt right from a good coach, moving well only comes with a lot of hard work. Raised on placid wickets, batsmen from the subcontinent can get away with good hand-and-eye coordination. But the advantage is massive when good footwork is married to basics done right. Gaikwad's game stands out in the way he uses the crease. He can go full stretch forward, step out to the spinners or play fully back to the shorter deliveries.
"I always had a big stride right from the start. Growing up, I was used to playing bowlers lacking pace so I had to reach out and hit. Eventually, I realised that even when I am playing bowlers with higher speed I am able to do that," he said.
Gaikwad dwarfs in comparison to the bulging muscles of his CSK opening partner Faf du Plessis. But when it comes to playing the short ball, the Punekar shows good control over the pull or cut shots.
"When I went to New Zealand in January 2020, I realised I need to improve my back-foot game. New Zealand obviously has good bounce and pacey wickets. Yes, I made scores there, getting a 90, 50 and 30. But, I realised I am slightly weak on the back foot. The lockdown due to pandemic came after that and I had enough time to work on my back-foot game."
That sweep shot
Gaikwad's repertoire of shots extends beyond textbook batting. In IPL, the sweep shot off Jasprit Bumrah against Mumbai Indians in Dubai was breathtaking for its sheer daring. Getting into perfect position against one of the world's foremost fast bowlers, Gaikwad converted a yorker into a full-toss and swept over backward square-leg for a 76-metre six.
"I play that shot for a long time now. One day I just thought why can't I play it (sweep shot) to the fast bowlers. I started playing it in local matches but in the state matches I used to be scared of trying it fearing it would look bad if I got out. But, then I thought it is a very useful shot for me. It puts the bowlers on the backfoot," he said.
'After that chat, my thought process changed': Ruturaj Gaikwad reveals how MS Dhoni inspired him in IPL 2020
On that shot against Bumrah, he said: "In the previous over, Bumrah's execution of yorker was good so I felt that maybe he will again bowl a yorker. The square-leg was up so I thought if I time it, I will get a boundary. Thankfully he did. I got the execution right."
Because the eyes have to be peeled on the ball and the face is close to it when the connection happens, it needs courage to play that shot. "I have become used to that shot, have crossed that fear part."
In that game, CSK were reeling at 24/4 in six overs before Gaikwad took them to a competitive 156/6 after partnerships with Ravindra Jadeja and Dwayne Bravo. It was the first game of the second leg between two of IPL's most successful teams and it marked the transformation of Gaikwad into a match-winner.
"In the India-leg of the IPL, my main aim was to just contribute. I used to think there are a lot of match-winners in this team, so my job is to make sure I get the team off to a good start. After the India leg, I got picked for the Sri Lanka tour, I made my debut and played two matches, got out cheaply in both. But it made me realise since I am an international cricketer now, I have that potential. I took a lot of confidence from there.
"When I came back for the Dubai leg, I came with the intent to be that match-winner. Obviously, there were still a lot of match-winners in the team, so there was a change in intent and our preparation was good by going there one month early."
His own coach
Batting is a technical sport. Players spend a lifetime understanding their game and are always tempted to experiment, either to get better or to get out of a rut. For someone so well drilled in basics, whom does he consult when he has a doubt?
"I don't rely on anyone. Yes, I have suggestions coming from whichever coach I go to. I am not the one who starts the conversations with them. I always want to answer my own questions."
To elucidate his point, Gaikwad referred to the last IPL. "Going into the Dubai leg I just thought I will tap the bat between the feet (rather than behind it). I just tried it at practice. I didn't ask anyone. I told (CSK coach) Stephen Fleming that I just made this change. He asked: 'are you feeling comfortable?' When I said, yes, he said, 'then go ahead'. I felt I will be comfortable all over the ground, on the off and the leg-side. Even with the incoming delivery, I thought I will be more comfortable with this stance. I am continuing with it."
Gaikwad is a product of the Dilip Vengsarkar Academy in Pune. His childhood coach Mohan Jadhav said: "He (Gaikwad) doesn't play those eye-popping shots which hit the boards boom-boom; he is a silent killer. You are retrieving the ball from the boundary time and again as he is brilliant in finding the gaps"
First IPL hundred
The last IPL tournament also saw Gaikwad get his first hundred, an unbeaten 101 off 60 balls, versus Rajasthan Royals. Asked to describe his knock, Gaikwad spoke about the ability to plan his innings and change gears.
IPL 2021: Ruturaj Gaikwad receives rousing reception at home, CSK share video
"I realised the wicket was slower and they were bowling slower ones. My strength is not that I will step out and hit. It's not my game, I just waited and waited and once the spinners came on after 10 overs, I completed my fifty off 43 balls. For the next fifty it took me 17 balls. If I had been aggressive from the start, maybe I could have got out," he said.
Gaikwad, one of the four players retained by CSK ahead of the mega IPL auctions, knows it is a tough time to be an opening batsman in India. The competition is intense and that is why Gaikwad didn't get a game against New Zealand. "I don't focus on the selection process. That is the advantage of playing under Mahi bhai (MS Dhoni). He says focus on the right things, if your process is right, one day it will happen."
Enjoy unlimited digital access with HT Premium
Subscribe Now to continue reading
Close Story
Personalise your news feed. Follow trending topics