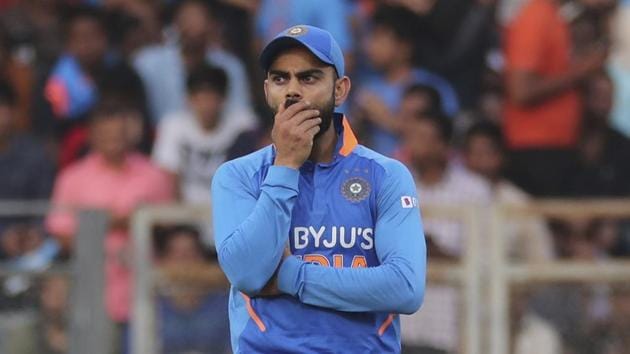 India vs Australia: 'We have to rethink' - Virat Kohli accepts changing batting position 'didn't go their way'
India vs Australia: India captain Virat Kohli came out to bat at no. 4, instead of his usual batting position at no. 3.
Hindustan Times, Mumbai | By Rasesh Mandani
UPDATED ON JAN 14, 2020 11:25 PM IST
Virat Kohli said the team management will review its batting plans after his dropping to No. 4 to let in-form KL Rahul bat at his one-drop position led to an underwhelming batting effort and a 10-wicket defeat against Australia in the first ODI. "We were outplayed in all three departments. It's a very strong Australian team and if you don't play well enough they will hurt you and we saw that," Kohli said at the post-match presentation. "With bat in hand I don't think we had enough intent to go out there and take risks, get those extra runs and put the bowlers under pressure."
Although opener Shikhar Dhawan and Rahul, at No. 3, raised a century stand, they could not put the Australia bowlers under pressure once set.
"I think in phases we were too respectful of the bowlers," Kohli said. "We didn't take the game by the scruff of its neck. Having said that it's another challenge for us to bounce back from here …"
Also read: Bizarre interruption at Wankhede Stadium as kite stops play - WATCH
Kohli came in to bat only in the 28th over and his dismissal for a 14-ball 16 saw a middle-order collapse. "We've had this discussion many times in the past as well. Because of the way KL has been batting, we have tried to fit him in the batting line-up. But I don't think it's gone quite our way whenever I batted at four so probably will have to rethink about that one," Kohli said.
"It's about giving some guys opportunities. Every now and then, it's about putting people up there and testing them. People need to relax and not panic with one game. I am allowed to experiment a little bit and fail at times. Today was one of the days it didn't come off."
Dhawan echoed Kohli's views. "We were targeting 300 and lost wickets and ended up scoring less runs. We could not take early wickets. They outplayed us," he told reporters. "Four wickets were lost, that's where we lost the momentum," he said, referring to Rahul, himself, Shreyas Iyer and Rishabh Pant getting out in the space of 28 runs. Asked about the re-jig in the top-order, Dhawan said, "That's the captain's choice. Even Rahul has been batting well. Maybe we will rethink."
Also read: Black ban at Wankhede Stadium?
In such a loss, when the opposition chases down 255 in 38 overs, there will be concerns with the bowling too. Mohammad Shami was ineffective, struggling to find swing in Mumbai breeze under lights. With Jasprit Bumrah still finding his way back after injury and Shardul Thakur ineffective, David Warner and Aaron Finch dominated the attack.
Warner indicated where India erred and Australia may have capitalised. "I always think when you come to Wankhede, it swings and there's a little bit of seam movement. Fortunately, tonight they over-pitched quite a bit to Finchy, and he was able to get on the front foot and put them away," he said.
Topics
Close