India vs Pakistan, ICC U 19 World Cup 2020 Highlights: Yashasvi Jaiswal ton, bowlers guide India to third straight U19 WC final
Feb 04, 2020 08:16 PM IST
India vs Pakistan Highlights: Yashasvi Jaiswal scored a brilliant century while Divyansh Saxena supported him brilliantly with a fifty as India beat Pakistan to book their spot in the ICC U19 World Cup 2020 final. Earlier, Pakistan threw away a brilliant platform and lost their last 6 wickets for just 26 runs. When Rohail and Haider were cruising along, Pakistan looked set for a big total, but India skipper Priyam Garg held his nerves, rotated the bowlers brilliantly to inflict the end on Pakistan. Sushant Mishra starred with 3 wickets while Kartik Tyagi and Ravi Bishnoi chipped in a with a couple of wickets each. Garg gave great account of his captaincy skills and the bowlers and fielders responded brilliantly.Highlights from India vs Pakistan U19 World Cup semi-final:-
19:56 hrs IST
Historic Feat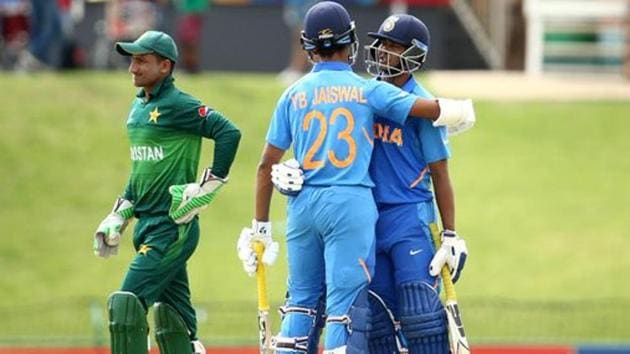 Highest partnership for IND v PAK in U19 WC:
176* Y Jaiswal - D Saxena, Potchefstroom 2020 (1st wkt)
119 S Khan - S Samson, Dubai 2014 (5th wkt)
89 M Kalra - P Shaw, Christchurch 2018 (1st wkt)
74* M Kaif - A Solanki, Durban 1998 (6th wkt)
19:43 hrs IST
Jaiswal century guides IND to victory
Another six from Yashasvi Jaiswal and that is the hundred for the youngster. It was also enough for India to clinch the match by 10 wickets and they have reached their third straight U19 World Cup final.
19:38 hrs IST
Boundary
A short pitched delivery from Qasim Akram and Yashasvi Jaiswal slams it to the long-on boundary. The youngster is inches away from a brilliant century. IND 168/0
19:29 hrs IST
Jaiswal shines
Yashasvi Jaiswal is currently the highest run-scorer of the tournament and he is also a small way away from a well-deserved century. Can he achieve the feat? IND 156/0
19:22 hrs IST
Aggression
Two sixes and a boundary - India are finishing this game quickly now. Jaiswal slammed Abbas Afridi for brilliant sixes and Saxena also joined the party as he guided the ball to the thirdman boundary. IND 151/0
19:17 hrs IST
Fifty for Saxena
50 off 83 balls - Divyansh Saxena finally brings up his half century with the help of five boundaries. Great show from the youngster and India are 133 for no loss after 30 overs.
19:12 hrs IST
Saxena nears 50
Divyansh Saxena has played the supporting role to perfection with Yashaswi Jaiswal being the aggressor for the major part of the partnership. However, he has played quite well and the left-hander is just one run away from his fifty. IND 131/0
19:03 hrs IST
Slow approach
27 overs gone and India are 113 for no loss. There is no urgency in the openers' batting and they are taking the run chase slow. The target is completely within reach and there is no need for them to take any unnecessary risks.
18:55 hrs IST
India on top
24 overs gone and India are 106 for no loss. 67 runs to win from 26 overs - This is looking too easy for India. The openers have done their job brilliantly and they could not have asked for a better start. The Pakistan bowlers have struggled against them and this will raise a lot of questions over their pace attack.
18:46 hrs IST
Fifty for Jaiswal
Skipper Yashasvi Jaiswal brings up his half-century in style as he hits couple of boundaries off Aamir Khan to make it 11 runs off the over. Ian Bishop says during commentary 'He looks like a player well above his paygrade'. Such high praise for the youngster who has been in sublime touch in the tournament.
18:40 hrs IST
Slow and steady winning the race
Both Yashasvi Jaiswal and Divyansh Saxena are on the verge of completing their respective half-centuries while India are also on the cusp of going past the 100-run mark. India firmly on top of the chase, without suffering any hiccups.
18:31 hrs IST
First six of the innings
Yashasvi Jaiswal hits Aamir Ali for the first six of the chase as the ball sails over the mid-wicket fence easily. 10 runs came from that over from Ali as India have reached 77 in 18 overs. They need just 96 more to seal a place in the final.
18:23 hrs IST
No stopping India
The partnership keeps getting bigger as few Pakistan heads have started to drops on the pitch as well as the stands. The two Indian batsmen are doing it easily now as single and doubles have been the order of the day for thea,.
18:14 hrs IST
Fifty partnership
Yashasvi Jaiswal slams two boundaries in one Qasim Haider over. There was a stunning on-drive and then a glorious cover drive. With that, the 50-run partnership comes up between Jaiswal and Saxena. Both the batsmen have now hit two boundaries each in the over.
18:05 hrs IST
Pak bowlers toil hard
The pacers have been breaking their back trying to break this resolute partnership but so far nothing has happened for Pakistan. They are doing their best but Jaiswal and Saxena aren't giving them even a sniff. They have taken their partnership to 44 off 78 deliveries.
17:57 hrs IST
Shot of the innings so far
Aamir Khan bowled full and wide and Divyansh Saxena got down one knee and played a classy cover drive. He also held his position after hitting the shot to give time to shutterbugs. After 10 overs, India have scored 33 runs and are steady in chase.
17:48 hrs IST
Just one boundary so far
India have scored just one four in first eight overs and that has been scored by skipper Yashasvi Jaiswal. The partnership reads 26 off 48 deliveries and run rate is currently 3.3. It doesn't create any problems for India as they required rate is 3.4.
17:40 hrs IST
India steady
Five overs have been bowled and early signs are that Indian batsmen are looking to play risk-free cricket in this small chase. There is no need to go for big shots as the target is small.
17:34 hrs IST
Spin early on
Pakistan are trying everything to put off Indian batsmen as they brought in a spinner as early as the second over. But to his credit, Jaiswal hits Qasim Akram for a boundary to make his intentions clear. India are off to a cautious start as Pakistan look for early wickets.
17:25 hrs IST
Steady start for Jaiswal
Five runs came from the first over from Tahir and there were couple of wides as well. Pakistan cannot commit the mistake of giving away too many extras as they haven't set enough runs to defend against this powerful Indian batting line-up.
17:15 hrs IST
Chase begins
Tahir Hussain is bowling the first over for Pakistan as they look to trouble India early on in this small chase. If India lose couple of wickets here, the pressure will be on them and that is what Pakistan will be trying to do in these initial overs.
17:05 hrs IST
India eye good start
Openers Yashasvi Jaiswal, Divyansh Saxena will hope for a decent start in the chase as they need just 173 runs to enter the final. The duo will know Pakistan will come hard at them and so they will have to be cautious up front.
16:51 hrs IST
That should be that
That ended quickly. India have bundled out Pakistan for 172. This is a collapse and then some. Rohail and Haider had put on a good stand for the third wicket but after Haider's dismissal, Pakistan slipped away and have been bowled out for 172. It was a top performance by the pacers who rattled them up front and by the spinners, who chipped in a controlled the middle phase. India will be happy with this effort.
16:42 hrs IST
Sushant strikes, Rohail departs
That roar from Sushant says it all, he has been brilliant all day and now has the big fish of Rohail. Another short ball aimed at the helmet, Rohail tries to pull it away but does not find any control. There was a square leg in position and he takes an absolute dolly and Pakistan are now under real pressure. Excellent captaincy, excellent bowling!
16:23 hrs IST
Bishnoi joins in
A googly, that Ravi Bishnoi googly, it pitches and spins back in, beats Afridi's flick, hit him on the pads and the umpire gives him out after a long hard look. Marginal, but India will be happy, they are bossing proceedings right now.
16:17 hrs IST
Kartik castles Irfan
The Kartik special - the pinpoint yorker aimed at the base of the stumps and Irfan's off stump has gone for a walk. India are now bossing proceedings and Pakistan have lost their 6th wicket.
16:04 hrs IST
An absolute ripper from Dhruv Saxena
It was a flat sweep shot by Haris and the ball was always going away from Saxena who ran in from deep square leg and then had to put in a full-stretched dive to pluck the catch out if thin air. An absolute stunning catch, possibly the catch which changes this match?
15:36 hrs IST
Rohail looking good
He has slowly built his innings and now the skipper is cruising along. He holds the key to Pakistan's innings and has to bat long and deep into this innings.
15:24 hrs IST
Yashasvi Jaiswal strikes
An inspired move by Priyam Garg, he tosses the ball to Yashasvi Jaiswal and he bowls a half tracker which is cut straight to point. Bishnoi takes the catch and India get an extremely crucial wicket.
15:13 hrs IST
50 for Haider Ali
It has been a measured and calculated innings by Haider Ali and he brings up a much-needed 50. This has been a fine innings, Pakistan are back on track and the game is back in the balance.
15:10 hrs IST
Pakistan are fighting back
Rohail and Haider have added 50 runs for the third wicket and slowly, Pakistan have clawed their way back into this contest. They have been extremely calculated in their approach and this is now a good base for Pakistan.
14:58 hrs IST
Good passage for India
This has been a good passage of play for India, the bowlers are accurate and relentless and this has applied pressure on Pakistan. Rohail and Haider are watchful and they are not being allowed to break loose.
14:50 hrs IST
Atharva Ankolekar into the attack
There is spin and he has beaten the outside end of Haider with sharp turn. Encouraging signs for the spinners, Pakistan need a score on the board on this pitch which has assistance for the tweakers.
14:45 hrs IST
Back after the drinks break
Pakistan are slowly building their innings after the initial jolts. Rohail and Haider are looking solid, India need to be tight in order to pick a wicket. It has been a good start and the fielding is looking sharp.
14:36 hrs IST
Captain Rohail looking far more settled
A cracking cut shot in that over should give the captain a lot of confidence. He is looking far more assured at the crease. India need to keep applying pressure and they need to separate this pair.
14:32 hrs IST
There is still movement on offer
Good bowling by Tyagi, pitching the ball up and getting it shape away. Rohail is drawn into the stroke and ends up edging it away past second slip. Pakistan need to hang in there, India have started very well here.
14:20 hrs IST
Rohail off the mark
Flighted ball, full outside the off stump, Rohail reaches out and slaps it through covers to get his innings underway. This partnership holds the key for Pakistan.
14:13 hrs IST
Fahad's struggles have ended
Bishnoi strikes and Fahad has to walk back. That was a flattish ball on the stumps, Fahad goes back and looks to cut it away, splices it and the ball carries to point for an easy catch. India's pressure tactics have worked and Pakistan have lost their second wicket
14:04 hrs IST
Ravi Bishnoi is into the attack
Early change made by Priyam Garg, he gets his wily leggie Ravi Bishnoi into the attack. This will be an interesting phase. A googly beats Haider, who then responds with a slog slap over mid on. The emotions are certainly very high!
13:56 hrs IST
Haider looking good
He is playing the ball on its merit and Haider is looking very good for Pakistan. Both these Indian bowlers are bowling good balls, but are also spraying the odd one off target and the opening batsman is cashing in.
13:42 hrs IST
And he has been taken out
Top ball, that was well-directed and it has pace behind it. Hurraira tried to hook it away, was in no control and ended up skying it. The ball ends with short mid-wicket and Pakistan have been jolted early in their innings. The Indian bowlers look in fine rhythm.
13:39 hrs IST
Hurraira is a big threat for India
The first ball from Sushant Mishra is angled onto the pads and these are easy pickings for Hurraira who clips it away past short mid-wicket. Top shot, and Hurraira showing why is being spoken about so keenly in Pakistan cricket.
13:35 hrs IST
Good start
This is a promising start by Tyagi, he is getting the ball to shape either ways and is testing the batsmen. A streaky four has got Pakistan off the mark, but India will be the happier side after that first over.
13:32 hrs IST
Kartik Tyagi starts proceedings
Lovely shape up front, Haider sees the shape, takes a front stride and allows the ball to pass. Encouraging start for Kartik and India.
13:27 hrs IST
How have the teams fared
India v Pakistan in U-19 WCs:
Matches - 9
India won - 4
Pakistan won - 5
13:26 hrs IST
The teams are out there
Pakistan are singing their national anthem. It is the Indian team's turn to beam out their national anthem. This should spice the atmosphere.
13:12 hrs IST
Teams
Pakistan U19 (Playing XI): Haider Ali, Mohammad Huraira, Rohail Nazir(w/c), Fahad Munir, Qasim Akram, Mohammad Haris, Irfan Khan, Abbas Afridi, Tahir Hussain, Aamir Ali, Mohammad Amir Khan
India U19 (Playing XI): Yashasvi Jaiswal, Divyansh Saxena, Tilak Varma, Priyam Garg(c), Dhruv Jurel(w), Siddhesh Veer, Atharva Ankolekar, Ravi Bishnoi, Sushant Mishra, Kartik Tyagi, Akash Singh
13:08 hrs IST
Priyam Garg speaks
Very happy to bowl first. India-Pakistan matches are more hyped by the crowd than the players. No changes to the team.
13:06 hrs IST
Pakistan win toss, bat first
Rohail Nazir: We're going to bat first because it's a semi-final game. We have to put a good score on the board and defend it. It's time to make a mark in the big game, especially for us experienced players in the team. I think this match is always a bigger one [against India], hopefully we have a good match today and play good cricke. Same team as the one that played Afghanistan.
12:28 hrs IST
Revisiting the rivalry
Pakistan have not beaten in India in this competition since 2010, but they had the upper hand before that. All this and much more in this article.
11:59 hrs IST
Possible teams
There are no injury concerns in both the camps and hence, the sides should be unbeaten:
India (likely): 1 Yashasvi Jaiswal, 2 Divyaansh Saxena, 3 Tilak Verma, 4 Priyam Garg (capt), 5 Dhruv Jurel (wk), 6 Siddhesh Veer, 7 Atharva Ankolekar, 8 Ravi Bishnoi, 9 Sushant Mishra, 10 Kartik Tyagi, 11 Akash Singh
Pakistan (likely) : 1 Haider Ali, 2 Mohammad Huraira, 3 Rohail Nazir (capt, wk), 4 Fahad Munir, 5 Qasim Akram, 6 Mohammad Haris 7 Irfan Khan, 8 Abbas Afridi, 9 Tahir Hussain, 10 Amir Ali, 11 Mohammad Amir Khan
11:35 hrs IST
Clash of two equals
Consider this: Pakistan's highest score is 294. India's highest score is 297. India have taken 40 wickets in four games. Pakistan have taken 39. This is going to be a battle between two equals.
11:32 hrs IST
An intense battle expected
Both sides look strong, they are unbeaten and they look to be the part. It will be a clash, it will more about handling the nerves. The biggest battle in cricket is here!
10:40 hrs IST
Zaheer talks about IND-PAK rivalry
"When you talk about India-Pakistan (matches) that brings out an extra edge to the whole competition. I am sure the boys will be geared up for the big occasion and they will do well," said former India Test player Zaheer Khan in the Indian media.