Unlike South Africa, split captaincy unsettling Team India
Hindustan Times |
, Mumbai
Kushal Phatarpekar
Oct 28, 2015 12:13 PM IST
India's two-captain policy seems to have caused lot of confusion as seen in the recent losses
India have many lessons to learn from their losses in both the Twenty20 and One-day series against South Africa. The most important among them is to learn how to operate in different formats with multiple captains.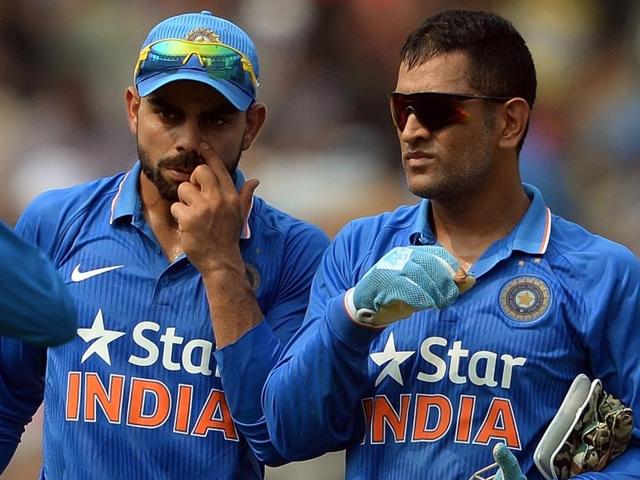 Since their tour to Australia last year, India have had to contend with MS Dhoni's retirement from Test cricket and the subsequent split captaincy, where Dhoni led the limited-overs sides and Virat Kohli took charge in Tests. The triumphant South Africa side follow a similar model. While Faf du Plessis leads the T20 side, AB de Villiers and Hashim Amla captain the ODI and Test sides respectively.
While South Africa's three captains play together in all three formats, India have a different arrangement where Dhoni goes in and out of the team as he only plays in the limited-overs formats. So far in this series, South Africa's multiple captain theory has borne fruit. Ahead of the tour, Faf du Plessis had insisted that with all three captains playing in all formats, decision making becomes a lot smoother.
Work together
"The key factor is that all three captains work together. There hasn't been an instance where one individual has a different perspective. We want to take the team together on the same road. Since we play in all the formats together, we continue to learn from each other," du Plessis had said. He had also explained how it gives the chance for someone like de Villiers, such a vital element in every format, to relax and enjoy the game while not leading.
India's management on the other hand has split the responsibility, handing it to two players who now spend little time with each other and possess personalities that demand different traits from their teammates. While Dhoni, known for his cool head, demands calmness, Kohli's attitude looks for aggression among his players.
In the series, both nations enjoyed contrasting results through this arrangement. It begs the question whether split captaincy is India's cup of tea.
For former India captain Ajit Wadekar, it is a system that does not work for everyone. "We want to follow what other countries prescribe, I am from the school of thought that multiple captains affect the loyalty of the side," Wadekar said. "We need one captain who commands respect and does not face hurdles where his decisions are questioned for non-cricketing reasons."
Fear of division
With split captaincy, there is always a fear that the division could lead to strain in the make-up of the dressing room. Former skipper Bishan Singh Bedi hopes such a situation does not arise. "From a distance, it does not appear that the Indian dressing room is a happy place. There is palpable unrest or at least from a distance it appears to be so," Bedi said. "I just hope that is not the case."
Since the split, India's performances in the limited-overs format seem to have gone down a few notches. After the World Cup, they lost to Bangladesh and now to South Africa at home. "It is high time Dhoni is relieved of his captaincy duties," feels former India spinner Maninder Singh. "I think Kohli should be made captain in all formats. Dhoni is hardly with the side, and when he is out he is completely detached from cricket as he does not play domestic cricket," he added.
Pressure building
"The pressure is clearly adding on as the captain also needs to set an example. The transition clearly is not as easy as it seems; our losses in both the T20 and ODI series are a testament to that."
Unlike most other instances of dividing the captaincy responsibility, India's situation now is peculiar because the senior player/captain is not leading the Test side. With Virat Kohli having taken over the reins in Tests, all eyes are on what fresh ideas the younger leader brings to the table. Thus, every time Dhoni returns to take charge, there is a sense of sameness.
Even before the World Cup, India struggled for consistency, and owed their good run to settling on a particular plan. With two sets of captains, the bowling unit in particular has looked confused. Thus, unity of purpose will be the key.