Virat Kohli back but India face tricky choices in 2nd NZ Test
India will have to take a call on the middle-order line-up and the pace combination in the Wankhede Test against New Zealand starting on Friday with rain a threat.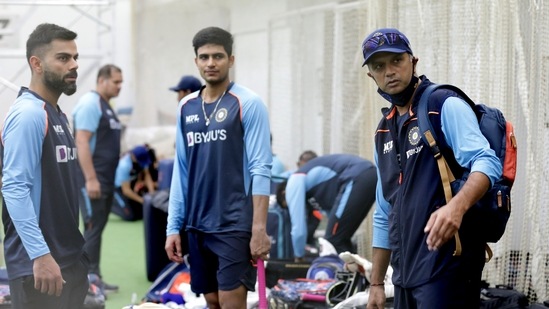 Published on Dec 02, 2021 08:05 PM IST
Kane Williamson's New Zealand have proved tough to crack for Virat Kohli's India, who have always faltered in crunch matches. There was heartbreak in the 2019 World Cup semifinals, their fine run in Tests was halted in the World Test Championship final in June and the scars from last month's defeat in the T20 World Cup are still fresh.
As skipper Kohli returns to lead the Test side after a short break, he is again faced with the New Zealand challenge. In the second Test from Friday at Wankhede, India start clear favourites but in a short two-game series the pressure is always on the stronger side. One bad session and there won't be time to recover. India experienced that on the fifth morning of the Kanpur Test when they went wicketless, allowing New Zealand to escape with a draw. That result has provided the Kiwis their best chance for a first series win in India.
Man-for-man in these conditions, India have the edge. Then what makes New Zealand such dangerous opponents? Most point out to their fighting spirit, and the way they bind as a unit.
After the Kanpur setback, Kohli's return will galvanise his team, and give the middle-order a formidable look. He has slogged at the nearby Brabourne Stadium in preparation for this Test and the team will expect their captain to make an impact straightaway. He has fond memories of playing at Wankhede, where his previous innings was a majestic 235. In that 2016 Test win over England, Kohli was at the top of his powers. The aura of invincibility has somewhat diminished after going two years without a hundred. Though he contributes eye-pleasing knocks, his conversion rate has dipped.
Kohli walks back into a dressing room where the support staff has changed with Rahul Dravid at the helm. The captain and new coach's main headache will be to pick the playing XI. After Shreyas Iyer's impressive debut in his absence, Kohli will have to take a call between Cheteshwar Pujara, Ajinkya Rahane, Iyer and opener Mayank Agarwal.
Kohli and Dravid will have to decide taking into account the upcoming series in South Africa. Pujara and Rahane have not got big scores but have played their part in India's memorable victories away from home in the tough previous cycle that started in 2018. That contribution and experience can't be discounted.
GR Viswanath, former batting stalwart and chief selector, is clear. Whoever has to make way, Iyer can't be dropped after scoring 106 and 65 on debut at Green Park.
Any discussion Kohli and Dravid have on the middle-order stalwarts will focus on the team's long-term future. For Viswanath, Iyer is the way forward. "He is a player for the long term. There are no two ways about it, he has to play. Whatever combination they want to have, I feel he has to be in the team," said Viswanath, who like Iyer started his Test career with a hundred at Kanpur.
For the Mumbai batsman it will be a special game playing at home. More than his technique, it's his maturity that impressed the India batting legend. "It is not only that he got runs, but how he got them, the way he applied himself in both the innings when runs were required very badly. He played his natural game, that's what I liked; it showed his maturity. In a tight situation, he showed every aspect of batsmanship," said Viswanath.
Kohli told the media on Thursday that 'keeper Wriddhiman Saha has recovered from neck spasm and is fit. The team management has to take a call between sticking to the experienced Saha or hand a debut to KS Bharat. Saha played a vital knock braving pain in Kanpur while Bharat impressed with his glove work as a substitute. If both Pujara and Rahane play, Bharat could be asked to open given that he does that regularly for Andhra in first-class cricket. In that case, the 79-Test-old Rahane will play his first game at his homeground. If Kohli goes in with both Rahane and Iyer, he will have to decide who bats at No. 5 or No. 6.
The two senior pros will be under heavy pressure for sure. In a year in which Rahane touched great heights as captain, his batting average is a dismal 19.57 after 21 innings. Pujara's average in 2021 is 30.43. Both got starts in Kanpur but were unable to convert. Rahane got a fluent 35 before inside edging on to the stumps, while Pujara got 26 and 22. "We will discuss the combination soon. There is a weather change and we have to keep that into account, and we have to pick the combination accordingly," said Kohli.
The India captain said leaving out a player is never easy. "Mostly it's been combination based whenever we have done changes in the past, and we've explained to individuals and they have understood our mindset behind going in with a certain combination. So, it is not a difficult thing to do when there is collective trust and belief in the group that we are working towards the same vision and along the line there are ups and downs and they all understand as cricketers or as sportspeople in general. At the end of the day we all prioritise the team first, making sure we take individuals along the way and that is something that we have done consistently as a Test team," Kohli said.
PACE DEPARTMENT
India will also consider changes to their pace attack. After Umesh Yadav and Ishant Sharma were outperformed by New Zealand's Tim Southee and Kyle Jamieson at Kanpur, Sharma is the likely candidate to make way for the lively Mohammed Siraj. The 33-year-old 105-Test veteran was a pale shadow of his former self, went wicket-less and never looked penetrative. He didn't take a wicket in the last Test he played in England, at Headingley, too.
New Zealand too are likely to bolster their pace arsenal by adding Neil Wagner, who can trouble batters on any surface with his aggressive, short bowling.
Kohli spoke highly about the Wankhede surface, how (red clay) wickets tend to afford more bounce, offering something for every kind of skill—stroke play, pace and spin.
It will be a pity though that there will only be a sparse crowd present, not fully packed to create that bear-pit atmosphere this contest deserves. In normal times, matches between two top-ranked Test sides in Mumbai would have a full house at the weekend. In the wake of the threat posed by the new Covid variant Omicron, the Maharashtra government has decided to limit the capacity of public events to 25%.
However, in keeping with the intensity contests between these sides has generated in recent times, there is unlikely to be any let-up whenever play begins after the wet spell in Mumbai.
Topics
Close Story