ABVP loads ammo over Doon varsity student's army remark
Updated on Mar 03, 2017 07:59 PM IST
Student leader, associated with SFI, allegedly dubs army in Kashmir 'rapist', later apologises; ABVP up in arm, lodges police complaint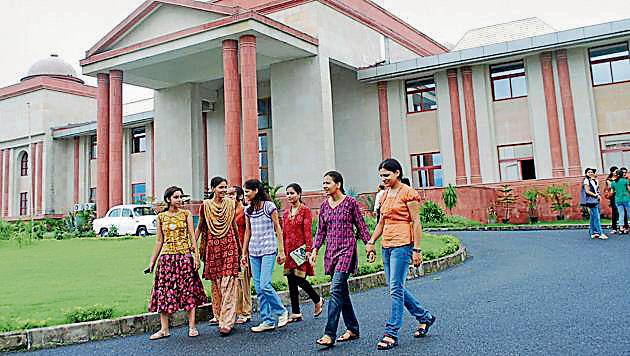 The Akhil Bharatiya Vidhyarthi Parishad (ABVP), the students' wing of the RSS, reacted strongly after a Doon University student, associated with the CPI(M)-affiliated Students' Federation of India (SFI), allegedly dubbed the army in Kashmir as 'rapist'.
Priyanka Negi, the SFI leader and president of the students' council of Doon University, allegedly made the statement on the campus on March 1 after her attempt to invite Left leaders to a seminar on Kashmir was opposed by a majority of the council members.
She immediately apologised, but a video of her alleged statement against the army went viral, prompting the ABVP to register protests and file a police complaint against her, raising fears of another campus showdown.
The controversy comes close on the heels of Gurmehar Kaur, a Delhi University student, speaking up against the ABVP over violence in Ramjas College. Gurmehar, the daughter of an army captain killed in Kashmir in 1999, has been trolled and threatened with rape since she stood up to ABVP and condemned campus violence.
The Ramjas College violence was a sequel to turmoil in New Delhi's Jawaharlal Nehru University (JNU)– earlier in the University of Hyderabad – over what the ABVP called 'anti-national' activities on campuses. Violence in Ramjas erupted following cancellation of a literary festival after the ABVP objected to inviting JNU scholar Umar Khalid, who is an accused in the JNU sedition case of February 9 last year.
Paras Goyal, a former DAV (PG) College president associated with the ABVP, reported the alleged remark on the army to Dehradun senior superintendent of police (SSP) Sweety Agarwal.
"How can she accuse our Indian Army of being rapist? When she cannot value the sacrifice and efforts of the army that is safeguarding the entire nation, she has no right to be a citizen of this country," Goyal said.
"We will thoroughly investigate the case," the SSP said.
"She (Priyanka Negi) used inappropriate words for the Indian Army," vice chancellor VK Jain told HT on Friday, adding that she had apologised.
HT could not independently verify the contents of the video. Attempts to contact the SFI leader failed as her phone remained switched off. Nitesh Khantwal, SFI's Uttarakhand joint secretary, backed Negi's statement. He said his organisation will soon chalk out a strategy to counter the ABVP.
"We are busy in Delhi for a national meet. But, we will back Priyanka for what she had said," Khantwal said.
Personalise your news feed. Follow trending topics