All weather Char Dham road project meaningless, says geologist Valdia
Updated on Sep 07, 2017 08:11 PM IST
Prime minister Narendra Modi's ambitious "all weather road" for Char Dham pilgrimage could prove meaningless as it was being planned on the 'floodway' of Ganga basin in Garhwal valley, said renowned geologist KS Valdia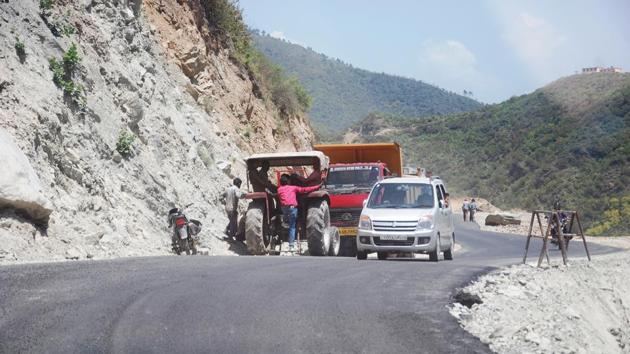 Prime minister Narendra Modi's ambitious "all weather road" for Char Dham pilgrimage could prove meaningless as it was being planned on the 'floodway' of Ganga basin in Garhwal valley, said renowned geologist KS Valdia.
Valdia, a Padam Shree recipient who also headed a committee formed by the central government to study the eloped Saraswati River, said Uttarakhand was prone to seismic activities and landslides. "And without treating the root cause of the problem the planners will lead to nowhere."
"The state had witnessed floods in the past. It is, therefore, not a wise idea to have a project close to the floodway but this is what exactly happening in Uttarakhand," octogenarian Valdia told HT on the sidelines of his presentation on the lessons learnt post 2013 disaster at Wadia Institute of Himalayan Geology here on Thursday.
He added that construction close to any floodway – a natural channel that carries flood waters and debris - could witness floods in future as well.
The government has set the deadline for the completion of all weather road project by March 2019. The project is a pre poll promise of the BJP, which now rules the hill state.
The foundation stone for the project was laid here last year in the presence of Modi and union road transport & highways minister Nitin Gadkari.
The project is envisaged with an idea of having dependable national highways connecting Char Dhams– Kedarnath, Badrinath, Yamnotri and Gangotri - in Garhwal region. ₹11,700 crore have been earmarked for building 889 km long highway.
Chief secretary S Ramaswamy recently said a tunnel, 15 big, 101 small, 3596 culverts, 12 by pass roads will come up under the project. Besides, 29 landslide zones to be treated, falling on the way of highway.
HT earlier reported that at least 33,000 trees will be axed for coming in the way of the project.
Valdia said tonnes of debris along the rivers was spilled over in Uttarakhand hills and that could create problem anytime. "Landslides are ought to happen but we can minimise their occurrence and impact by having a solid drainage system, so that water does not perpetuates."
He also pointed out the rain pattern has drastically changed in the Himalayan state causing repeated cloudbursts like one that was witnessed in Kedarnath claiming more than 5,000 lives.
"I have no answer what is the reason behind erratic pattern in the rainfall. And this needs to be studied by the experts," Valdia said.
Close Story
Personalise your news feed. Follow trending topics