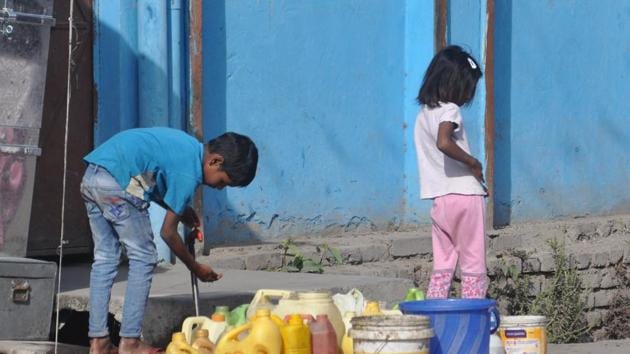 Over 90% of supplied water samples in Doon found contaminated: Report
UPDATED ON JUL 04, 2017 09:05 PM IST
DEHRADUN: Over 90% of samples - including those taken from VIP areas - collected and studied for quality analysis were found contaminated, a Dehradun-based organisation claimed on Tuesday.
The NGO's report is based on 76 samples collected from all the 60 municipal wards of the city, slum clusters and covered at least four VIP areas, including those having residences of a minister of state, an MLA, a district magistrate and a district judge.
But the Jal Sansthan, the water supply wing of the government, refused to accept the findings of the report. "We neither recognize the claims of the report nor the lab where the tests were conducted. It (report) is not only misleading but is also an attempt to sensationalise things. The water we provide is up to the mark," Jal Sansthan chief general manager SK Gupta asserted.
Most of the samples were found to have either excess chlorine or fecal coliform (bacteria that indicate water pollution) as per the Water Quality Status of Dehradun report released by the NGO 'Society of Pollution and Environment Conservation Scientists' (SPECS). Two samples had traces of oil and grease.
While excess chlorine is considered harmful for skin and hair and may cause ulcers, fecal coliform in drinking water can cause diarrhea and gastroenteritis among other diseases, the report said. According to the report, 74 of the total 76 samples of potable water studied by SPECS were "not found up to the mark" and had various contamination.
Residual chlorine was found at 24 places, of which 22 samples indicated 'super (or high) chlorination' levels which is considered hazardous. Standard value for residual chlorine is 0.2 mg/l, but it was found to be as high as 1mg/l in Reetha Mandi, Rajpur Road and Sayyad Mohalla.
Total coliform – whose standard value in potable water should not be more than 10 mpn/100 ml - was found in as many as 39 samples. The highest was at GMS Road (68 mpn/100 ml). Similarly, fecal coliform – which should be absent from potable water – was present in 39 samples, with the highest being 32 mpn/100 ml in Chabeel Bagh.
SPECS secretary Brij Mohan Sharma said the NGO was monitoring water quality of Dehradun from the past 18 years. "Over the years, we noticed further deterioration in water quality, which can be attributed to ageing infrastructure and increasing pressure on the water supply system due sudden increase in the urban and sub-urban population," he said.
Urging authorities to take appropriate action, Sharma said the sub-standard water supply has both the short- and long-term socio-economic implications. "This year, we have seen over 41% of Doonites still receiving water which is not up to the national water quality standards," Sharma claimed, adding that it indicates "leak in water supply system" and a "possible mix-up" of dirty water with the supplied water stream.
Close