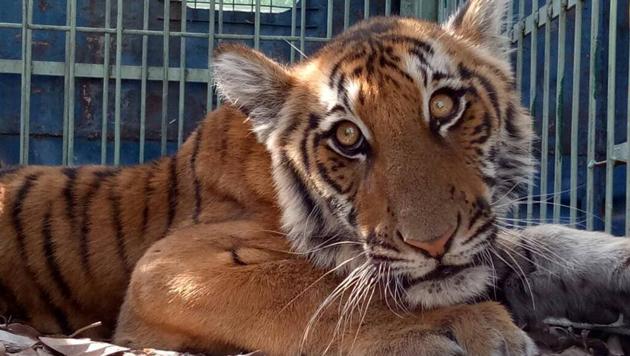 Paralysed and starving, 18-month-old tigress rescued, courtesy villagers
The sub-adult big cat, whose hind quarters is paralysed, could have died of hunger, but for the locals who found it lying in the bushes Sunday evening and immediately informed the forest officials. The animal was rescued by the foresters Monday morning
UPDATED ON MAY 03, 2017 06:18 PM IST
Dehradun: At a time when reports of people killing big cats that venture near human settlements is all too common, an act by residents of Balaun village in Ramnagar district of Uttarakhand may go on to save the life of an 18-month-old tigress.
The sub-adult big cat, whose hind quarters is paralysed, could have died of hunger, but for the locals who found it lying in the bushes Sunday evening and immediately informed the forest officials. The animal was rescued by the foresters Monday morning.
As per the forest officials, the big cat was starving as it moved dragging its lower body and failed to hunt prey. The officials took ot to Bandarpani and it is likely that to be shifted to a rescue centre for treatment.
As per the officials, villagers late Sunday night informed them about a tiger hiding in the bushes, close to Balaun village. A team of forest officials reached the spot Monday morning. They found the big cat and realised that its hind limbs were is paralysed and it could barely move. They rescued it without even tranquilising it.
"Generally an 18-month-old tiger cub weighs over 80 kgs, but this one weights just about 50 kg. We are sure that it was starving as it could not hunt due to paralysis, which could be congenital or an outcome of a disease," said Yogesh Bharadwaj, the veterinarian who rescued the bog cat.
It was found that the primary canine of the tiger too hasn't developed properly. Immediately after the rescue, the foresters fed it chicken. "We need to keep close watch on the tiger," Bhardwaj added.
Villagers supported the department in rescuing the animal. Digvijay Singh Khati, chief wildlife warden said, "Once the animal is stable, we will try to shift it to Ranibagh, Haridwar or Nainital. It is under our observation and special care is being taken to provide it medication."
Close