Soon, click a selfie with yaks at Badrinath, Auli
Apr 15, 2018 09:00 PM IST
If things fall in line, five to 10 of these exotic long-haired bovid, known as the camel of the snow, will be brought in from Shimla, where they are used to ferry people around
For tourists visiting Uttarakhand to explore its bountiful natural and spiritual beauty, here's an added attraction. They'll soon be able to click a selfie with yaks.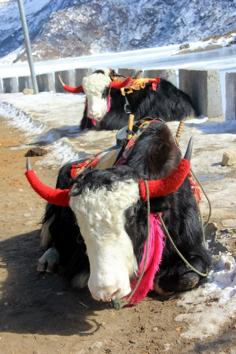 If things fall in line, five to 10 of these exotic long-haired bovid, known as the camel of the snow, will be brought in from Shimla, where they are used to ferry people around. The yaks will be introduced at Badrinath and Auli in Chamoli — both situated in higher reaches and suitable for the mountain animals.
The state tourism department has roped in the animal husbandry department to ensure that the plan succeeds.
"We have plans to procure 5 to 10 yaks from breeders in Shimla. They'll add to the tourist attractions in Uttarakhand," tourism secretary Dilip Jawalkar said.
Yaks are high altitude animals found at the height of 3000 metres or above in Himachal Pradesh's Kinnaur and Lahaul, Ladakh and Tibet. Not a native to Uttarkhand, only a dozen of the species are housed at government-run farm in Lata area of Chamoli.
Yaks at the Lata farm migrate to Dronagiri in summers and are not habituated to living in close proximity with humans.
Another yak raising centre is situated at Ralam and Pato villages in Munsiyari area of Pithoragarh district. It was set up 1996 under the aegis of Himal Prakriti, a non-profit trust, with the help of the department of science and technology, Government of India, and the World Wildlife Fund (WWF).
Last year, the animal husbandry department gave one yak to a local farmer hoping that the animal could get accustomed to living in human areas. The wait for that, however, is too long and the government is not ready to spend that much time.
So, the alternative is to bring in yaks from Shimla as they are tolerant to humans.
"We will provide the yaks to locals to help them secure livelihood opportunities. We are also studying the fee charged by yak owners (for ferrying people over short and long distances) in Shimla and Sikkim to start a similar facility here," Lokesh Kumar, the chief veterinary officer (CVO), Chamoli said.
The yaks would be kept at Badrinath during summer when Chardham yatra begins and in winters they will be taken to Auli. The tourism department is making arrangements in Auli to create a facility for yaks..
Incidentally, the local administration in Shimla had started utilising yaks for ferrying tourists to do away with the problem of these animals roaming freely on the streets after descends from the higher reaches. The Shimla municipal corporation doles out licences to yak owners to ferry tourists.
As per the belief, the jhubba (a hairy fan) used in Badrinath shrine to fan the idol of Lord Vishnu is created with yak hair. As per Hindu mythology, Pandava's last stop before entering heaven was Mana, the last village on the border with Tibet, three kilometers from Badrinath shrine. It is believed that they travelled on yak till the village.