Stone crusher owner, others in Uttarakhand booked for obstructing CPCB inspection team
Hindustan Times |
, Haridwar
Sandeep Rawat
Nov 24, 2017 08:36 PM IST
The Pathri police late on Thursday registered a case against a stone crusher operator and unknown people for obstructing an inspection team of the central pollution control board at the Ganga river bed in Haridwar's Pathri village
The Pathri police late on Thursday registered a case against a stone crusher operator and unknown people for obstructing an inspection team of the central pollution control board at the Ganga river bed in Haridwar's Pathri village.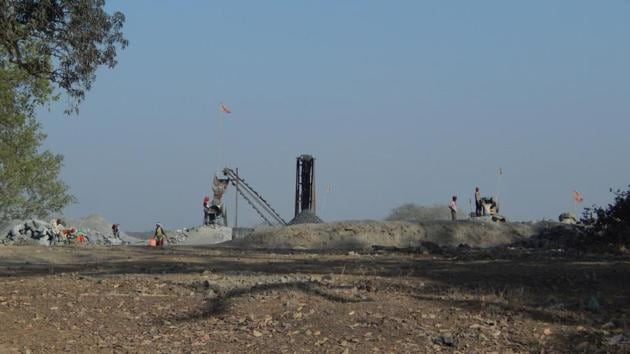 The Pathri police registered the case against Gaurav Aggarwal, owner of Ganesh Stone Crusher in Katarpur and 103 villagers and unknown people who had stopped the central pollution control board (CPCB) team and members of the Matra Sadan Ashram, when they were on way to inspect the impact of stone quarrying in the area on November 9, police said.
The team members were held hostage by the mob incited by Aggarwal and his accomplices, police said.
It was only after a police team led by station house officer of Kankhal police station Anuj Singh and his counterpart from Pathri police station Gajendra Bahuguna, reached the spot, the CPCB members were freed and the mob dispersed, police said.
After preliminary investigation, a case has been filed against Gaurav Aggarwal, Sharafat Khan, Karan Kumar and 100 other unknown people for taking the CPCB members hostage and threatening them of dire consequences if they carried out the inspection, said station house office of Pathri police station Gajendra Bahuguna.
Illegal quarrying is going on unabatedly in the district and the quarrying-stone crushers lobby in nexus with some administrative officials are damaging the local ecology and sanctity of the Ganga in name of extracting quarrying material, said Brahamchari Dayanand of Matra Sadan Ashram.
Haridwar senior superintendent of police Krishan Kumar VK has suspended Tejupur police post in-charge Sanjeev Chauhan for negligence of duty.
Chauhan was found missing from the police post during a surprise inspection by the senior superintendent of police.
"The police post in-charge missing from duty without prior information or permission," said the police official.
"It's a serious matter and he has been suspended with immediate effect," he told HT.