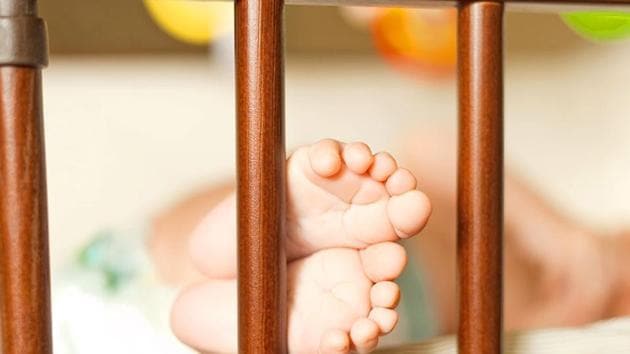 18-month-old raped in Delhi allegedly by father's friend babysitting her
The accused, also a resident of Shahpur Jat, was identified and arrested after the child's mother took her to the hospital and found out that she had been sexually assaulted.
UPDATED ON NOV 15, 2017 12:33 PM IST
An 18-month-old girl was raped on Monday afternoon by her father's friend who was tasked with babysitting her at their home in an urban village in south Delhi, police said.
The crime came to light the same evening when the child's mother returned home to find blood on her daughter's private parts and clothes. The parents quickly alerted the police upon which the suspect was nabbed from the same home.
Chinmoy Biswal, additional DCP (south), said the 21-year-old suspect was thrashed by locals before police took him away. "The accused has said he did not run away after the crime as he regretted his mistake. We don't know if he is saying the truth," said Biswal.
The girl, meanwhile, remained admitted to Safdarjung Hospital on Tuesday, but is likely to be discharged on Wednesday. "She was admitted with cuts and bruises and blood clot. However, she did not have any major injury and did not need any surgical intervention," said Dr Rajendra Sharma, medical superintendent of Safdarjung hospital.
The girl's father runs a small business in which he supplies labourers and workers and charges a commission for it. His wife is a domestic help. They have two other children: a 10-year-old son and a six-year-old daughter.
The girl's father said that he had helped the suspect get a job as a guard at a coffee shop in Hauz Khas. "He belongs to my village and had been staying at my house for the last two months. Since his duty was at nights, he would take care of my children when my wife and I would be away at work in the daytime," the father said.
On Monday morning, the girl's parents left for work and her two older siblings went to school. It was around afternoon that he raped the girl and left her bleeding, said Biswal.
"When my wife returned home in the evening and checked our daughter, she found blood on her clothes. She immediately checked her to find she had been sexually assaulted," said the father.
The girl's mother has also alleged that a friend of the suspect was also involved in the rape, but the police said there was no evidence so far to suggest this. "We continue to probe the parents' allegations earnestly and will act if anyone else was involved," said Dependra Pathak, Delhi Police spokesperson.
Meanwhile, the victim was visited at the hospital by Swati Jaihind, the Delhi Commission for Women (DCW) chairperson, on Tuesday afternoon. She followed it up with a protest outside Home Minister Rajnath Singh's residence. She was detained by the police and taken to a police station before being released.
In a tweet, Jaihind said that she demands that politicians call an urgent meeting and work on a policy draft to give death sentence to rapists within six months in cases of rapes of minors. She also urged all the leaders to visit the rape victim in the hospital.
Close