AAP convention: Row over Amanatullah Khan, Kumar Vishwas likely to cloud meet
Updated on Nov 02, 2017 05:46 PM IST
Arvind Kejriwal is likely to reach Alipur resort later in the day. Kumar Vishwas will not be speaking at the council meet which he has anchored for the last 5 years.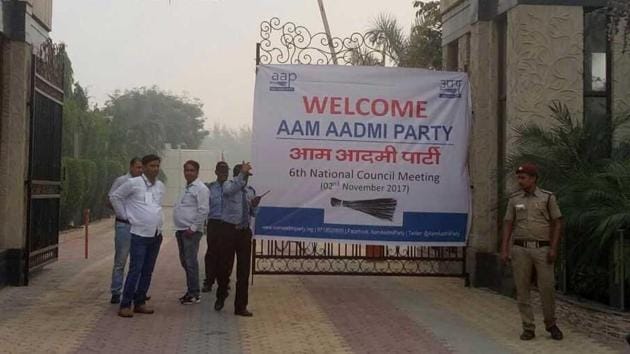 The Aam Aadmi Party's (AAP) one-day national council meeting in Delhi on Thursday could be overshadowed by the controversy over the reinstatement of suspended legislator Amanatullah Khan and his differences with founder-member Kumar Vishwas.
The official agenda for the sixth annual meeting of ruling party's 300-member national council at a resort in Alipur, otherwise, is to discuss current national issues and ways to strengthen the organisational structure.
"It is a regular meeting ... Party's national convener Arvind Kejriwal, senior leaders and members of the national council will be present," according to a party statement.
The controversy came to the fore on Monday after Vishwas, now in-charge of overseeing elections in Rajasthan next year, aired his differences over revoking Khan's suspension. The Okhla MLA was suspended in May over his tirade against Vishwas.
Vishwas has alleged that some people in the party are trying to thwart his political career.
"The revoking of Amanatullah Khan's suspension is a clear indication that they do not want me to enter Rajya Sabha," Vishwas said.
Delhi has three seats in the Upper House and MLAs will vote for these in January next year after they will fall vacant following Congress nominees Dr Karan Singh, Janardhan Dwivedi and Pervez Hashmi completion of their six-year term. All the seats would go to the AAP as it has an overwhelming majority in the Delhi assembly.
The AAP leader, known for his oratorical skills, is also irked because he has not been allotted a slot to speak at the council meeting that he has anchored for the last five years.
Vishwas has been at odds with the party ever since he questioned the leadership over a string of defeats, especially after its poor performance in Punjab and Goa, the Rajouri Garden by-poll, and the drubbing in the civic body election.
The meeting also assumes significance as the party, which is in power in Delhi and is the principal opposition in Punjab, will contest the assembly elections in Gujarat for the first time.
The AAP currently has four Lok Sabha MPs, 86 MLAs, and 52 councillors but no representation in the Upper House. It polled 6.3% votes in Goa in February this year and is testing waters in local bodies' polls in Uttar Pradesh.
Senior party leader Sanjay Singh will address the members on the economy, Manish Sisodia will speak on Delhi government, Ashutosh on social media, Gopal Rai on the organisation and chief minister Kejriwal will give the concluding remarks.
The meeting that has witnessed acrimony in the past. Yogendra Yadav and Prashant Bhushan were removed from AAP's national executive during the meeting in 2015.
Personalise your news feed. Follow trending topics