Australian national dies in accident on Yamuna e-way due to low visibility
Published on Dec 22, 2017 12:15 AM IST
A bus skidded off the road after hitting a truck and crushed a motorcycle that was driven by the Australian Ridley Mathhew Antony.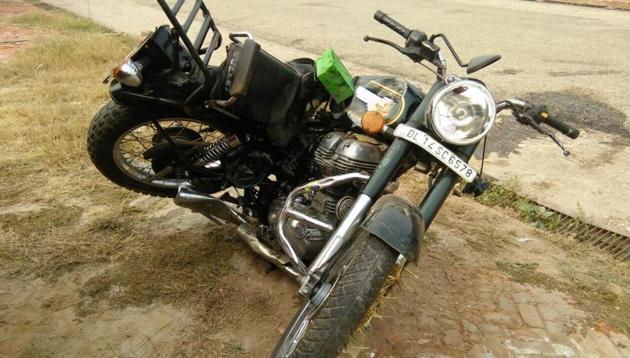 A 26-year-old Australian national died while four others received minor injuries in a collision that was caused by low visibility on the Yamuna Expressway in Dankaur on Thursday morning.
The incident took place around 8am when an Uttar Pradesh State Road Transport Corporation (UPSRTC) bus on its way to Agra rammed into a truck due to poor visibility caused by fog.
Police said the bus lost balance after hitting the truck and skidded off the road and crushed a motorcycle that was driven by Australian national Ridley Mathhew Antony.
The victim, a Sydney resident, was going to Agra and had come to India three days ago with two friends. His friends who were on two other motorcycles were following him and had a narrow escape.
The front portion of the bus was damaged with its windshield lying on the road. Police said Antony was rushed to Kailash Hospital, Greater Noida, where doctors declared him brought dead.
The roadways bus was also hit by a school bus, in which one girl received minor injuries, said police. The three other people who received injuries were travelling in the UPSRTC bus. They were identified as Dharmendra (driver), Pushpendra (conductor) and a woman Rajeshwari, police added.
"We have registered a case against the bus driver of UP roadways for driving rashly and causing death due to negligence," said Farmood Ali Pundir, station house officer, Dankaur police station.
Police said the injured were also shifted to the Kailash Hospital for treatment. The bus driver Dharmenda was seriously injured, officials added.
The accident led to severe traffic jam on the expressway for around an hour. Later, the victim's motorcycle and the bus were removed from the spot on Ramp-11 of the expressway in Dankaur.
Antony's friends said that they were travelling to Agra from Delhi. They had come to India three days ago and were shocked with the accident to describe any detail. All the three hail from Sydney in Australia.
Earlier on November 8, six people were injured when 18 vehicles were caught in a pile-up on the Yamuna Expressway in Greater Noida's Dankaur area due to low visibility.