Delhi Police returning 72 stolen phones after tracking down owners
A week ago, the Delhi Police made the largest ever seizure of stolen mobile phones when they arrested eight men and recovered 735 stolen mobile phones worth Rs 1.3 crore from them. Investigation led to the arrest of another accused from Punjab and recovery of over 200 more phone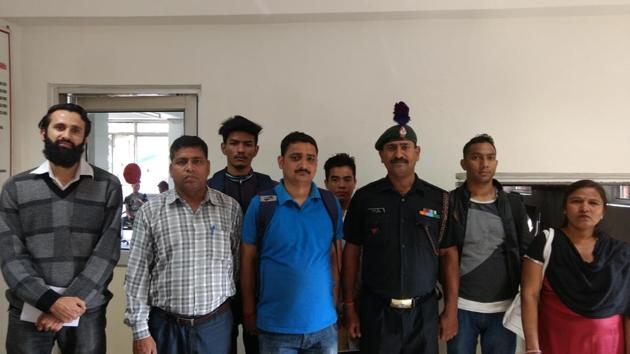 Updated on Mar 07, 2017 01:02 PM IST
Hindustan Times, New Delhi |
, New Delhi
Karn Pratap Singh
Stories on thefts of mobile phones from on streets, buses and Delhi Metro trains are common news. What is rarely heard, however, is news of victims getting back their stolen cellphones.
A week ago, the Delhi Police made the largest ever seizure of stolen mobile phones when they arrested eight men and recovered 735 stolen mobile phones worth Rs 1.3 crore from them. Investigation led to the arrest of another accused from Punjab and recovery of over 200 more phones.
Of the recovered phones, 72 will soon be returned to their owners who the police have tracked down based on loss, theft and snatching complaints filed by them. Police are also conducting raids in Delhi and Punjab to arrest more people dealing in stolen cellphones to recover more phones.
Hindustan Times accessed details of eight people who will soon get back their stolen phones. Two of them are Lance Naiks in the Indian Army and posted at Delhi Cantonment, while another is an Indian Navy staff. Among others were a woman accountant from Bhalswa Dairy, a PhD scholar from Jawaharlal Nehru University (JNU), an aspiring chartered accountant from Nepal, a student from Manipur, and a businessman from Nabi Karim.
Most of them lost their phones or fell prey to mobile thieves while travelling in public buses or Metro trains. HT spoke to all the eight people at the Okhla police station where they were called to identify their phones and claim ownership. All of them had smartphones of different brands with prices ranging between Rs 7,000 and Rs 20,000 for each set.
Sunita Singh, an accountant from Bhalswa dairy, said that she was travelling in the Metro when her LYF smartphone worth Rs 8,000 was stolen from her son's pocket at Rajiv Chowk station.
"My phone was stolen two weeks ago. I had no hopes of seeing my phone again because cellphones of my relatives and friends were also stolen in the past and they never got them back. I filed a police complaint but never pursued it," said Singh.
"I could not believe my ears when a cop called me to inform that they had recovered my stolen phone and that I should come to the Okhla police station to identify and claim my phone," she said.
Lance Naiks Vipin Kumar and Hukum Singh Rathore said that they were returning home after work in a DTC bus on route number 729 when their smartphones were stolen on January 15. JNU student Sharva Shrestha was travelling in Metro when his Samsung Galaxy phone was stolen on January 27.
Asked how they are tracing owners of the recovered stolen phones, an investigator said that are doing it by establishing the ownership of the phones with their IMEI and serial numbers. The officer said that they feed the phone's IMEI numbers in the database of stolen mobile phones and scan for the FIRs of stolen phones registered across Delhi.
"The gang members were experts in unlocking smartphones and changing their IMEI numbers to sell them off in the grey market. Connecting phones having changed IMEI number is difficult and a lengthy process. We trace their ownership by sending request to Google and seeking details and email IDs of their original users," said the officer.
A team of five policemen with an information technology background has been put on the job to connect the remaining stolen phones with their original owners.
Close Story
Personalise your news feed. Follow trending topics