Delhi pollution: 75,000-litre water sprinkled at ITO fails to make a difference
The ineffectiveness of the exercise raised questions about the Delhi government's proposal to spray water from helicopters to bring down pollution levels in the city.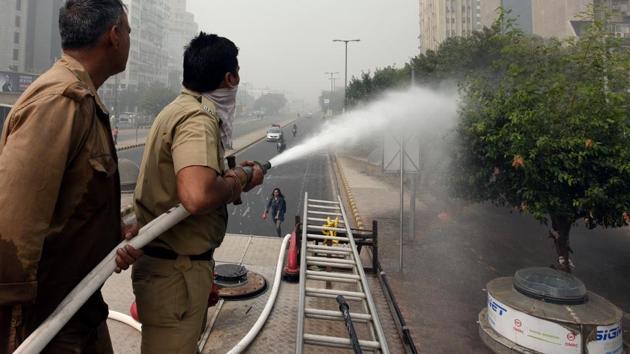 Updated on Nov 17, 2017 02:44 PM IST
Sprinkling 75,000 litres of water for nearly an hour from one of the tallest buildings in the city failed to bring down pollution levels at ITO, a congested and polluted office hub in the heart of the national capital.
The apparent ineffectiveness of Wednesday's exercise raised questions about the efficacy of the Delhi government's proposal to spray water from helicopters to bring down pollution levels in the city.
"We had deployed four water-jets and sprayed around 75,000 litres of water for around 50 minutes between 4pm and 5pm on Wednesday. The sprinkling was done from Vikas Minar, the tallest building in ITO area," said Atul Garg, additional director of Delhi Fire Services.
But data from CPCB's air quality monitoring station at ITO revealed that the measure had little effect on pollution levels. The level of PM2.5 — ultrafine particles that can penetrate deep inside our lungs — continued to escalate even after the aerial water sprinkling.
From 106 ug/m3 (satisfactory category) at around 4pm, the level of PM2.5 in the region shot up to 129 ug/m3 (very poor category) by 5pm. By 11pm, it had shot up to around 227 ug/m3.
The measure was undertaken on the directions of National Green Tribunal. The green court had on Tuesday asked Delhi government to identify one of the most polluted areas in the city and spray water from a height there. The pollution control board was asked to monitor the air quality. The data was submitted to the NGT on Thursday.
Ground level water sprinkling was also done in several areas including in and around ITO at around 9am. This exercise appeared to yield partial results as pollution levels came down to some extent, before shooting up again within five hours.
"Pollution levels came down temporarily after ground level water sprinkling. But it went up again when vehicles increased during peak hours in the afternoon. The aerial sprinkling however had little effect. We need to control pollution from the source. Water sprinkling is just a temporary measure to control pollution levels when it reaches alarming levels," said D Saha, head of the air quality laboratory at CPCB.
Scientists had earlier told Hindustan Times that such measures are effective only when the source of pollution is confined to a limited area and the pollution is short-lived. It also depends on other factors such as the nature of pollutants, size of water droplets and wind.
"Delhi's air quality improves temporarily even on a rainy day, but pollution levels shoot up soon after the rain ceases. Aerial sprinkling could help in removal of plumes coming from a reactor accidents or pollution from a temporary and limited source such as forest fires, but not pollution in a city like Delhi which has multiple emission sources," said SN Tripathi coordinator of the Centre for Environmental Science and Engineering at IIT Kanpur.
Despite having the wettest June in more than a decade with nearly 191.9mm of rain, Delhi's air quality toggled between "moderate" and "poor" levels. While the AQI improved to "satisfactory" for just one day, Delhiites didn't get to breathe any "good" quality of year even in this year's wettest month.
Close Story
Personalise your news feed. Follow trending topics