Delhi pollution highlights: EPCA proposes ban on diesel vehicles as air quality deteriorates, Kejriwal to meet Khattar on Nov 15
Nov 13, 2017 11:34 PM IST
With Delhi's air quality index reaching 468 on Monday, the Supreme Court issued notices to the Centre as well as UP, Punjab, Haryana and Delhi governments on a petition on stubble burning. Here are the live updates.
New Delhi's air quality deteriorated on Monday morning, with poor visibility leading to cancellation of eight trains. A thick cloud of toxic smog 10 times the recommended limit enveloped the national capital, as government officials struggled to tackle a public health crisis that is well into its second week.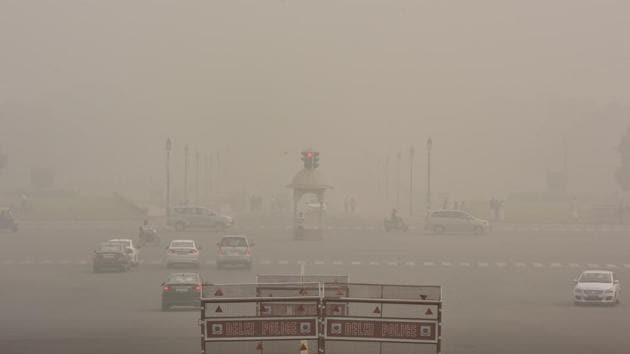 Delhi's air quality index (AQI) on Monday was 468. The national capital saw the season's worst air quality at 486 on November 9. The air quality improved on Friday and Saturday but deteriorated on Sunday. For the last six days, the air quality has remained in the "severe" zone across the National Capital Region, prompting the Indian Medical Association to declare a health emergency.

Here are the highlights:
8:30pm: The Haryana CM has asked me to see him in Chandigarh on Wednesday, says Kejriwal.
8.29pm: Kejriwal says Khattar called him and told him that he was in Delhi till Tuesday, but cannot meet him in Delhi, says he (Khattar) "was very busy".
8.28pm: Delhi chief minister Arvind Kejriwal says he will meet his Haryana counterpart Manohar Lal Khattar in Chandigarh on Wednesday to discuss the rising air pollution levels in the national capital.
7.35pm: "There has been a decline in PM10 values, from 712.1 to 566.6 micrograms and decline in PM2.5 levels from 480 to 385.7 micrograms at 2pm today," says Harsh Vardhan.
7.32pm: With the present trends, the decline in the particular matter levels is likely to continue, says minister Harsh Vardhan.
7.30pm: Union environment minister Harsh Vardhan says there has been an improvement in the air quality in Delhi-NCR due to efforts made by implementing agencies. "There is a declining trend in the levels of particulate matter at present, indicating an improvement in air quality due to the efforts made by implementing agencies," he said.
6:49pm: The EPCA has suggested that plying of diesel vehicles should be banned and thermal power plants be shut when pollution breaches 'emergency' levels in Delhi-NCR. The Supreme Court-appointed panel, in its submission to the apex court on Monday, has also pitched for stickers on vehicles reflecting fuel and age so that based on the level of pollution, certain categories of vehicles can be prohibited from hitting the roads.
6.15pm: At least 10 trains scheduled for Monday cancelled, 4 cancelled for Tuesday due to smog, operational reasons, reports news agency ANI.
5:51pm: Why are vehicle checks not being carried out on a regular basis, Delhi HC asks city government.
5:50pm: "There has to be some checking. Rules are being violated rampantly," says Delhi HC bench of Acting Chief Justice Gita Mittal and Justice C Hari Shankar.
5:48pm: Delhi HC asks traffic police and city transport department to check whether vehicles on Delhi's roads were compliant with pollution norms.
5.47pm: Delhi HC says there is rampant violation of rules by vehicles on the capital's roads.
5.45pm: Average AQI for last 24 hours: Delhi at 460, Ghaziabad at 497, Gurugram and Noida at 466 -- all fall in severe category: ANI citing CPCB data
5:20pm: Spiritual leader Sri Sri Ravi Shankar says that instead of burning stubble, mulching technique is a better option and farmers need to be taught about it. "We have done this in Karnataka's Warangal. Farmers need to be educated on this," he said.
3:46pm: Scientists in the environment department are "constantly monitoring" the pollution level in the national capital where the air quality index has been "fluctuating" in the last 48 hours, Delhi minister Gopal Rai said earlier during the day.
3:25pm: Congress vice-president Rahul Gandhi takes a dig at Delhi pollution, says, "Seene me jalan, ankhon me tufan sa kyon hai, is sheher me har shaks pareshan sa kyon hai (What is the cause of this burning sensation in the heart and storm in the eyes? Why is everyone in this city troubled?)."
3:22pm: Haryana CM Manohar Lal Khattar asks his Delhi CM Arvind Kejriwal what steps he has taken to end stubble burning by farmers in areas near the national capital. Khattar says he is "likely" to be in Delhi on November 13 and 14. "You may feel free to call me to fine tune a mutually convenient date, time and venue for the meeting."
3:20pm: SC says there will be no stay on matters pertaining to pollution which are going on before any other court.
3:10pm: The Supreme Court issues notice to the Centre as well as Uttar Pradesh, Punjab, Haryana and Delhi governments on a petition on stubble burning and dust pollution, reports ANI. The top court observes that it is an emergency like situation and sought expeditious action.
2:12pm: The Delhi government moves NGT, seeking amendment in its November 11 order on the odd-even scheme, according to news agency PTI.
The application, filed before a bench headed by NGT chairperson Justice Swatanter Kumar, sought exemption of women drivers from the scheme, saying it may affect the safety and security of women. It sought that the exemptions be allowed for one year till the government procured 2,000 buses for public transport to tackle lakhs of commuters.
1:21pm: The Delhi government has yet to file a review petition in the National Green Tribunal on the odd-even ruling. There is no review petition from the Delhi government on odd-even though the Delhi minister said so earlier. Was the statement only for media?," asks NGT chairperson Justice Swatanter Kumar, hearing another case in the tribunal.
On Saturday, the green court gave the go ahead to the odd-even scheme and disapproved of all the exemptions that were given during the previous two phases of odd-even in January and April 2016. The Delhi government said it will approach the green court again on Monday, and request that exemptions be given for women drivers and two-wheelers.
1:20pm: Delhi minister Gopal Rai says CM Arvind Kejriwal and his cabinet are in touch with environment scientists and constantly monitoring the situation in the national capital that is reeling from air pollution.
"The movement of trucks and construction works are under scrutiny," ANI quotes Rai as saying. He reiterates that his government wants two-wheelers and women be exempted from the odd-even scheme.
1:07pm: Odd-even restrictions have to apply to two-wheelers and three-wheelers for the scheme to succeed, says a researcher at the New York-based Columbia University, doubting its efficacy in the long run.
The Centre-notified Graded Response Action Plan (GRAP) is a "good start" in cleaning up the city's toxic air, V Faye McNeill, associate professor of Chemical Engineering in the institute, says, adding that without enforcement it will not be successful and more manpower is needed so that it is implemented successfully.
1:00pm: As air pollution levels raise concerns, Congress's Deepender Hooda says he has written to the PM and requested him to constitute a high-level committee comprising all chief ministers of northern states. "Everyone should rise above political lines and sit together, present before nation a plan with budgetary provisions," ANI quotes him as saying.
11:50am: Haryana chief minister Manohar Lal Khattar likely to meet Delhi chief minister Arvind Kejriwal today to discuss the issue of pollution.
11:00am: We cannot ignore the pollution, the SC bench says.
10:55am: A bench comprising Chief Justice Dipak Misra and Justices A M Khanwilkar and DY Chandrachud considers the submission of lawyer RK Kapoor that rise in dust particles on roads, stubble burning in Delhi's neighbouring states like Haryana and Punjab have led to an alarming rise in pollution levels.
10:50am: NGT asks whether the Delhi government was only informing the media about a review petition on the odd-even scheme since no review petition has been filed as yet, reports ANI.
10:44am: SC agrees to hear a fresh plea seeking immediate measures to curb rising pollution in Delhi-NCR. The plea seeks direction to the Centre and states on stubble burning, road dust and effective implementation of odd-even car rationing scheme.
10:42am: Light rain is expected on November 14-15, which might intensify the fog but could clear the smog, according to the MeT department.
10: 40am: The visibility dropped to 500 metres at 5.30am and later to 400 metres at 8.30am today.
10:35am: The minimum temperature dropped to 12.4 degrees Celsius, a notch below the season's average, a MeT department official said.
10:20am: Though there could be some respite on Tuesday, light rain on Wednesday might make the air quality even worse, warned Dipankar Saha, head of the air lab at the CPCB.
10: 15am: The Delhi government will make a fresh push for odd-even road rationing, asking the National Green Tribunal to exempt two-wheelers and cars driven by women from the plan.
10:10am: United Airlines said it had resumed flights from Newark, New Jersey to New Delhi, India on Sunday, after suspending the service temporarily over concerns about poor air quality in the national capital.
10:05am: All schools in Delhi reopened today after a five-day break announced by the Delhi government.
10:00am: All government and private schools in Gurgaon will remain closed today due to persistent smog and pollution in the NCR. In an order issued on Sunday evening, Gurgaon district commissioner directed all schools to remain closed as exposure to smog may cause adverse effect on children's health.
(with agency inputs)