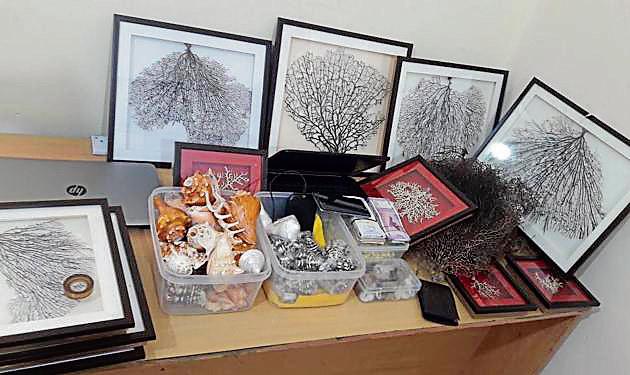 Ex-custom officer held for trying to sell genitals of monitor lizards as part of a rare plant
The accused, Acharya Kalki Krishnan, was arrested from Sector 18 Noida where he had three shops and a godown allegedly to deal in such banned items.
Hindustan Times | By Joydeep Thakur and Vinod Rajput
UPDATED ON JUL 05, 2017 10:17 AM IST
A former customs officer turned occult practitioner was arrested from Noida in the wee hours of Thursday on charges of trying to sell dried genitals of monitor lizards as 'Hatha Jodi'.
'Hath Jod' or 'Hatha Jodi' literally means clasped hands. Occultists claim that it is the root of a rare plant and if energised can bring good luck. But what are being sold in the market, mainly through online portals, are actually dried genitals of male monitor lizards — an animal which is protected under the Indian Wildlife (Protection) Act of 1972.
"There is no such thing as Hatha Jodi," Jose Louies, head of enforcement assistance and law, Wildlife Trust of India (WTI), said, "It is only a code word for illegal monitor lizard parts."
The accused, Acharya Kalki Krishnan, was arrested from Sector 18 Noida where he had three shops and a godown allegedly to deal in such banned items. The raid was jointly conducted by Wildlife Crime Control Bureau (WCCB), WTI and forest officers from Noida.
Krishnan reportedly supplied wildlife animal skin, hair and Indian monitor lizard's among others to clients in the US, the UK and other European countries. He reportedly used to promise his clients that the Hatha Jodi would solve all kinds of problems, including those related to low sexual desire (loss of libido).
Investigating officials said that the accused was an inspector in the customs department. He was sacked in 2000 on charges of bribery. He then changed his name and became a tantric. He runs a website AstroDevam.com and began trading in parts of wild animals through e-commerce websites.
"At least 25 Hatha Jodi were seized along with other banned wildlife items such as sea fans, siyal singhi made from jackals and sea shells," said a senior official of the WCCB in Delhi," said Tilotama Varma, additional director of WCCB.
The forest department has booked the accused under section 9, 39, 48A, 48B and 49B of the Wildlife Protection Act, 1972 and the district court in Greater Noida sent him in judicial custody.
This is the first arrest from Delhi-NCR in connection with the online fraud that has been going on for quite some time. WCCB officials have been tracking these over the past two months at least after 'Operation Wildnet' was launched to crack down on the illegal online trade in wildlife products.
Experts claimed that both male and female monitors are caught for their meat, fat and skin. The male genitals are, however, most sought after. The males are burnt alive so that their genitals protrude further from their bodies, following which the penises are extracted and sun-dried, and are ready to be sold. Each Hatha Jodi fetches around anywhere between Rs 500 and Rs 6,000.
"Hatha Jodis were being openly sold on several prominent e-commerce sites. There are also websites which have been launched with the sole purpose of peddling this item. Some sites provide intricate descriptions of rituals required to derive the maximum benefit from its use. There are also numerous videos available online featuring occultists eulogising Hatha Jodi desperate buyers to purchase the product, unaware of its true nature," said a senior official.
A few other Hatha Jodi cases had earlier surfaced from Madhya Pradesh, Gujarat, Odisha and Hyderabad earlier.
"It was then that we sent a sample to the centre for cellular and molecular Biology in Hyderabad. The results showed that the items were not plant roots but lizard genitals," said the official.
Four kinds of monitor lizards are found in India and all of them are schedule I species under India's Wildlife Protection Act 1972, which makes it an offence to conduct trade in the lizards or any of its body parts.
Following the investigation, WCCB has issued a pan-India alert to chief wildlife wardens. Other security agencies have also been tipped off.
"We are in touch with state forest departments. We won't hesitate to take action against the international online retailers, individual traders and e-commerce platforms involved in these illegal sales," said Varma.
Close