FIFA U-17: South Delhi civic body targets zero waste around JLN Stadium during games
Oct 06, 2017 01:12 PM IST
The South Delhi Municipal Corporation has set up a dedicated control room at Lodhi Colony to attend to issues related to cleanliness during the FIFA Under-17 World Cup.
As the countdown begins for the opening ceremony of FIFA Under-17 World Cup at Jawaharlal Nehru Stadium in south Delhi, the South Delhi Municipal Corporation (SDMC) has stepped up efforts to ensure the area around the venue stays clean during the games. (FIFA U-17 World Cup SCHEDULE | NEWS)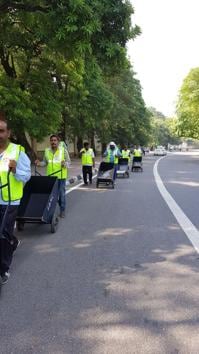 While maintenance of the stadium is responsibility of the Sports Authority of India, the area around it comes under SDMC. Delhi is one of the six cities hosting the tournament. The matches here will held on October 6, 9, 12 and 16.
"Since it is an international event, our responsibility has increased manifold. We have deployed a team of 100 sanitation workers to ensure zero waste in these areas.With the help of four auto tippers running throughout the day, the area in and around the complex will be made garbage free," said SK Singh, deputy commissioner, central zone, SDMC.
The civic agency has installed 100 pairs of dustbins (green and blue), each at a distance of 30 metre around the stadium. Also, 13 big dustbins have been installed around the stadium for collection of garbage by sanitation workers.The collected garbage will be immediately disposed with the help of two mobile compactors.
"A dedicated control room has been established at the Engineering and Maintenance Office in Lodhi Colony for emergency services and to attend to issues related to cleanliness. Staff will be present here to attend to complaints," said Singh.
Besides, the health department has been asked to ensure daily fogging in the area to control breeding of mosquitoes. "The department has prepared a chart for fogging and other safety measures for the convenience of players and crowd, " Singh said.
To keep the venue and surroundings free from stray animals, the veterinary department has also assigned teams and vehicles to catch stray dogs and cattle. "During the matches in city, the department will work intensively in three stretches connecting to stadium (facing Dayal Singh College, Sai Mandir and CBI office) to avoid any encroachment," Singh said.
For full coverage of FIFA Under-17 click here