For Najeeb Ahmad's distraught mother, there is no end to hope
Updated on Oct 15, 2017 10:56 AM IST
Fatima Nafees has become the face of the prolonged battle to find her son. She is aware that others think Najeeb may never come back, but she refuses to give up.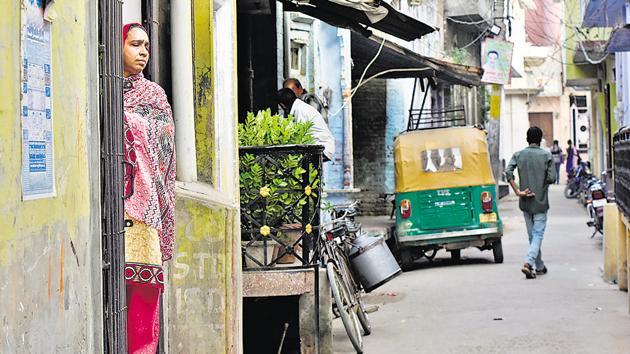 Every night as the lane outside her house in Uttar Pradesh's Badaun town quietens, Fatima Nafees remains awake. Lying down on a bed in the room which is closest to the main door of the house, she waits for a knock in the hope of seeing her son return.
Her sleepless nights come with the hope that her son Najeeb Ahmad will return someday.
It is this hope that drives her to continue her regular travels to the National Capital in a ten-hour, 275-km bus journey from Badaun to participate in protests and press conferences.
Najeeb, a biotechnology student at Delhi's Jawaharlal Nehru University, went missing from the campus, a year ago, following a reported scuffle inside the hostel with members from RSS-backed Akhil Bharatiya Vidyarthi Parishad (ABVP).
Nafees, 48, has been the face of the majority of protests organised in Delhi and other cities to find Najeeb. The struggle has taken a toll on Nafees and her family which include her husband, three sons and a daughter.
Her husband Nafees Ahmad does not keep well and largely restricts himself to prayers.
"Every time I leave for Delhi, I prepare food for at least two days and store it. One of my sons comes with me and the other one stays at home to take care of his father. We can only afford to take a bus to Delhi even though it takes far longer compared to travelling by a car," she says.
The family has no stable income and is dependent on the savings from a plot that Nafees had sold recently. A round trip to Delhi in a bus for Nafees and her son costs over ₹2,000.
"My eldest son Mujeeb was about to get a job when Najeeb went missing, but now he is busy looking for his brother. I am managing the expenses using savings from the plot I sold. But now that money is almost over. I hope Mujeeb gets a job soon, otherwise things will become difficult for us," she says.
If it's not enough that they're told constantly that there is no trace of Najeeb, the family says they also have to deal with comments about him on social media. Najeeb's brother Mujeeb Ahmad says he regularly comes across posts claiming that Najeeb has gone to Syria and joined ISIS.
Police have denied such reports.
"There is so much of slander on social media. People write posts and comment without any proof. It impacts us. I used to take screenshots and send it to the crime branch officials. But I never tell ammi (mom) about these comments," says Mujeeb.
The family says they are disappointed with the police and CBI probe. "It is only when I make a call that the CBI officials talk to me. Even during court hearings the CBI investigation officer doesn't come, only their lawyers come," she alleges.
She may be disappointed, but that has not dashed hopes yet. Nafees is aware of what many others think — Najeeb may never come back — but she refuses to give up.
"I know what others think, but I am hopeful my son will return someday. He may return tomorrow or ten years later, but he will. Every day I pray to God to keep him safe and healthy wherever he is," Nafees says as she removes dust from Najeeb's four year-old identity card from his college.
The identity card hangs on a discoloured wall inside Najeeb's room. Next to the identity card is a small wooden cupboard. Najeeb's books are neatly stacked inside. Nafees says she makes it a point to wipe the dust off the books every day.
"I need to keep his room tidy and make sure his books are kept neatly. What if he comes back tomorrow?" she adds.
Personalise your news feed. Follow trending topics