Four South Delhi parks to get play equipment for differently abled children
The project will be first of its kind in which swings, seesaws and merry-go-rounds will be installed at various colony parks.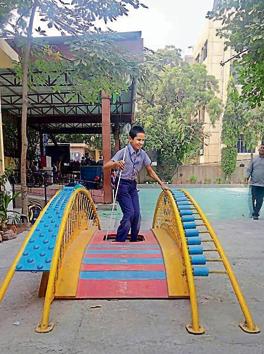 Updated on Nov 04, 2017 11:41 PM IST
Thirteen-year-old Vidisha Saini always wanted to sit on the swings at her neighbourhood playground in Sanwal Nagar. But she had to sit back and enjoy the frolic from a distance as the swings were not safe for her. Vidisha is wheelchair-bound, and there is no playground equipment in her vicinity for differently abled.
The South Delhi Municipal Corporation (SDMC) has assured that this is soon going to change. The agency has decided to install customised playground equipment in its parks for differently abled. In September, the horticulture department approved the installation of two customised swings each in four parks under its jurisdiction on pilot basis, said a senior horticulture officer.
In phase I, the official said, a merry-go-round and a seesaw, with provision for belts to lock the wheelchairs safely, will be installed at four parks in Sadiq Nagar, Green Park, Madhav Park and Dwarka.
Civic agencies in the past have made efforts to beautify community parks and develop kids' corners. However, children with special needs were not considered. In August, a few residents of Andrews Ganj approached the area councillor and demanded playing equipment for differently abled in the parks. "I did not take up the matter immediately but after having detail conversations with the parents I realised the necessity for such swings in parks," said Abhishek Dutt, councillor, Andrews Ganj.
Dutt raised the matter in the garden committee and the standing committee meeting in September and soon the horticulture department decided to initiate the project.
"The project will be first of its kind in which swings, seesaws and merry-go-rounds will be installed at various colony parks. The agency has already finalised the initial designs. The pilot project will be implemented in the next three months. We have asked the horticulture director to contact NGOs working with differently abled children for better guidance," said Puneet Goel, commissioner, SDMC.
At present, four swings are installed at Children's Park for differently abled children.
The move has been welcomed by social organisations. "Installing swings for differently abled children does not require special skills. It is just that the thought to do something for them that was missing. And if the SDMC is making such efforts then we welcome it. The initiative will open the mind of people and increase acceptance. The agency should also make arrangements for making these parks accessible for differently abled people," said Javed Abidi director of the National Centre for Promotion of Employment for Disabled People in India.
Uma Tuli, former chief commissioner of Person with Disabilities and founder of NGO Amar Jyoti Charitable Trust, said, "Since the concept of inclusive education has been included in the Right to Education Act, we need to create facilities in schools as well as neighbourhood parks where all kids can play together and learn from each other."
Close Story
Personalise your news feed. Follow trending topics