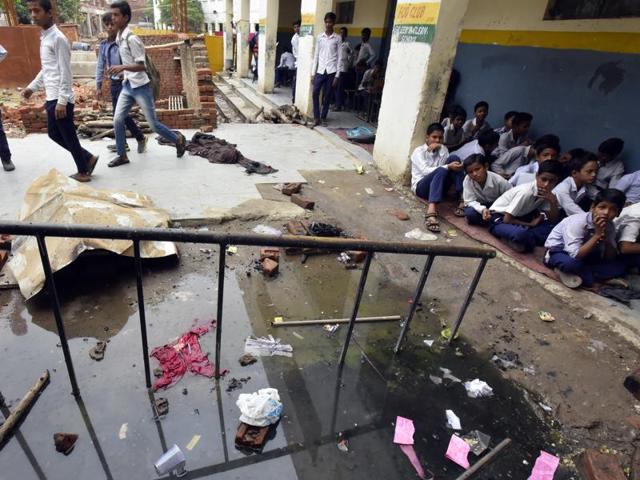 Govt's 'Chunauti' scheme to assess and divide students a mix bag
The ones who can read are called "Pratibha" and the ones who cannot are "Nishtha". In class 9 there is another group called "Vishwas" which includes those who are out of school and have failed twice in the class.
UPDATED ON SEP 09, 2016 11:48 AM IST
A reality check by Hindustan Times of the Delhi government's ambitious scheme - 'Chunauti 2018' - to improve learning levels in government schools in the capital shows there is some confusion in the programme's implementation. But teachers seem to believe that it will work out in the long run.
Launched late June, the scheme divides children into groups on the basis of who can read and write Hindi, English and solve mathematical problems. The division was done after a baseline assessment of the students which found that 74% out of 2,01,997 children in class 6 could not read a paragraph from their own Hindi textbook and 46% could not read a story of class 2 level.
The government says the figure is equally high for other classes as well. So till class 9, students have been divided into groups.
The ones who can read are called "Pratibha" and the ones who cannot are "Nishtha". In class 9 there is another group called "Vishwas" which includes those who are out of school and have failed twice in the class.
HT decided to check out what the scheme is all about and how is it being implemented.
Teachers back scheme
With autonomy given to the principals, schools have devised their own mechanisms to implement the scheme. In almost 10 schools HT visited, readers are part of the first few sections (A,B,C) depending on the size of the class. The remaining ones have children in the Nishtha group.
There are also schools which have kept students of the two groups in same class, but they sit separately.
Dividing children is one aspect of the scheme. The intervention actually comes with the introduction of "Pragati--I" books. The government describes Pragati books as supplementary material which will help Nishtha groups read to understand syllabus of their class.
These are thin books like workbooks provided for each subject. The books have one page of text explaining the lesson. For instance, science textbooks of class 6 have one page explaining the earth's rotation and revolution. A student generally learns about the earth when they are in class 2 or 3.
Read more: All Class 6-8 students to be able to read properly by Nov 14, says Delhi govt
The next lesson in the same book is about 'adi manav' (early man). After every page of text, there are series of question and answers, match the following and other activities to test the students' understanding of the concept.
Pragati books were already being provided before the formal launch of Chunauti 2018.
"We have already completed teaching from Pragati-1 books. We are now waiting for the Pragati-2 books ," said Sonika, an English teacher at Sarvodaya Bal Vidyalaya in central Delhi.
She added that once a lesson from the book is over, it is used for revision twice a week. Children are taught from the NCERT syllabus in the remaining four days of the week.
"We have been told that for summative assessment –1 there will be different question papers for the two groups. For the Nishtha group it would be a focused syllabus," said a guest teacher.
In this process, the details of the syllabus for the SA-1 which is scheduled for this month, has been delayed.
"Earlier we used to get weekly syllabus with the timeline of when what was to be taught. This time, we have got a monthly syllabus that too handwritten," said a Sanskrit teacher on condition of anonymity.
After SA-1, the government has planned another parent-teacher meeting (PTM). The government has even set a deadline of November 14 to achieve 100 % learning ability.
"This is a novel start to a problem which was not addressed for many years. But the government first needs to remove confusions mostly relating to syllabus and assessment." said a school teacher in Sunder Nagri.
Few teachers with whom HT interacted, believe that the intervention will be successful with a focus on language.
"If a student will know how to read and write in Hindi then automatically improvement in other subjects will show. Take mathematics for instance. Once a student can read the question of the problems then he or she will also be able to solve it," said a mathematics teacher.
But teachers say the most difficult part of this scheme has been explaining the division to parents and students.
"Parents come and ask us to shift their children to the first few sections. It is difficult to tell them why this has been done," said a social science teacher.
Psychological effects
He adds that the division has also psychologically affected some students.
Akshay, a 7th standard student of Government Boys Senior Secondary School in Molarbandh, said, "I know how to read and write Hindi but still my teacher has shifted me here. I don't like being in this class."
Educationists had warned that Chunauti 2018 would have psychological effects.
"The major issue with Chunauti is that children are being labelled and it also violates provision of the Right to Education Act. Children cannot be termed as slow learners by testing them on lesser known set of books. There are times when children cannot talk until they are two years old. But after that they speak entire lines fluently. This is the magic of development. But this kind of labelling is extremely dangerous and fascist," said Janaki Rajan, educationist and teacher at Jamia Milia Islamia.
Close