JNUSU requests vice-chancellor to facilitate registration of Sharjeel Imam, Devangana Kalita, Natasha Narwal for next semester
The deadline to register for the next semester at JNU is August 31. The three research scholars are accused of instigating people through their inflammatory speeches during the anti-Citizenship (Amendment) Act protests before the riots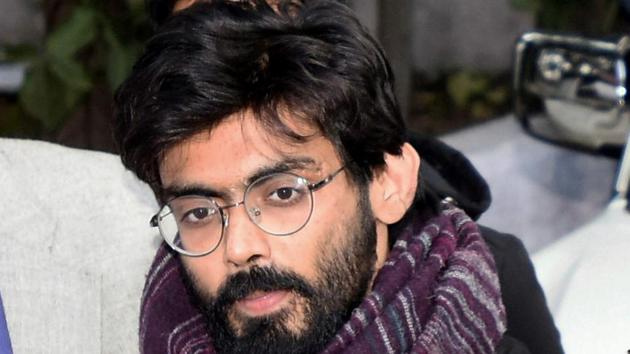 Updated on Aug 30, 2020 09:03 AM IST
The Jawaharlal Nehru University Students' Union (JNUSU) on Saturday wrote to vice-chancellor Mamidala Jagadesh Kumar, seeking his "urgent intervention" in facilitating the pending semester registrations of three research scholars arrested for their alleged role in the Delhi riots, ahead of the August 31 deadline.
Sharjeel Imam, Natasha Narwal, and Devangana Kalita are accused of instigating people through their inflammatory speeches during the anti-Citizenship Amendment Act (CAA) protests before the riots. The three have denied the allegations.
The Union sought Kumar's intervention to ensure the "academic progress of these students is not impeded".
"We are getting calls from their family members. They are also stressed," said JNUSU president Aishe Ghosh, explaining why the body approached the V-C.
In its email to Kumar, the Union said Imam's registration has been blocked despite repeated appeals by JNUSU. "This is to bring to your immediate attention that the registration of Sharjeel Imam (PhD student/CHS/SSS) has been pending from the last semester. This is despite repeated appeals from the JNUSU to the Proctor office that the registration has been blocked."
"..on behalf of JNUSU, we would request you that the registration process for the last and upcoming semester of Sharjeel Imam and the process of upcoming semester registration for Natasha Narwal (PhD student/CHS/SSS) and Devangana Kalita (PhD Student/CWS [Centre for Women Students]/SSS) who presently are students of JNU should be facilitated," the students' body wrote in its letter.
Imam, a PhD student at JNU's Centre for Historical Studies, was first arrested in January followed by Narwal and Kalita in May. Narwal and Kalita are members of student collective Pinjra Tod and research scholars at the university's School of Social Sciences.
Registrar Pramod Kumar said the current registration process is only provisional. "When they [the arrested students] are out of jail, they can get the registration done depending upon the conditions of their release."
Natasha's father Mahavir Narwal, a retired scientist, said, "Since she is in judicial custody and doesn't have access to internet or banking facilities, I had requested that I be authorized to register for her instead. That doesn't solve the problem because I don't have her login ID and the details are saved in Natasha's phone which is with the police. I have written to university officials this week to assist me in this but there has not been any response so far."
Surajit Mazumdar, general secretary at JNU teachers' association, and a professor at the school of social sciences, said, "...Their continuation as students should be ensured and they should be allowed to register for the semester, and if and when they are released from custody, their period of custody can be dealt with in a manner akin to the zero semester/year provision already existing for those with medical problems. Alternatively, they can be granted special approval to discontinue their registration with the right to re-enrol as and when their custody ends."
Aakash Bhattacharya, a former JNU student and close friend of Kalita and Narwal, said, "Unless administration is willing to take different measures, registration looks difficult. If they aren't registered, it will be a big blow to their academic prospects because they will no longer remain students of the university."
Topics
Close Story