Little money, long hours: Spare a thought for Delhi's Ola, Uber cab drivers
Feb 14, 2017 04:29 PM IST
The drivers say that from earning up to Rs1.5 lakh a month, their earnings are now down to Rs 30,000 as the cab aggregators have now discontinued perks and bonuses.
An LED television was the first thing Shareef Ahmed bought for his family after he started driving for US based cab aggregator Uber Technologies Inc. A flat screen TV set had been his wife's demand for the longest time, he said.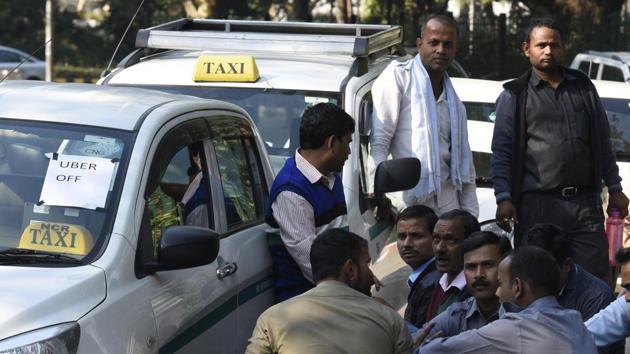 Selling his eight-year-old kaali peeli (yellow and black) taxi, Ahmed bought a new compact sedan car and got enrolled with Uber in November, 2013, barely a month after the cab aggregator launched its services in Delhi. A mobile and internet based cab service was something he had never imagined, as the available radio taxis only had phone numbers for bookings.
The new business model worked for him and money flowed in. Forty five days into attending cab bookings through his brand new smartphone, Ahmed had already pocketed Rs 1.5 lakh.
"I enrolled my 10-year-old son in a better school. I had never earned so much in such a short span. Besides, we were given respect at the Uber office and even by customers," he said.
Over the next few months, he convinced his brothers and nephew to join the service. They bought cars on loan and Ahmed earned a bonus of Rs 5,000-10,000 for every new driver he added to the network.
"They would pay as much as Rs 5,500 if we completed 11 trips within the specified hours. Waiting fee of Re 1 per km was also given in case drivers faced traffic jams on duty," Ahmed added.
Satisfied with the outcome of his new stint and hoping to earn more, a year later, Ahmed went on to buy a second car – which he now says was a "big mistake". This time it was a hatchback for which he got a driver who would run it both under Uber and Ola (ANI Technologies Pvt Ltd) to maximise daily earnings.
But 2017 has only brought him one bad news after another. He hasn't been able to pay his car instalments for two months. Making things worse is the excruciating neck pain which doctors say is a direct result of driving for long hours.
"Things have changed. From earning over a lakh, my monthly income in the last two years came down to Rs 80,000-60,000 and now it has suddenly dropped to Rs 30,000. I don't know how to run my house and maintain two cars with this much money," he said.
Shift in focus from drivers to consumers
Like Ahmed, Kailash Singh, another first generation driver, too has defaulted in repaying his loans. "Incentives have reduced. Now they give us just Rs 3,000 for completing 15 or more trips to achieve which one have to work 17-20 hours. Earlier, it was around Rs 5,000 for 10 trips. Waiting time fee has also been discontinued," he said adding that Ola has even stopped giving smartphones and money for mobile data which alone takes at least Rs 2,000 each month.
Starting as a driver centric market where cab aggregating companies offered handsome earnings to attract more and more drivers to spread their network, Ola and Uber have now changed into a consumer driven business — charging fares as low as Rs 6/km which is less than an auto (Rs 8/km) and much lesser than the non-AC and AC taxis that run on government prescribed fares of Rs 14 and Rs 16 per km, respectively.
Worst hit are those who joined the business recently by buying their own cars. "Drivers are under a lot of mental pressure. They are unable to meet the targets and are constantly losing money. Neither is there money nor do we get time for our family," said Vikas Manu, who joined Ola a year ago.
Chasing elusive bonuses
'Work' for these drivers looks like a scene straight out of a game where crossing a level would only mean getting ready to achieve the next tougher target.
Bhanu Pratap begins his hunt for passengers at 6 am. A message from Ola asks him to complete 5 trips from 6 am to 10 am which would fetch him an additional Rs 700. He hopes to get only short trips as the longer ones, like going to Gurgaon from Delhi or Noida, would waste time and he would lose out on the day's incentive.
Declining a trip is not an option as the chain of the trip ends and over a period of 2-3 days, the driver is charged Rs 500 as penalty. Driven by the game of number of rides, many even resort to rash driving and speeding.
Pratap missed the morning incentive by a trip. "Even though I dropped her at her destination, I convinced the passenger to end the trip early, so she could try and book another ride for me. But, the booking went to some other driver and I lost out on the extra Rs 700," Pratap said.
At 10.10am, he receives a second message from Ola asking him to complete 10 rides and earn Rs 2,000 till 4 pm, the non-peak hour. As Pratap sets off to meet this one, he says that even eating a quick meal from a roadside vendor happens only when he is waiting for someone to book his cab. At 11.30 pm, he reaches home and his 3-year old daughter is already fast asleep. "I only see her sleep when I am home," he says.
Working 15-17 hours at a stretch, drivers of mobile based cab aggregators are living zombies on the roads — risking not just their lives but also that of the passengers. "They park their cars and take a quick nap in between bookings. Fragmented sleep causes irritability and fatigue. Drivers need minimum 7-8 hours of sleep, else they are not attentive, and their reaction time is low," JC Suri, professor and head, pulmonary and sleep medicine at Safdarjung Hospital said.
Cab aggregators said they have no fixed hours for drivers, but added that they are working on raising awareness about driving patterns and habits. "Drivers are told about the healthy duration for driving and other related aspects during their training," an Ola spokesperson said.