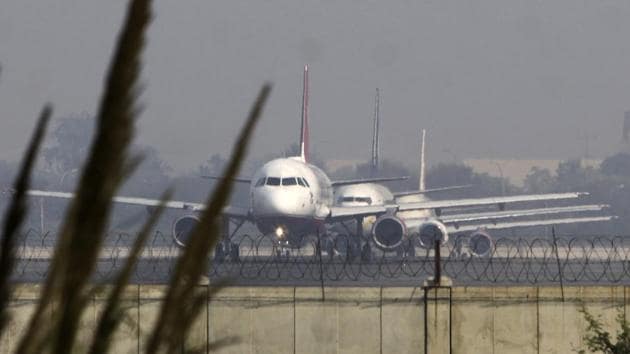 Russia-bound flight makes emergency landing at Delhi's IGI airport
The plane was flying from Phu-Quoc in Vietnam to Yekaterinburg in Russia.
UPDATED ON APR 07, 2018 11:01 PM IST
A Russia-bound commercial aircraft carrying 344 people made an emergency landing at Delhi's Indira Gandhi International Airport on Saturday after the pilot reported an engine failure, according to aviation officials.
A Delhi International Airport Limited (DIAL) spokesperson said that the non-scheduled flight of the Royal Flights airlines ABG-8772 — from Phu Quoc (Vietnam) to Yekaterinburg (Russia) — landed safely at Terminal 3 of the airport at 6.05pm.
"Eight fire tenders and ambulances were waiting for the plane to land at the runway. This, however, is the standard procedure for any emergency landing. No smoke was detected from the flight and everyone is safe," the spokesperson said. The emergency landing did not impact other scheduled flights, he added.
The Air Traffic Controller and the Central Industrial Security Force (CISF) control room, which is responsible for the Delhi airport security, recorded the landing request from the pilot of the Boeing 767 at 5.22pm.
The passengers were evacuated at about 10.15pm and arrangements were being made for their overnight stay in Delhi at the time of going to press.
A senior airport official who did not wish to be named said that an "engine failure" is considered a serious emergency situation and, according to protocol, the pilot is required to land at the nearest airport.
"In case of an engine failure, the aircraft can usually fly for up to two hours. This is for a situation if the plane is flying over the ocean and the pilot cannot immediately make the landing," the official said.
Since the passengers of the Russia-bound are not Indian citizens, they will have to apply for a temporary landing permit.
"Since this was not an India-bound flight and was only overflying from Delhi, the passengers have to face a little inconvenience because of the lack of visas and the uncertain wait. Some might also face problems of not knowing the language," the official said.
Close